The Rangers are still alive. But they sure as hell wouldn't have gotten to Game 5, let alone the finals, if not for two quiet contributors who, if there's any justice or sense in this world, will cash in this summer.
Jokic? Embiid? The NBA MVP is obvious... right? | Keep it a Buck(et)
Some of New York's big names "stepped up" in on Wednesday: Henrik Lundqvist stopped 40 of 41 shots that were mostly of considerable quality; Martin St. Louis scored the game-winner; Derek Stepan swept a puck off the goal line in the dying minutes to preserve the tenuous lead.
But the less talked-about players in this game were also the ones that have been really driving the bus for the Rangers throughout the playoffs. Both Benoit Pouliot and Anton Stralman made critical plays early in this game that made the NBC Sports broadcast crew finally take notice and say, "Oh yeah, these guys are pretty good."
Pouliot tipped in the Rangers' first goal, one that will not go onto the scoresheet as finally improving what had been an anemic 1-for-14 power play in the series, given that it came about half a second after the expiration of the game's first penalty. But the real dirty work came earlier in the sequence, with Pouliot setting up his own goal by winning a battle along the boards to kill any hope of an L.A. clear.
G/O Media may get a commission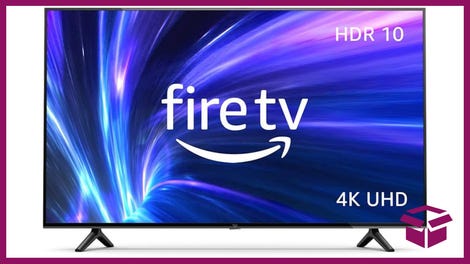 42% Off
Amazon Fire TV 50" 4K Smart TV
It was the first goal the Rangers had scored in 122 minutes of game time, and boy was it ever a big one. Pouliot, though, is probably one of the least-discussed Ranger forwards, because he doesn't provide a ton of offense (160 points in 371 career games), he's not perceived as much of a defensive master (just 99 blocked shots and 173 takeaways since 2007-08), and he is a decidedly unsexy practitioner of the sport in general.
A little more than four minutes after Pouliot scored, Stralman made his mark on the game. A Kings power play shot got by Henrik Lundqvist and rolled slowly, agonizingly, toward the net, with lethal finisher Jeff Carter waiting on the doorstep. Stralman first lifted Carter's stick, then swept the puck out of danger even as it slid onto the goal line. This first mention of Stralman on the night prompted NBC Sports color man Eddie Olczyk to note that Stralman is likely in line for a significant pay raise this summer. An odd thing to say about a defenseman whose career high in points was just 34, and set five seasons ago, who has historically not been relied upon too heavily by his coaches in terms of time on ice or defensive responsibility. Even odder that he said it while Stralman was having his single worst game of the playoffs by far (30.6 percent corsi).
But the thing is, Olczyk is right to an extent: Stralman deserves a big, fat check. But whether he's going to get it remains to be seen. He and Pouliot have, traditionally, been criminally undervalued by the hockey establishment at large. One need only look at their paths to the Rangers' roster to see that much.
First it's important to understand why guys like these two are important to the Rangers, or any team they happen to play for, at all. In terms of the so-called "boxcar numbers" (real basic stuff like goals and assists, the equivalent of baseball's batting average, home runs, and RBI), neither puts up a lot, but in terms of the underlying stats, those which measure possession, like corsi and fenwick, the numbers are staggering. In terms of score-close relative corsi — that is, the percentage of shot attempts taken relative to the total team's numbers — Pouliot's plus-8.0 percent above the Rangers' playoff total is second in the playoffs behind only Patrick Kane. Among defensemen, Stralman's plus-0.3 percent is seventh, and most of the guys in front of him were sheltered from tough competition and heavy minutes.
What that essentially means is that only one forward, and six defensemen, have been better at getting the puck into the opponents' zone and keeping it there than have Pouliot and Stralman, respectively.
And this is no fluke thing. With a shocking degree of regularity, it seems like these guys are near the top of the league in this regard. Stralman was third among league defensemen in score-close relative corsi for this regular season. The year before that, he was 12th. Meanwhile, Pouliot was well above his team's averages in each of the last three regular seasons (plus-1.3 with Boston, plus-4.2 with the Lightning, and plus-3.4 with the Rangers this season).
Clearly, when they're on the ice, things tend to go right more often than not for their teams. And yet it seems to be perception that holds them back from catching on. Pouliot is seen as a hideous waste and, if Bruins homer announcer Jack Edwards is to be believed, "one of the greatest disappointments of talent in National Hockey League history." That's because he was picked fourth overall by Minnesota in 2005, where he played 62 games before moving on to Montreal via trade. Just 118 games later, he was allowed to walk in free agency, and Boston signed him immediately (much to Edwards's chagrin) on a one-year deal. He played 74 games for the Bruins, and his rights traded to Tampa for peanuts, signed another one-year deal, and took part in just 34 games. Then he signed with New York last summer, also on a one-year contract. Such is the life of Pouliot, who has really brought nothing but positive if subtle play to the teams that were smart enough to sign him. It's not often you see a No. 4 overall pick with five different teams in seven years, and yet here we are.
Perception. Pouliot is perceived as a disappointment wherever he goes. They say he doesn't fit the system. That he takes too many offensive-zone penalties — though it's because he plays physical, especially along the boards (which teams normally love), and when he's on the ice the puck is in the attacking end more often than not. That he doesn't provide enough scoring. And this summer, it really wouldn't be that shocking to see the Rangers reach the same conclusion and allow him to move on.
Meanwhile, Stralman has been with the Rangers for three seasons, having bounced around a little bit before that. He started with Toronto for 88 games, then got traded to Calgary where he didn't play a single regular-season game before being shipped to Columbus for just a fourth-round pick because they didn't think he was as good as Staffan Kronwall. After a whopping 124 games across two seasons with the Blue Jackets, he wasn't offered a contract, couldn't catch on with the Devils in training camp, and had to wait until early November to get a deal with the Rangers. He has been revelatory pretty much ever since, and is now wrapping up the longest contract of his career (two years).
Nothing Stralman does is flashy. You can't see WOW-y statistics when he's on the ice, but he makes pretty much everyone he plays with better. That's also true of Pouliot, a major reason the Rangers' third line has consistently been its best.
Perhaps they're succeeding now because they have a coach who knows how to utilize them. Stralman was little-used for two years under John Tortorella, who gave him about 17:28 a night on average. This year, under Alain Vigneault, it was 19:24. He responded with the best season of his career, and was the Rangers' second-best defenseman (and he probably pushed for a tie at the No. 1 spot more than anyone would like to admit). Pouliot, too, has been deployed wisely by Vigneault, his fourth new coach in as many years. He put up stellar relative possession numbers in about one extra shift a night over his career average. His 36 points were a career high.
There has to be a general manager out there in the league who sees the inherent value these players bring to whichever teams they play for, and that they might be had for a bargain. Glen Sather giving either of them a contract in the last two years seems to have been as much a function of simply needing the bodies on the cheap as it was projecting them as worthwhile contributors. Their combined cap hit this season was just $3 million. If Sather actually saw what they were worth, they'd both be in the midst of serving out low-cost three- or four-year deals that would keep them affordable and their teams more competitive for a longer period of time than just this season.
These are players who deserve term and money, and Stralman is the only candidate here likely to get one of those things in July. Sather has right of first refusal on both, and if he's smart he prioritizes their deals above and beyond anything else he has on his plate. Neither Stralman nor Pouliot have even turned 28 yet, so the risk of the wheels falling off is low, and the odds that these strong playoff performances are flukes is likewise pretty much non-existent.
The funny thing is, GMs love paying for fluke performances, even if they're from players who are just pretty-good. That's why Rangers punchline Dan Girardi will be receiving $5.5 million a year for the next six seasons. That's why Matt Niskanen is going to become a highly-paid defenseman this summer (he's good but not as good as he was this season). That's why Jonathan Quick got a 10-year deal after he won the Cup. That's why the Leafs gave David Clarkson the worst contract in the league. And so on. You can do this all day.
But the number of guys like Pouliot and Stralman who are on reasonable long-term deals is extremely small, because they tend to slip through the cracks, whatever the reason. With any luck — and a cap that could rise to $70 million — that won't be the case much longer. The value is there to be had. Teams just have to look a little deeper. Or they just have to do what they've always done, and pay guys based on their playoff performances. These are two players for which that won't come back to burn GMs.
---
Ryan Lambert is a columnist for Puck Daddy, among other places. His email is here and his Twitter is here.