In Mint Condition, author Dave Jamieson tears the wax wrapper off the business of baseball cards, covering everything from old-timey cigarette-pack inserts to "FUCK FACE" and Upper Deck holograms. Here, Jamieson traces the industry's evolution for us, in 12 cards.
Dave Jamieson is a freelance writer who's won the Livingston Award for Young Journalists and the Sidney Award. He lives in Chicago and has a closetful of worthless baseball cards, all of them in excellent condition. Buy his book here, and visit his web site at DaveJamieson.com.
1869 Peck & Snyder Cincinnati Red Stockings
The first significant batch of baseball cards turned up in the late 1860s, when a sporting goods dealer named Andrew Peck started printing cards with ballplayers on them to advertise his New York shop, the Peck & Snyder Base Ball and Sportsman's Emporium. These early cards were simple photographs mounted on thick cardboard, and they pretty much established what we'd see over the next hundred years: guy with mustache holds bat, looks dourly at camera. This Peck & Snyder card shows the 10 members of the 1869 Cincinnati Red Stockings, the first explicitly professional baseball team, which was paid a modest sum to travel 12,000 miles by rail and boat, playing before 200,000 spectators and logging a 57-0 record for the year. Proving that small cardboard treasures still turn up in dusty attics, a 72-year-old Fresno, Calif., woman discovered a copy of this card in an old box of antiques in 2008. It sold at auction for more than $75,000.
G/O Media may get a commission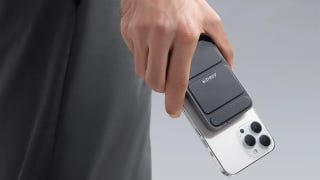 15% off
15% off Anker Top Ten Products
Take charge
Treat yourself to a portable power bank, a magnetic wireless battery for iPhones, or even a solar generator. There is a reason these are in the top ten. For instance, the Anker 747 Power Bank is a 4-in-1 charger utilizing USB-A and USB-C to be capable of charging up to four devices at once. Great to take with you when traveling and in need of keeping your phone, laptop, and even Nintendo Switch powered on.
1887 Old Judge Hoss Radbourn
In the 1880s, America's tobacco companies started slipping trading cards into packs of cigarettes. The idea was to give the buyer a fun prize while simultaneously instilling brand loyalty. Cards depicting actresses and ballplayers became a schoolboy fad, helping expose a generation of youngsters to cigarettes. The most fascinating issue of baseball cards from this era is the Old Judge set, first released by Goodwin & Co. tobacco in 1887. The series included more than 2,300 unique cards depicting over 500 professional players. Taken as a whole, it still stands as one of the great visual records of late 19th-century baseball and the men who played it. This card shows legendary pitcher and character Charles "Old Hoss" Radbourn of the Boston Beaneaters. Notice the middle finger slyly extended on Old Hoss's left hip. Eighty-five years later, hothead Detroit manager Billy Martin would take up Radbourn's torch, covertly flipping the bird on his 1972 Topps card.
1909 T206 Honus Wagner
As many a cardboard fetishist likes to say, there's the T206 Honus Wagner, and then there's the rest. Shortly after the American Tobacco Company started printing his card in 1909, Pittsburgh's future Hall of Fame shortstop demanded that the company halt production, leading to an abbreviated print run. To this day, no one knows exactly why. According to one theory, the Flying Dutchman didn't want children to see his image associated with tobacco products — a principled stand that would've put the ballplayer generations ahead of his time. Another popular theory asserts that Wagner believed he wasn't being appropriately compensated for the use of his likeness. Regardless of his motivations, the mystery has only added to the allure of an extremely rare card. Only 50 to 100 examples of the T206 Wagner are believed to be in circulation today. (The "T206" designation comes from Jefferson Burdick's American Card Catalog, a Dewey Decimal-type classification system for vintage cards.) The most pristine of these specimens, which was once co-owned by hockey great Wayne Gretzky and enjoys a long, intrigue-filled pedigree, sold to an anonymous bidder in 2007 for $2.8 million, still the most ever spent on a baseball card.
1933 Goudey Napoleon Lajoie
The ultra-rare Nap Lajoie card from Goudey Gum may have the most titillating backstory next to the T206 Wagner, which is why many collectors put it at No. 2 on their lists of the most important baseball cards of all time. Boston-based Goudey was one of the first outfits to start packaging baseball cards with gum during the Great Depression. Kids flocked to Goudey's penny-a-pack Big League set in 1933, but they were driven mad by the elusive card No. 106, which was supposed to picture Lajoie, a long-retired Ty Cobb rival, Triple Crown winner, and future Hall of Famer. Many hobbyists now believe Goudey had diabolically omitted the card expecting children to buy pack after pack in a vain search for it. (This writer tends to agree, given that Goudey seems to have "skip-numbered" one of its other trading card sets, printing only odd-numbered cards for part of the series and letting kids pine after the even numbers that didn't exist.) The mothers of foiled collectors apparently wrote to Goudey in protest, and those who complained received in the mail a Lajoie card that had been printed in small numbers. A surviving Lajoie in top condition will go for more than $100,000 on today's market.
1952 Topps Mickey Mantle
Topps was little more than a fledgling bubble gum company in Brooklyn when it released its first major set of baseball cards in 1952. Designed by mad genius Woody Gelman and his colleague Sy Berger during the sensational 1951 postseason, the '52 Topps cards were unlike any baseball cards that had appeared before. They were large, they were unusually attractive, and they had some novel and ingenious flourishes, like a player's autograph on the front and his statistics on the back. (Believe it or not, stats weren't a common feature on baseball cards until Topps made them one in the '50s.) Now the most iconic and valuable of all post-war baseball cards, the card featuring 20-year-old rising star Mickey Mantle was released as something of an afterthought late in the season, just as kids were turning their attention to football. Sy Berger, who's now retired on Long Island, told me Topps was stuck with several tons worth of the '52 "high number" sequence, which never sold in great numbers and which included the now-hallowed Mantle card. Sometime in the early 1960s, Berger loaded a garbage scow with the then-worthless cards and dumped them into the ocean off the coast of New Jersey. These days, a '52 Mantle in gem-mint condition can fetch more than a quarter of a million dollars.
1953 Bowman Pee Wee Reese
After Topps jumped into the baseball card market in 1952, the company developed a fierce rivalry with Bowman Gum of Philadelphia. The battle was waged in the courtroom, where lawyers tussled over ballplayer contracts, and also on the playground, where kids debated the merits of each gum company's offerings. The competition led to some of the finest cards ever made, not least of which was the '53 Bowman card showing Brooklyn shortstop Pee Wee Reese in action. Throughout the first half of the 1950s, Topps and Bowman were in a footrace to sign more players to exclusive card contracts, many of which were inked in the clubhouses after games or at bars and restaurants after drinks. In those days, a player typically got $125 per year for letting his face show up on a baseball card, and a lot of players signed conflicting contracts for different companies in hopes of getting some more money. As one lawyer told Sports Illustrated in 1954: "You could walk up to one of these ballplayers and offer him $50 to sign a contract to commit suicide. He wouldn't read the contract or ask what it required him to do. He'd just grab the pen and sign. Then he'd pick up his glove and run out for fielding practice."
1959 Fleer Ted Williams
After buying out Bowman in 1956, Topps went to great lengths to freeze out all other competitors from the field. Among its most cutthroat maneuvers, the company actually created its own scouting system so they could contract young prospects at rock-bottom prices. A lot of kids who were barely out of high school signed away their rights to Topps for a measly $5. Minor leaguers took to calling this payment "steak money," since that's what it got you in those days. Topps's aggressive tactics were too much for the Fleer Corporation of Philadelphia, which had been making candy since the 19th century and felt it could no longer compete without the ever-popular baseball cards. The only player Fleer managed to lure away from Topps in 1959 was Ted Williams. To round out a complete issue, the company contracted Teddy Ballgame for an 80-card set showing him in all aspects of his life, whether they were interesting or not. Among the dreariest cards were "Ted Signs for 1959" (pictured here), "Ted Decides Retirement is 'No Go,'" and "Ted Relaxes." Fleer soon abandoned hope of producing a successful set, and the Topps monopoly ushered in a long, stagnant era for baseball cards starting in the 1960s. Free from competition, Topps got away with some lazy and unimaginative offerings in the years leading up to 1980, when a federal judge finally ruled that Topps's contracts couldn't prevent its rivals from manufacturing their own baseball cards.
1984 Donruss Don Mattingly rookie
After the federal ruling, both Donruss and Fleer entered the field in 1981, marking the start of a baseball card boom. Soon a new term emerged among schoolboys: "rookie card." In years past, collectors had never made much of a fuss over whether a particular card was the player's first to appear. Things changed after Mickey Mantle's 1952 Topps rookie card started selling for thousands of dollars. Even young collectors began to see baseball cards as investments, and buying rookie cards became a way for fans to legally gamble on a player's future. Yankee Don Mattingly's spectacular 1984 season, in which he hit 23 homers, had 110 RBIs, and captured the American League batting crown at the age of 23, started a frenzied pursuit for his 1984 rookie cards, including the Donruss one pictured here. Jay McCracken, a former executive at Upper Deck, told me that the rookie card craze spurred by Mattingly single-handedly drove the sales of new cards for a couple of years. "That's why I make an argument for Don Mattingly to be in the Hall of Fame," McCracken said. "He's the one that bailed out the card industry in '86 and '87."
1987 Topps Bo Jackson
Of all the sets issued during the card boom of the 1980s, I'm fairly certain that this 1987 offering from Topps left the largest impression on young collectors. In a sea of homogeneous-looking sets, these cards were obviously distinguished by their wood borders, which I've heard more than one lapsed, 30-year-old collector compare in reverie to the cheesy wood trim in his parents' basement or the faux-wood paneling on a circa-1982 station wagon. In fact, the design was something of an homage to Topps' similar-looking "woody" set from 1962. Along with their distinctive look, the '87 cards included some mind-blowing fun facts that came courtesy of Topps researchers (e.g., Dodger Len Matuszek: "Len's hobbies include audio & video recording.") On a side note, any grown man who unearths his baseball card binders from 1987 will be surprised and perhaps saddened to see that the most sought-after cards from that year now feature some of the game's most disgraced players: Barry Bonds, Mark McGwire, Jose Canseco, and Rafael Palmeiro.
1989 Upper Deck Ken Griffey Jr.
Before they even sold a single pack of cards, the guys behind upstart Upper Deck had a cocky expression for the slick cards that would make them rich: "cardboard gold." The company was designing cards explicitly for investment-minded collectors, jazzing up their pricey packs with glossy-stock cardboard and counterfeit-proof holograms. But of all the smart moves they made, the shrewdest may have been to put a completely unproven rookie in the No. 1 slot of their inaugural set: Ken Griffey Jr., who was being billed as a once-in-a-decade kind of prospect. Upper Deck's artists couldn't even get their hands on a photograph of Junior in Mariners getup, so they had to edit a photo of the 19-year-old in a San Bernardino Spirit uniform. In the end, the Griffey gamble paid off as well for Upper Deck as it did for Seattle. During the '89 season, kids and adults alike pursued the Upper Deck Junior as if it held the key to their financial independence. Within a couple of years, Upper Deck would turn baseball cards into a billion-dollar industry.
1989 Fleer Bill Ripken error
Undoubtedly the naughtiest card ever pulled from a wax pack, the infamous Fleer Billy Ripken error card sent shockwaves through America's elementary schools in the spring of '89. Not only were kids blown away by the "FUCK FACE" scribbled in black marker on the knob of the bat, most of them were equally stunned to learn that Cal Ripken Jr. had a little brother. At the time, many people suspected Billy Ripken himself was responsible for the profanity: He was a known clubhouse prankster and had in fact taken a cream pie to the face during an on-air interview two seasons earlier. Ripken kept mum on the matter until two decades later, when he told CNBC's Darren Rovell in a rather incredible interview that he'd written "FUCK FACE" on his bat in order to distinguish it from the rest of the batting-practice lumber. At Fleer headquarters back in '89, the snafu was no laughing matter. The company had been kept in a Quaker family for generations, and the Ripken embarrassment may have expedited Fleer's sale to Marvel Entertainment in 1989. "'Mortified' wasn't the word," Ted Taylor, a former Fleer executive, told me. "They fired people. They just went crazy. The attitude was, You destroyed our good name."
2009 Upper Deck Cole Hamels
The speculation on cards like the Ripken error created a massive bubble in the baseball card market in the late '80s and early '90s. When it finally burst around the time of the '94 baseball strike, kids fled for video games and Pokémon and never quite returned. In recent years, the card companies have been catering to adult collectors with elaborate, high-priced specimens, like this 2009 Cole Hamels card from Upper Deck, which includes the Philadelphia pitcher's autograph and an actual piece of his uniform. Hoping to steer the hobby away from such expensive gimmicks, Major League Baseball announced last year that Topps, now led by Michael Eisner of Disney fame, would once again be the sport's exclusive card maker, just as it had been during the doldrums of the 1960s and '70s. But this time around, collectors shouldn't worry about Topps getting too lazy. The company can't afford to. Industry-wide sales of new cards are now about one-seventh of what they were at the hobby's peak in 1991.