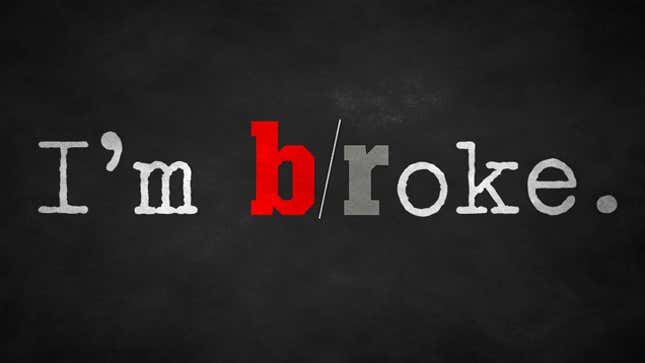 A month before I turned 21, I returned home from the Bay Area, where I was attending college, to celebrate Thanksgiving with my family in Minnesota. On a Tuesday evening, I was sitting in the living room, about to head upstairs to go to bed, when my phone buzzed with a text from Dave Finocchio, founder and general manager of Bleacher Report.
Chris Paul should ride the bench next season | Keep it a Buck(et)
"Take your panties off, NOW!" it read.
Another followed shortly after: "BITCH!"
Another: "Respond…asshole!"
I assumed Finocchio was drunk. Maybe he was at a bar texting some girl; maybe he was in Chicago, where his girlfriend lived; maybe they'd just started drinking early at Bleacher Report. I didn't respond, and was in bed, about to fall asleep, when I got another one: "Black hole sun equals YOUR FUTURE!"
Now sure he was drunk, I told him that he might be texting the wrong number. His response: "Tom, I see handcuffs and latex in your immediate future."
Then it hit me: He was referring to my 21st birthday.
---
My conversations with Dave Finocchio didn't typically go this way. While I'd kept in touch with other people I worked with during my internship in Bleacher Report's San Francisco offices, which took place during the summer between my sophomore and junior years in college, I hadn't spoken to him at all since I returned to school in the fall.
The only lengthy conversation I'd ever had with him came at the end of my internship. I was receiving five credits for interning at Bleacher Report, and as part of the course my instructor asked me to interview a company higher-up, transcribe it, and then write a reflection on it. I was 20 years old, had just finished up my sophomore year at Santa Clara University, and was looking to break into sports media. Finocchio seemed like a natural choice.
We sat in a conference room overlooking the intersection of 2nd and Mission Street, in Bleacher Report's original office. At the time—this was in 2010—Finocchio was building a business around a simple idea: Writers who just a few years before would have had no way to share their takes on their favorite sports teams were creating blogs of their own and providing better localized content than outlets like ESPN, Yahoo and Sports Illustrated. Bleacher Report, using some clever technology, would build something new that could combine the individual's obsessive fixations with a national platform.
I loved it. I was a Minnesota sports nut going to school in Northern California, looking for good commentary on my favorite teams—the Vikings, Twins, Wild, and Timberwolves—and having trouble finding it. The Minneapolis Star-Tribune and St. Paul Pioneer Press had strong beat writers, but offered no commentary from people my age. The internet offered more than anyone could read, but many of the blogs were not credible, or overly critical of the teams I liked; on top of that, they were small and difficult to find.
Not only was Bleacher Report a one-stop shop for commentary on my favorite teams, but it also offered an opportunity for me to join the conversation and provide localized content for readers with interests similar to mine.
At the time of the interview, the company was not profitable, but Finocchio had a vision.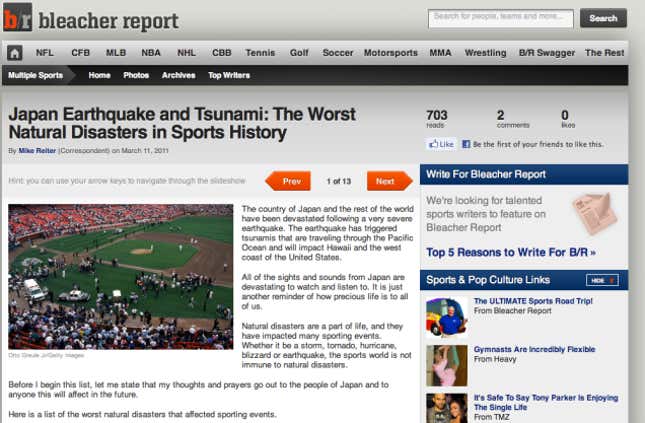 Bleacher Report content ca. March 2011.
---
"I see the company getting really, really big and becoming one of the biggest sports sites in the United States, if not the world, at some point," he said. "Advertisers will want to be on Bleacher Report because it is and will only continue to be … one of the best destinations to have your brand on the web, especially if you're looking to hit the 18-to-34 sports demographic."
I wanted to be a part of this. I saw my relationship with Bleacher Report as mutually beneficial: As I developed as a writer, I would become a credible media personality making a living by reaching the niche audience of sports fans in the Twin Cities area. In turn, I would generate viewership for the site and be someone it could claim as its own. As the site grew, so would the platform I was writing on and the influence I would have as a content provider, which would help the site grow, and so on, in a virtuous cycle.
"I would love to be known as a place where a lot of the brightest and best sportswriters got their start," Finocchio told me. "Where they learned how to specifically hone their voice and to create content on the web [and] learn how to market their content so they can become valuable to large media properties."
Finocchio compared sportswriting to the music industry. When distribution was tightly controlled, it was hard for artists to get their music out to the masses, and only a relative few ever became stars, but the machinery was in place to create icons like the Beatles and Michael Jackson. Technology inverted this model. YouTube and social media made it immeasurably easier for a given act to reach the public, and unthinkable that any one of them would become a star as big as Elvis Presley.
He saw the same trends working in sports. At one time, distribution was tightly controlled, and a sports fan could only go to the local paper or a national outlet to read about their favorite team. With independent blogs, and especially with sites like Bleacher Report and SB Nation offering a way to not just read but also produce content, though, the model was changing.
"Content is becoming, to some extent, more nameless and faceless in the sense that people are interested in reading good content, and they're caring less and less about where that content comes from," he said. "I think we'll see that trend continue."
It's been over three years since that interview, and Bleacher Report is now the third-largest sports site in the United States, bigger than Sports Illustrated and SB Nation put together. In August 2012, Finocchio and Co. sold B/R to Turner Networks for a reported $175 million. CNN, a Turner property, replaced Sports Illustrated with B/R as its sports content provider.
Finocchio has been an incredible success. He's a young millionaire and a vice president of Turner Sports.
In my three years at Bleacher Report, I covered the San Jose Sharks while studying in the Bay Area, and the Twins, Wild, Timberwolves, and Vikings upon returning home to Minnesota. I wrote over 500 articles, generated nearly three million page views, and received $200 for my services.
---
I first met Finocchio in May 2010, when a local broadcaster saw my first article for the Santa Clara University student newspaper and recommended that I reach out to Bleacher Report.
Finocchio and I met at a coffee shop in downtown San Francisco. He was joined by Rory Brown, who came on at Bleacher Report as an assignment editor in 2008 and is now the director of content operations. (On his LinkedIn profile, he lists himself full time employee No. 12 at Bleacher Report.) It was a straightforward interview: They asked me why I wanted the job, when I got into sports, and which sports I liked, and quizzed me a bit. The NHL regular season was almost over, so they asked me to predict which team would win the Stanley Cup and why. I correctly chose the Chicago Blackhawks.
After the interview, they told me they were interested in offering me a summer internship. I would be joining the newsletter team, headed by Bennett Spector. Spector is a University of Colorado graduate who had experience at the Colorado Daily and the San Mateo Daily Journal before joining Bleacher Report in 2009. His official title is director of emerging media.
Spector began by showing me what the newsletters were supposed to look like and how to use Bronto, a service that distributes the newsletters via email to subscribers, to find out which articles got clicked on after distributing them. He gave me a few test assignments as well. I would make a Pittsburgh Penguins or Kansas City Royals newsletter, and he would then critique me on which sources I should have used, whether I'd missed a story, and which links should have been higher or lower in the newsletter.
An enthusiastic Bleacher Report content provider pumps her fist, via B/R video "The Editorial Process."
---
He laid down the ground rules: Newsletters had to contain articles from reliable sources that were no more than two days old. I was shown how to write titles so they fit on tablet screens, and which Bleacher Report articles should be included. Finally, the most popular topics should be placed highest so they appear in the title of the email.
My first full day at Bleacher Report was strange. Because Santa Clara has a quarter system, I began in June and was the only intern starting on that day. Spector sat me down in front of two giant computer screens and sent me on my way. Nobody really said much that day, and I went home wondering if this was what it would be like all summer long.
After a few weeks, I settled and eventually had a routine down. In the morning I did newsletters for each NHL team and 15 MLB teams until lunchtime. In the afternoon I would write, either coming up with topics on my own or receiving assignments from the editors around me. At 4 I left the office, and walked back to the train station. I'd get home around 6:30.
The office was full of personality, and everyone became more talkative over time. I sat facing two individual rooms, one belonging to Bryan Goldberg, lately famous for coming off as rather doltish in the way he started up the women's interest site Bustle. Across from me sat Aron Glatzer, in charge of credentials. To my left sat Sean Swaby, who runs the Featured Columnist program. Finocchio, whom everyone called "Finko," was at the head of the table.
Over time, I became close with Glatzer and Swaby. Glatzer was a typical free-thinking San Francisco type, who at different times wore a handlebar mustache, mutton chops and other unconventional facial hair designs, some of which I'm not sure actually have names. Swaby was a fun-loving guy who had no qualms about sipping a beer in the office at the end of the workday or getting rowdy during a big game.
Part of my relationship with those guys was pragmatic: I went through Glatzer to get access to various sporting events, and went to Swaby when I wanted to cover an additional sport as a Featured Columnist. The other part was that I simply liked them. Glatzer was unafraid to celebrate individuality, and Swaby hadn't let graduation put an end to his partying.
Some days were livelier than others. Big events played on the flat-screen TVs situated over the desks; Giants games were accompanied by endless commentary, and staffers dressed up and had afternoon beers for the 2010 World Cup. There was also was an obsession with NOS, an energy drink that was stored in quantity in the snack room. Glatzer, by far the biggest consumer of NOS, went as far as to insinuate that he might create a NOS Baby that would run around and terrorize people, which I found absolutely hilarious.
The day Brian Grey was announced as CEO, we all gathered in a common space behind the computers and listened to him give an introductory speech. He briefly described his background, dropping the first names of employees from his previous stops, Fox and Yahoo, who I assumed were important and then addressed a couple of strengths and weaknesses of both companies before saying why he was excited coming to Bleacher Report. He ended by stressing that that he wanted the company to become profitable, and then asked people to introduce themselves.
Grey was very personable, an Oregon State grad in an office with plenty of guys from other Pac-12 schools who took their grief and gave it right back. He never held himself above anyone else, and I appreciated that.
He also met with every employee individually, including me. We sat in the same conference room where Finocchio and I would later meet, and made mostly small talk. I told him that coming from Minnesota, I never knew the San Francisco Giants and Los Angeles Dodgers had such a big rivalry. He said that was because it was so one-sided—Dodgers fans don't care enough about it.
He asked if I had any suggestions for the company, which I didn't at the time, and then asked if I had any requests for him. I just said that I was in the beginning stages of my career and hoped that Bleacher Report would take care of me until I was ready to join a major media property. I was expecting a perfunctory answer, nothing too special, but he said nothing and looked down at his desk. After a few seconds, he muttered something.
To this day, I don't remember what he said.
---
On the last day of my internship, that September, I accidentally sent a Royals newsletter to Chiefs subscribers. The deputy editor, Adam Hirschfield, jokingly said I was fired and that he would see me out. I shook hands, offered hugs, and went on my way.
While I was done going into the office, though, I wasn't done with B/R; I continued to write as a Featured Columnist for the site. I wasn't getting paid, but through Glatzer—one of the few people, along with Swaby and Hirschfield, with whom I kept in touch after going back to school—I had a line on getting credentials for live sporting events. That was reason enough for me to work without being paid for the time being, as I figured it would help keep my dream of being a professional sportswriter alive.
My main interest was in getting access to San Jose Sharks games. This was a huge deal for me, because I was intensely curious about hockey in California. It's one thing to be interested in the game when you grow up surrounded by peewees, bantams, and juniors in the Upper Midwest, where it's just part of the culture. But why anyone would go into a cold arena on a sunny California day, though, was a mystery. I actually had chosen Santa Clara over two other schools I got into, Gonzaga and Marquette, because the Sharks were so close by.
Going to live sporting events as press would get me information I couldn't pick up just sitting on my couch watching a game. It would also give me an opportunity to work on reporting skills like interviewing and transcribing while honing my voice and making the connections that might help me get a job at a place like the Star Tribune or Pioneer Press out of college.
I was working with Glatzer to get access, but it was a slow-moving process, in part because he had to handle every credential request made by every Bleacher Report writer, but also because I was an inexperienced 20-year-old reporter. Glatzer had sent me an email saying that we should meet in early December to talk about Sharks credentials in person.
I sensed there were secondary intentions. During my internship, the guys had joked about kidnapping me and bringing me up to San Francisco, so I emailed him back, telling him to 86 any thought of bringing me up to San Francisco, because I wanted to spend my birthday with my friends at the university.
Glatzer responded by saying that he just wanted to talk about Sharks access. I told him we had to meet in a central location during the day. We agreed to meet at a quarter after five outside of the library.
About 45 minutes before we were due to meet, I received this text: "Yo dude, it's Glatzer. See you out in front of the library to talk Sharkies. Happy birthday."
Glatzer got to the library a little bit after I did, apologizing for the credentialing process not moving more quickly and saying that I should have access by the time I returned from Christmas break.
Then WHAM!
My body hit the lawn outside the library as someone wearing black pantyhose over his head tackled me into the ground. Glatzer threw on a mask of his own and two other people grabbed me by my limbs and carried me to a parking lot across the street. I was thrown in the trunk of a hatchback and ordered to chug a Four Loko before we got to the bar.
The driver pulled off his mask and revealed himself as Matt King, B/R's pop culture guru. Glatzer rode shotgun. Swaby and Steve Marshall, the product design manager, were in the back seat.
"Duck!" yelled King, shortly after I realized what was going on. I looked out the back window and saw a police car trailing King's hatchback. Swaby and Marshall yelled at me, telling me that I needed to finish the Four Loko before we got to the bar while King freaked out.
The cop never turned on his lights and didn't follow as we pulled into the Normandy Lounge parking lot. I was dizzy and nauseous from chugging in the back of a moving vehicle; Glatzer, Swaby, and Marshall had to haul me into the bar, passing my old license and a giant piece of yellow paper to the bartender, who was serving three older men on an otherwise quiet Friday night. Once we sat down, I was served a barrage of shots: prairie fire, stoplight, jäger bomb—you name it. When King finished marking my arm, Marshall exclaimed, "You're hitting 21 tonight, buddy!"
From Normandy, we proceeded to a Buffalo Wild Wings knockoff near my off-campus house. I went to town on some wings, trying to sober up a bit, while washing it down with light beer. Swaby tried the hot wings challenge, only to be defeated by sauce that looked like pine tar.
At 9 they dropped me off at my house. Glatzer, Swaby, and Marshall told my housemates that they would be back around. At that point, my friends told me, I blacked out. I was apparently given a German "das boot" full of beer later that night, and reportedly showed up at a popular college bar, The Hut, at midnight as well. After I left the house, some of the B/R guys became too rowdy, were asked to leave the party, and stole food from our fridge on the way out.
All I know for sure is that the next morning I woke up, saw 21 marks on my arm, and then rolled up my sleeve to find three more hiding on my shoulder. I had survived.
---
An excerpt from a post on Bleacher Report's website titled "What Bleacher Report Can Do for You" reads: "Once upon a time, aspiring journalists could take entry-level jobs with newspapers or magazines and work their way up. Today, by contrast, every rookie has to build his or her foundation on a fiercely competitive playing field." Upon graduation, I learned this was true: Newspaper jobs were scarce and B/R appeared willing and ready to help young journalists get their start, just as Finocchio had suggested in our interview.
A few days before I graduated from college, I went up to visit Bleacher Report's new office on Kearney Street with my father. Glatzer came down and let us in, introducing himself to my father and taking us over to the fridge. "You're in San Francisco, guys," he told us. "You need to have an Anchor Steam."
Swaby was already sipping on one. He and Hirschfield stood up and greeted us while Glatzer went to get the beer. Swaby, who used to work at a newspaper, described the advantages of electronic media while Hirschfield cracked about keeping the "young guys" in line.
For the most part, it was a pleasant conversation. Glatzer told my dad about how the company had hired Matt Miller, an outsider none of them had ever met before he was offered a job, and all three emphasized that there would be more opportunities in the future. Finocchio stopped by briefly to shake my hand. I barely had enough time to tell him that my father, too, was a Notre Dame graduate.
That was the last time I saw any of those guys in person.
Many people told me that the logical thing to do after graduation would be to try and get an office job with Bleacher Report. They had new digs, and more employees than when I left. With newspapers contracting and few major companies offering paying jobs, coming on full time at a place to which I had ties and for which I was already writing made sense on paper.
Although I was fairly certain they would have found a menial job for me to do in the office, I was wary of working for Bleacher Report right out of college. Not only was I uncertain about getting offered a full-time job—something I would have needed if I wanted to live in San Francisco—I was also concerned that a job with B/R wouldn't work out in the long run.
Two Bleacher Report staffers celebrate work well done, via B/R video "The Editorial Process."
---
While I was doing my internship, I became friendly with a guy who worked in the office and wrote under the pseudonym Mike McD—a nod to Matt Damon's character in the 1998 cult classic Rounders. For most of my tenure at Bleacher Report, he had more article reads than any other account on the site. His last submission was in August of 2012, and he's still among the site's 25 most-read writers.
Mike McD's job was to produce either WAG or "pop culture" slideshows for Bleacher Report's Swagger section. WAG installments included "The 10 Hottest Athletes that Kind of Suck at Sports," "The 20 Most Boobtastic Athletes of All Time," and The 100 Hottest Athletes of All Time." There was enough WAG content on the site that Deadspin created a list of the sexiest "sexiest athlete" slideshows from Bleacher Report in 2012—many of them penned by Mike McD. There was also a "Douche of the Week" feature, Khloe Kardashian vs. Vanessa Bryant battle, and Erin Andrews dating rumors.
I occasionally rode the train back to San Jose with him, and he confided in me that when he joined the company, he'd wanted to become the "next Bill Simmons," writing smart, witty sports columns with a splash of pop culture mixed in. In college, he told me, he was a good writer, but he'd lost that skill over time while he was producing WAG and pop culture slideshows. He was married and had an apartment in San Jose, so writing for little or no pay was off the table. And, well, he "had a job in sports."
This was my fear: I would move into the city, take an office job with Bleacher Report, get locked into a six- or 12-month lease and be put into a position where I wasn't writing and would lose the skills I had developed in college. I was worried I would get trapped.
The decision was made: I would go home, hone my craft, and get a job with the company in a year on my own terms doing what I wanted to do.
---
Bleacher Report eventually expanded its Featured Columnist program to four levels. Instead of just having the title of Featured Columnist, you were a FCI, FCII, FCIII, or FCIV. On a page titled "Writer Rankings," Bleacher Report wrote that the Featured Columnist I got "Featured placement on B/R Team pages; Eligibility for media interviews and credentials for major events." At FCII, writers got "a free B/R Featured Columnist hooded sweatshirt." Level III Featured Columnists got "an interview for a B/R staff job," and FCIVs received "access to a custom-built, author-specific publishing template for all articles."
The hill to climb was steep. You had to have 2,000 points to get to FCII, 8,000 to get to FCIII, and 14,000 to become a FCIV. Point totals are spelled out on the Writer Rankings page, but in its simplest form, the more people read your articles, the more points you get. Writers got 10 points for hitting a milestone number (1,000 reads, 2,000 reads, 5,000 reads, 10,000 reads, et cetera), 50 points for publishing one article a day for five consecutive days, and 300 points for being the most-read writer on any given league (150 for second, 100 for third) and 150 for any given team (100 for second, 50 for third).
One of the perks of being a Featured Columnist was that you had the opportunity to be credentialed to live sporting events. It also meant, however, that you had to do a lot of work for free. When I was credentialed for Twins games, for example, which usually start at 7 p.m., I'd leave my house at 5:30 p.m. and typically arrive back around 1 a.m. after conducting interviews, transcribing them, and then writing a story (when I had one due). Occasionally I would show up even earlier than that because the clubhouse is open three and a half hours before the game starts. I would often leave for the park immediately after waking on Sundays to get interviews with players before the game when the cameras weren't around and I had time to have a longer conversation with them.
Getting credentialed was a blessing and a curse. On one hand, I improved as a reporter because I was going to multiple Twins games a week, interviewing players, and then transcribing the interviews and integrating them into my stories. On the other hand, I was doing a lot of work for free. I couldn't complain about it, however, because I feared that Bleacher Report would no longer support me as a credentialed writer and I needed the experience. I justified it to myself by saying that eventually my hard work would pay off and they would bring me on their staff as a paid writer.
I wasn't just writing junk to fill a quota; I was covering Twins baseball. I wrote about Scott Diamond, an undrafted player who became the only product of SUNY-Binghamton ever to make it to the majors; Caleb Thielbar, discovered by the Twins while playing for the St. Paul Saints, a popular independent baseball team across the river; and Brian Dozier, who doesn't identify principally as a ballplayer, can complete a Rubix Cube in under two minutes, and played in a band in college.
I also did a long feature on the trade that sent Justin Morneau to the Pittsburgh Pirates. Morneau was a staple with the Twins during their run of success in the aughts, a one-time Most Valuable Player who never quite recovered from a 2010 concussion. That trade became a symbol of the fall of the Twins following the opening of Target Field, the new outdoor stadium that was supposed to house championship teams led by Morneau and Joe Mauer.
I enjoyed writing these stories and because they were read by thousands of people, I felt they had value to the website. Unfortunately, as time went on, B/R began to restrict my access, preventing me from writing features like those from the website.
In truth, the biggest advantage of having my internship so early in B/R's development is that, at the time, they wanted to get as many people access as possible. Glatzer would proudly tell the office any time someone got into an event of any kind. It later became an incentive to join the Featured Columnist program. Only recently have they removed that language from the site and have restricted access to only the paid lead writers on the site.
---
I was visiting friends in Seattle when Turner acquired Bleacher Report. I was still a year from moving up to Featured Columnist III, but I had spent the whole summer writing about the Twins and felt I was making progress as a writer, even if it wasn't immediately showing up in B/R's point system. I had gone to every Twins game since I graduated in June and was missing my first series, which was against the New York Yankees, a team that would fill the press box with reporters and potentially make it difficult for me to get a credential. I decided it was a good time to go and visit my friends before the final stretch of a lousy Twins season.
I was writing something just about every day and had made noticeable improvements. I was a familiar face in the clubhouse, so players felt more comfortable speaking with me, and I was beginning to develop relationships with the local reporters. When my friends asked how I was doing, I could say that things were going well. I felt I was on the right path and in a year, I would be a paid writer. I just had to be patient.
We were returning from a day of canoeing near the University of Washington when I checked my email to see if I had missed anything while I was away from home. I had asked my editors not to give me assignments while I was away, but still wanted to double-check, just to be sure.
There, sitting in my inbox, was an email from Adam Hirschfield. In it, he linked to a CNN Money article announcing the purchase as well as a post from King Kaufman's Bleacher Report writer's blog titled Turner Buys Bleacher Report: What does it mean for B/R writers?
Two Bleacher Report staffers congratulate one another, via B/R video "The Editorial Process."
---
In the email, Hirschfield wrote: "[The] future is bright. This is great news for all of us. And even if this doesn't change things today, it'll be great for you and the site as we go forward."
Kaufman was more specific, saying that the Turner acquisition would open up more opportunities for homegrown writers. "Bleacher Report has always been a meritocracy," wrote Kaufman. "Those writers who distinguish themselves on the site put themselves in position for paid opportunities as they become available. As part of Turner Sports, Finocchio says, there will be more opportunities for more contributors."
This news was echoed by higher-ups throughout the company. "Bleacher Report is saying there will be more paying gigs than there are now (after a round of talent acquisitions of some notable names from the blogosphere)," reported Awful Announcing's Ben Koo, "and that it will continue to operate in San Francisco with the same management team running the show."
I felt that things were coming together. My work was going to pay off: With the influx of Turner money, my guys up in San Francisco would have the funds necessary to give me a full-time job at the end of the year when I moved to Featured Columnist III.
It seemed like a good time to be on the make. A year earlier, Bleacher Report had announced that they had hired five Lead Writers, who got full-time jobs and would be featured on the website's front page. The "Fab Five," as Kaufman called them, mainly comprised outsiders who had previously been critical of Bleacher Report. Four came from outside the company:
Dan Levy—Former host of the On the DL podcast, Levy had criticized Bleacher Report frequently, but according to Kaufman had said on one of his later shows that he was no longer going to "rag on B/R 'just because it's the cool thing to do.'"
Josh Zerkle—Co-founder of the NFL blog Kissing Suzy Kolber and former contributor to Deadspin and the Washington Post. According to Kaufman, he "works at making select people mad."
Dan Rubenstein—Like Levy he had a podcast, his called The Solid Verbal, and he was brought aboard for his multimedia talents. In addition to his podcast, which was independent and popular at the time, he also hosted and produced the SI Tour Guy video series for Sports Illustrated where he traveled to college football tailgates and "made fun of people."
Bethlehem Shoals—Founder of both the NBA blog FreeDarko and one of the creators of the online magazine The Classical, Shoals had written two books and a textbook called "News Reporting and Writing" which Kaufman was more than happy to tell us was propping up his computer monitor—"a position of honor," in his words.
The final one, however, was Matt Miller, the NFL Draft Lead Writer. He had started his own site, New Era Scouting, moved over to B/R and got three million reads on 300 articles. He didn't do WAG articles, lists, or rankings, and he didn't join the Breaking News Team—he analyzed NFL players and prospects. Essentially, he used Bleacher Report's platform to become the next Mel Kiper Jr. or Todd McShay.
"Part of the Lead Writers' mandate will be to help identify the new Matt Millers," wrote Kaufman, "those members of the Bleacher Report writing community who are doing great work and could be in line for paying opportunities."
Three million reads by the end of the year? I could do that.
---
I got three million reads while at Bleacher Report. The difference between me and Matt Miller is that I never got paid. What did I receive for my services? A whole screen full of official virtual badges.
An anonymous writer in Joe Eskenazi's expose of Bleacher Report, which ran in SF Weekly on Oct. 3, 2012, commented on the virtual badges and medals that writers get on their profile pages every time they accomplish something at Bleacher Report. Badges are awarded for being among the three most-read authors on a specific sport or certain team. Medals are awarded for articles that receive readership in specific increments ranging from 1,000 to 100,000 reads. (For a complete listing of awards and writer rankings, click here.)
"Within the Bleacher Report community, [medals and badges] are a point of pride," the anonymous writer told Eskenazi. "It's hard not to feel like you're getting somewhere if you have a bunch of badges. It makes you want to work your way up to being an all-star journalist. But you're just working your way up to being an all-star Bleacher Report journalist."
I read Eskenazi's piece, and it concerned me, but I didn't feel I was naive enough to be fooled by the company. I knew these people; I'd sat next to them at work and stayed in touch with them after I'd left. Hell, they had kidnapped me on my 21st birthday. I wasn't some dope who thought the medals meant anything.
During my internship, Finocchio, Glatzer, and I had attended an Oakland A's game to see Matt King sing the national anthem. King's brother had hooked us up with a suite, and it was a good opportunity to bond with members of the company outside the office. On our way to the game, Finocchio complimented himself, telling Glatzer that the medals were a great idea. "I invented them and I still find myself striving to add more by writing for the site," Finocchio deadpanned on the BART ride over. There was no sense of sarcasm in his voice; he was simply stating something he felt was true. And, to some extent, it was. People love to be rewarded for their hard work. It's only human nature to strive for a medal.
The medals didn't mean much to me, however. What counted, in my mind, were pageviews. The more I got, the more points I accrued, and the more points I had, the closer I was to getting an interview for a staff job. But I understood what this anonymous writer was getting at: Medals appeared to be worth something when they were first achieved, but later proved to be worthless.
What the anonymous writer seemed to be getting at was that the best Bleacher Report writers could aspire to be was Triple-A all-stars: dominant in their domain, and incapable of making an impact in the major leagues. A writer who knows how to make slideshows and write controversial articles that get a lot of hits and comments, but doesn't know how to break a story or even conduct an interview, isn't fitted for any other kind of work. They can't market themselves to large media properties, and they have the stigma of having written for Bleacher Report. Eventually, they become flotsam and jetsam. In this context, maybe I should have thought more about what happened after that A's game: The guys got off at their stop, leaving me on the BART train. And as a person who grew up in Minnesota and had never used it before, I wasn't exactly sure how to get home.
Throughout my time there, however, Bleacher Report maintained that it was developing writers. A post from March 2013, aimed at convincing writers of the benefits of all their hard work, contains a video titled "BleacherReport—Writer Development." The opening screen reads "The Benefits of Writing @ B/R," and features four people:
Michael Felder—Former University of North Carolina defensive back and current College Football Lead Writer.
Elika Sadeghi—Former writer at Eleven Warriors, a blog about Ohio State sports, who does video for Bleacher Report.
Zach Rymer—The only truly homegrown writer in the video. The Cal graduate came right out of Bleacher Report's backyard and rose up the ranks to become the Lead MLB Writer.
Miller is the last guy.
So, in short: a former college football player, an attractive college football analyst, an NFL draft talent evaluator, and one homegrown writer. The video doesn't really explain how writers are developed or the paths each person took, but does makes the company look like a great place to work. It shows their Google-esque office, the friendly employees willing to help out, and everyone having a good time doing what they love.
The message they seemed to be sending to their contributors was that if you work hard enough, you could be the next Zach Rymer.
---
At the end of my time at Bleacher Report, I was writing six to eight columns a week. I would write at noon or around 4 p.m., or at both times if I had two articles due. I was writing about all four of Minnesota's professional sports teams and receiving assignments from four different editors. I also "freelanced" assignments, meaning they were written in addition to my normal ones. These were usually about the Twins, since I had access at Target Field.
It took me a while to be accepted as a Featured Columnist for all four teams. In order to receive assignments from editors and have your work promoted through Bleacher Report's channels, Sean Swaby had to approved you to cover a certain team as a Featured Columnist. For example, just because I was a Twins FC doesn't mean I could just write about the Timberwolves and have my work promoted or receive assignments. I could choose to write about the Wolves, but unless I was considered a FC for that team, nobody would read my work and I would get no editorial help.
My editors were all "homegrown," so they had been through the grind. Joel Cordes, my NBA editor, is from Minnesota and covered all four teams from 2004-08 as credentialed media, so he was exceptionally helpful. And Doug Mead, my MLB editor, whom I have spoken to over the phone, was always willing to read my longer pieces, and became a personal editor in some capacity.
The problem was that the editors held no power at the company, or so they said. At the time I left B/R, I had a long email exchange with Cordes in which he claimed he was pulling for his writers to be paid, to no avail. They were purportedly also not told about a lot of things like, for example, why the company was using outside sources instead of their own Featured Columnists in internet videos and other B/R media, or why the B/R brass was hiring from the outside instead of promoting the best FCs.
At the time, I was doing what I wanted to do—for the most part. I really enjoyed working with my editors and my writing improved drastically because I was working with four different people ... even if they were incredibly busy handling all the writers in their respective leagues. The trouble was getting access.
I had a good relationship with the Twins, a contact I had made through my uncle who knew a person in the front office, so that always worked out well. I got into a Wild game, but the old NHL editor filled out a form wrong, so the team accused me of sneaking into a game. With the Wolves, I got credentialed through Paul Swaney to do a stadium review for Stadium Journey and introduced myself to the Wolves P.R. staff. They granted me access despite initially getting resistance from B/R, which said that it had a new policy where only Lead Writers and paid staff get access to certain events.
It was difficult to hear given that, well, at around that time I was supposed to be granted an interview for a paid position.
---
By May 2013, I had reached Featured Columnist III, at which point I had to contact Jeff Chase, the community monitor, and have him manually change me from a Featured Columnist II to Featured Columnist III on my sportswriter profile. I assumed that after Chase had changed my profile to reflect that I was a Featured Columnist III, I would be asked to come in for an interview. I had planned to see college buddies up in San Francisco, and thought I would swing by the office and see what they had in store for me.
I emailed Adam Hirschfield, Bleacher Report's deputy editor, with whom I had maintained contact since my internship, and asked him what opportunities were open for Featured Columnist IIIs. He did not give me a direct answer, telling me to email each of my editors as well as Tim Wood, who left the site around the time I reached Featured Columnist III. After asking around, I found that there were no paid opportunities available. The NHL editor, Scott Campbell, told me I could get paid $200 to write 10 NHL draft features. This was the only paycheck I ever received from Bleacher Report after my initial paid internship.
The thing about this was that I was generating viewership for the site. I got about 10,000 hits on my Vikings articles, 5,000-10,000 on my Wolves stuff, and 1,000-2,000 on the Wild and Twins content. (Keep in mind that most of B/R's hires are in the NFL department, because it is such a popular sport, and in the NBA due to their Turner affiliation, and that MLB and the NHL are less emphasized.) In all I was getting at least 20,000 to 30,000 hits a week, if not more, while providing strong localized content, which is difficult to find. At the very least, I felt I deserved a stipend.
Even though I continued writing for Bleacher Report, I was becoming very suspicious about what was going on there. Why was I not getting paid despite generating so many pageviews? Why was the promise that people who reached Featured Columnist III would get a job interview suddenly pulled off the site? And why, when I emailed Adam, a person I knew from the office who had told me that with the Turner acquisition there would be more jobs available, did he not know whom I should speak to about getting a job at B/R?
There were also plenty of other media sources writing about Bleacher Report at the time, and none of what they had to say was positive. Nick Bond discussed the seven stages of grieving at Bleacher Report University for The Classical, Will Leitch wrote about how B/R was gaming the system for Sports on Earth, and, of course, Joe Eskenazi had done his investigative piece for SF Weekly. I had also been casually following a blog called The Bleacher Report Report, which I had discovered in a June 17, 2013, Deadspin post.
In September 2013, B/R Report's anonymous author posted an article in which he quoted Tim Wood as saying that he did not think a young, homegrown writer would ever get paid at Bleacher Report. "Turner wants to homogenize the site," he said. "They know TV and TV is built around brand name personalities, so that's what they want from BR. That goes against everything I loved the site for when I signed on and against everything we were building. I don't foresee a good future for the young writer trying to get paid at BR."
Those writer rankings, it turned out, were a sham too. "Climbing of the ladder was not as structured as I wanted. I was always asking for more money. I wanted more tiers of paid writers, so the paid writers could see they were rising [in] the ranks," he wrote. "That was the five-year plan when I signed on for the gig. I think that if we had continued without Turner, we would have created those tiers. I had budget approval to create more tiers, but it was pulled back when the Turner talks began."
It was at that moment that I realized I was being played. Bleacher Report was making a ton of money, and they could afford to pay me and other people that had reached Featured Columnist III. They just chose not to.
At this point I wanted answers and I knew I was not going to get them from Adam or anybody else at Bleacher Report, so I decided to reach out to "Bleach," the anonymous author of The Bleacher Report Report, to see if I could learn any more. It was Bleach, not anyone I had worked with during my B/R internship, who told me to reach out to King Kaufman, the manager of the writer program at B/R, and ask for a stipend. He told me he thought they would pay me, since the company had previously come out and said that it paid stipends to longtime writers in order to help them out until they found a permanent job.
On Oct. 7, I emailed King Kaufman, explaining that I covered four teams, was getting good viewership, and had reached FCIII four months prior, and requesting payment for my writing.
His response was as follows:
Thanks for checking in. I've discussed your note with all relevant editors, and I'm sorry to report that there are no paid opportunities for you at B/R in the foreseeable future.

We appreciate all you've done for Bleacher Report over the years, and we'd be happy to have you continue to contribute in an unpaid role if that's what you want to do.

I realize this sounds harsh and it's tough news, but paid writing slots at Bleacher Report have become very competitive.
Bleacher Report had just hired people away from CBS Sports, The New York Times, and ESPN. The site had just lost a slew of high-profile outside hires—Ethan Sherwood Strauss, Zach Harper, Holly Mackenzie, and Jimmy Spencer, in addition to guys like Dan Rubenstein and Bethlehem Shoals—and had money to spend. It was hard not to think that management saw all of their longtime contributors as expendable: If you leave, we'll just use all the money generated from our unpaid writers to land a guy from The New York Times or ESPN.
In short, there appeared to be three types of hires: homegrown staffers whose job was half writing and half P.R., prominent bloggers paid to stop complaining about the site to his or her followers, and people from established companies whose purpose allowed B/R to say, "We got a former ESPN person."
I felt I had become nameless and faceless to Bleacher Report management—just one more drone pumping content to get clicked on. I thought back to that text Finocchio sent me before my 21st birthday, the one where he said "Black Hole Sun" was my future: In a way, it was more prescient than I could have ever imagined.
Following the release of that song in 1995, Soundgarden did an interview with Rolling Stone where frontman Chris Cornell talked about the toils of the music industry:
It's really difficult for a person to create their own life and their own freedom. It's going to become more and more difficult, and it's going to create more and more disillusioned people who become dishonest and angry and are willing to fuck the next guy to get what they want. There's so much stepping on the backs of other people in our profession. We've been so lucky that we've never had to do that.
That is exactly what is happening at Bleacher Report. Many young writers, unable to find a job with the newspapers or other media outlets, join B/R hoping to hone their voice and develop their writing while making enough money to keep the dream alive. Instead, they are strung along while their work subsidizes the salaries of better-known talent from established publications and not really given a place to go once they are good enough to generate traffic with longer articles. They're not considered a Sports Illustrated, Grantland, or Sports on Earth-caliber writer, but they're also no longer beginners. They just get lost in the middle.
Every time a major event occurred, I always thought back to my discussion with Finocchio. I liked the idea behind the site, giving a voice to the die-hard fan in hopes of creating better local content on each team, but wondered if that would ever come to fruition. Bleacher Report could be a place where you would find unique, salaried writers—perhaps a die-hard Cleveland Indians fan, a hockey fan from Miami, or somebody who likes the Charlotte Bobcats more than the UNC Tar Heels.
Instead, the people who get paid are the exact ones that Finocchio didn't want to read as a displaced Bay Area sports fan going to school in South Bend: those who cover all 30 teams or only the "national teams." I saw myself as a person servicing Minnesota sports fans who live in the Twin Cities, as well as those who live elsewhere and still want to follow their teams. In my mind, I was following the model Finocchio laid out when I spoke to him over three years ago. There may have been red flags along the way, but I was sure it would work out in the end.
"It's really valuable to have people out there that we've had a positive experience with," Finocchio told me in his parting words back in August 2010, "and they've had a positive experience with us."
---
Tom Schreier writes for 105theticket.com and can be heard on The Michael Knight Show from 2-3 p.m. on weekdays. He has written for Bleacher Report and the Yahoo Contributor Network. Follow him on Twitter @tschreier3.
Art by Jim Cooke.