One of the first times we meet Irina Viner-Usmanova, the head of Russia's dominant rhythmic gymnastics program, in the documentary Over The Limit, she's berating gymnast Margarita Mamun after a competition. "You were rubbish today," says Viner-Usmanova, who wears a Justin Timberlake–style straw fedora throughout most of the film. A documentary made by Marta Prus, Over The Limit has made the rounds on the festival circuit for the last six months and was broadcast on the BBC last week.
The best sports movies according to Toheeb Jimoh
The documentary features Mamun, one of the stars of the Russian rhythmic program, in the run-up to the 2016 Olympics. Which means that Mamun was hardly "rubbish" when Viner confronted her, at least by the standards of international competition; on that day, she won the silver medal in the all-around behind Yana Kudryavtseva for the second year in a row. Rhythmic gymnastics, in particular, is still dominated by gymnasts hailing from Eastern European countries, with Russia being the most powerful and influential in that group. Russian gymnasts usually sweep the top spots on all of the rhythmic gymnastics podium, which means the only suspense is which Russian gymnast will win. In the film's opening, the day belonged to Kudryavtseva. In the 2016 Olympics, it was Mamun who won gold.
Russian gymnasts have won the rhythmic all-around in the last five Olympics and countless world and European titles in between. And almost all of this success has involved Viner-Usmanova. The documentary reveals her as a woman who loves hats—fur, straw, velvet—and really, deeply loves obscenities, which she directs at the gymnasts and coaches who are under her command and at her mercy.

In that early scene, Viner-Usmanova addresses Amina Zaripova, Mamun's personal coach and a former world champion in her own right, as though Mamun isn't even present. "She's not a fighter. So why the hell do we need her?" Viner-Usmanova says to Zaripova. "If she doesn't fight, she should go to hell."
Zaripova, a former student of Viner-Usmanova, for her part, plays "good cop" to Viner-Usmanova's "bad cop" at least while it's the three of them. Back in the gym, during the day-to-day grind, Zaripova is also harsh with Mamun, if not nearly as cruel as Viner-Usmanova. At various points during the practice, she yells at her pupil.
G/O Media may get a commission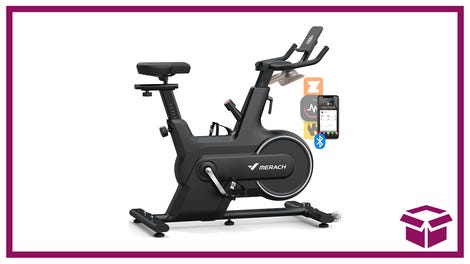 14% off + Coupon
Merach Indoor Cycling Bike
"Why the hell didn't you hit again?"
"You silly cow, it's your routine!"
Zaripova tells Mamun that she bullshits the audience because of her "kind-hearted eyes," which echoes something Viner-Usmanova said to her earlier during that first dressing down. Viner-Usmanova told Mamum that she "got points for her pretty eyes." The implication in both eye-related remarks is that she isn't winning medals solely on the basis of her skill, that she doesn't truly deserve the points she's earned in competition. Throughout most of the film, Mamun's eyes—they are very pretty—mostly seem tired.

Zaripova gets a bit softer. "You realize how hard this situation is for us. When you make mistakes, you're framing everyone: her, me, Ira. It all fucking sucks," she says. The outcome at the 2016 Olympics isn't merely significant for Mamun; it will impact all of the people who worked with her, including her coaches. And in a nicer moment later in the film, Mamun sits on Zaripova's lap on the beach and the coach says to her, "We're all in the same boat. We're all in the same team."
In Russian rhythmic gymnastics, no one bothers with giving lip service to the idea that the sport is all about the development of the athlete, of the person, that it's all about athlete well-being. When Mamun is struggling with foot problems, Zaripova, motioning to her own foot, says, "Rita, there is no such thing as healthy professional athletes."

---
If she really wanted to make the point, Zaripova should've shown Mamun her ear instead. At her first world championships, when she was 17, Zaripova was quite nervous. Viner-Usmanova, master motivator that she is, tugged on Zaripova's ear; when the gymnast attempted to wriggle free, it tore a little, leaving blood on the floor. "It was precisely that which snapped me out of it," Zaripova said years later. She credited Viner-Usmanova's with helping her win a bronze medal in the competition.
Prus's film doesn't allude to any of this backstory. There's no narration or direct interviews, and so there is no way to convey this sort of information. But knowing Zaripova's and Viner-Usmanova's history together does a great deal to explain the relationship dynamics onscreen. While Viner-Usmanova reserves her harshest words for Mamun when she's faltering, she also berates Zaripova for Mamun's failures. She calls Zaripova a coward and, at a different moment, calls both Mamun and Zaripova "losers." It's hard not to imagine that Viner-Usmanova's criticism/emotional abuse of Zaripova doesn't eventually wind up displaced onto Mamun. After all, Mamun is not the only one being judged by Viner-Usmanova; Zaripova's performance as a coach is also being evaluated.

And neither one can simply ignore Viner-Usmanova's opinion, even if they wanted to. Viner-Usmanova is the single greatest power in Russian rhythmic gymnastics, which means she is the dominant power in the sport internationally, too; Russia's domination of the discipline is that thorough. She's the current head coach of the national team and the president of the Russian Rhythmic Gymnastics Federation. And in 2015, Viner was awarded the Olympic Order, which was personally given to her by Thomas Bach, the president of the IOC. She is the first gymnastics coach to receive such an honor.

In Russia, rhythmic gymnastics has a lot of money and political clout. Alina Kabayeva, another Viner-Usmanova pupil and the 2004 Olympic champion in the sport, has long been rumored to be Putin's girlfriend and has served in the Duma, the Russian parliament. It is believed that she has given birth to at least one of Putin's children, although Putin and Kabayeva have denied this. Viner-Usmanova is married to Alisher Usmanov, the richest man in Russia and among the richest people on the planet. She is also a powerful figure inside the International Gymnastics Federation.
What this means is that if Viner-Usmanova wants to yell "fuck" at a gymnast, which is something that she does frequently during this documentary, there's not a single person in the gymnastics community who is going to stop her.

---
The BBC broadcast of Over The Limit comes at a time when the culture of women's gymnastics has been closely scrutinized in the United States. Since the Indianapolis Star first reported on the allegations of sexual abuse against Larry Nassar in September 2016, shortly after the Rio Games, there has been an intense focus not just on sex abuse in the sport but emotional abuse, as well.
That conversation doesn't appear to have made much headway in Russia. Over the last couple of years there have been a handful of allegations made against Russian coaches and athletes, all of which died off quickly. First, there were rumors that former Russian team head coach Leonid Arkayev has been accused of misconduct. Last year, 1992 Olympic all-around champion Tatiana Gutsu has said that fellow 1992 Olympic gold medalist Vitaly Scherbo sexually assaulted her in 1991, a charge he has denied. And Olga Korbut, the first global superstar in women's gymnastics, has come forward and said her coach, Renald Kynsh, had sexually assaulted her and others. (Knysh has denied this.) And when Russian coaches and former stars were asked to comment on the U.S. abuse scandal, they seemed a bit skeptical of some of the claims and noted that some U.S. coaches were being "persecuted." 2007 world uneven bars champion Ksenia Semenova, when asked about U.S. sex abuse scandal, said, "If talking about our gymnastics, about my time, I can say—there was nothing even close to it here!" In response to Nassar and also Korbut's revelation about abuse, she responded, "I don't know where this flood is coming from. Perhaps they want to remind [people] of themselves." There are a handful of thumbnail explanations for this—all of which resolve to some version of Profound Cultural Differences—but the simplest and most compelling is that Russian gymnastics is built around a hierarchy that makes powerful figures untouchable.

Prus, the documentary's director, mentioned the film's reception, specifically from Viner-Usmanova when she screened it for the coach at her Tel Aviv home shortly before its Amsterdam premiere. "A few scenes into the film, she interrupted the screening. She was upset because I'd filmed her telling a gymnast she was a piece of shit. 'What is this? Are you trying to stir a scandal? You can't use such words,'" Prus recalled Viner-Usmanova telling her. "I thought, we have a problem here. 'Shit' wasn't the worst thing she said in my film."
Prus said she asked Viner-Usmanova to reserve her final judgment and watch the rest of the film. "We kept on watching and eventually Irina stopped hearing the swear words," Prus said. "When it was over, she was ecstatic. She wanted the film to be screened at the Moscow festival."

Having seen the film, it's hard to imagine why Viner-Usmanova changed her opinion after seeing the documentar in its entirety. As Prus noted, it's not like her language or approach become better or more compassionate later in the documentary—if anything, the language gets worse and Viner-Usmanova's treatment of Mamun also deteriorates. In one particularly brutal scene, Viner-Usmanova is trying to get Mamun to evoke tragedy in her performance. "Talk about your dad. Talk about everything. Don't be a coward." Later, she tells Zaripova that she told Mamun to think of her father to get into character. "I've told her, to show a tragedy, that her dad is dying," Viner-Usmanova says. Zaripova hangs her head.

The thing is—Mamun's father was dying at the very moment. Abdullah Al Mamun was battling cancer while Prus was shooting the documentary. (Mamun's father was born in Bangladesh and, for a brief period, she represented her father's home country in international competition.) Mamun received word of his diagnosis in the film over the phone from her mother. She doesn't tell Zaripova or Viner-Usmanova; she tells a trainer because she had questions about her father's chart. But Zaripova found out anyway and while trying to reassure her that her father will be okay, told her not to take anymore phone calls from her mother. "Damn, as if practice sessions were the most important," Mamun tells her boyfriend after that conversation with Zaripova. (To Zaripova's credit, she does appear to try to run interference between Viner-Usmanova and Mamun at a competition shortly after the gymnast found out her father had cancer and while Viner-Usmanova was yelling ruthlessly at the girl.)

It's the most glaring example of the single most unsettling thing about Over The Limit—the fact that these athletes, at least during their careers, are not seen as fully human. Because they possess certain physical gifts and an unusual drive to maximize them and win, their very normal human emotions—such as anger, frustration, sadness—don't really register with the adults around them and/or are viewed as secondary to their talent and potential. Back in 2012, Wu Minxia, a Chinese Olympic gold medalist in diving, was only notified about her mother's cancer and her grandparent's death after she won gold at the Games. Her mother had been battling cancer for eight years and in all of that time, Wu, who had lived away from home since she was 16, wasn't informed. Her coaches thought it was better to keep her in the dark, so as not to distract her from winning gold medals. The fact that she might've wanted to be there for her family, or even simply would want to know wasn't a priority, or ever really entertained.

In Mamun's case, her concern and anguish over her father's illness—according to many press accounts, Mamun and her father were quite close—is being used to manipulate her into a better performance. Mamun, to her credit, pushes back when tired and irritated, and goes so far as to argue for her very humanity with Zaripova (though not with Viner-Usmanova). "Why are you getting upset?" Zaripova asks at one point. "Because I'm a human being," Mamun replies.

"You are not a human being but an athlete," Zaripova shoots back.

At the moment that Zaripova says this to her young charge, Mamun is sitting in a drastic oversplit, with the ankle of her front leg up on Zaripova's chair and her back leg on the floor. Outside of rhythmic gymnastics, you'll be hard pressed to find any humans capable of such a move.

"Find your inner harmony. Touch up your eyebrows," Zaripova says to end her pep talk with an Adam Rippon-ian flourish.

Abdullah Al Mamun died within days of his daughter winning the Olympic title in Rio.

---
Why, after watching her constant berating of Mamun and Zaripova onscreen, did Viner-Usmanova see this film and her role in it in so positive a light that she not only doesn't object to it being released but wanted it screened in Moscow? Is it simply because it ends with Mamun winning the Olympic gold, and thus somehow proving that Viner-Usmanova's coaching technique both works and was worth it? If Mamun had lost to Kudryavtseva would Viner-Usmanova still like the film and her portrayal in it?
It could be as simple as Viner-Usmanova recognizing that she's the film's true star, despite Mamun technically being the protagonist. Prus' film, like this sport and many others, has a distinct coaching bias. Arkayev once wrote that in gymnastics, coaches play the primary role and the gymnasts, a secondary one. Coaches are the keepers of the technical know-how, which is for some reason prized above the individual athlete's physical and mental gifts. It probably helps that coaches tend to stick around a lot longer than the athletes. Both Mamun and Kudryavtseva retired shortly after the 2016 Olympics, but Viner-Usmanova has been around for years and will continue in her role for years to come. The relationships that coaches have with gymnastics officials are longer lasting and more significant than the relationships that athletes have with the same functionaries, unless they themselves become coaches or judges or officials after their vanishingly short competitive careers end.

Prus said that when she first saw the coach in her fur hat and coat, she knew right away that she wanted this woman onscreen. "She was walking among them like an army general, larger than life," Prus said. It's likely that Viner-Usmanova sees herself similarly. When she was awarded her IOC prize in 2015, she said, "Sport is the only war that has a peaceful end."

Of course, the end of a "real" war usually involves a peace of a sort, at least the end of open hostilities. That doesn't negate the body count or the other sort of injuries, both physical and psychic, that were amassed along the way over the course of combat; combat's end doesn't validate the brutality and carnage of the conflict itself.

In this sense and maybe only this sense, Viner-Usmanova's metaphor makes sense. The damage done to a person as they were being coached doesn't go away because they won, or because a competition has ended and their career is over. Winning does help athletes write the story of their career in a way that enables them to see it as their abusive coaches viewed—this is what was necessary to win, this was only done so I would be the best, this person only behaved this way because they care. It may well be that Viner-Usmanova does care about Mamun, and that this affection is not entirely contingent on competitive outcomes. Over The Limit does not and cannot show us what she actually thinks, or how Mamun feels about her former coach. It just shows us the violence and dares us to see it as love.