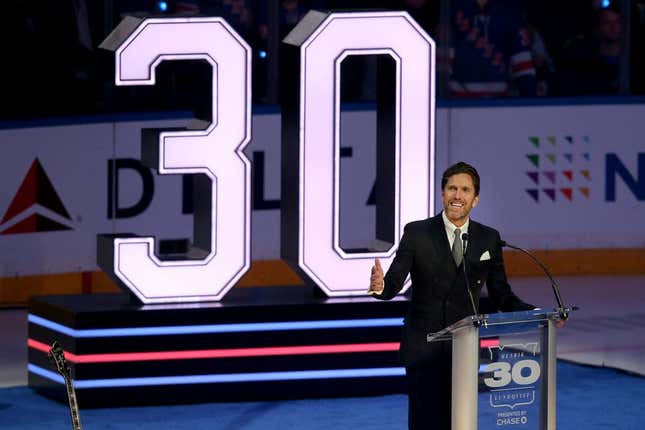 Henrik Lundqvist was among three goalies elected to the Hockey Hall of Fame Class of 2023 on Wednesday.
How running an NFL team is like running a restaurant | Chef Emeril Lagasse
The 18-member selection committee also chose fellow netminders Tom Barrasso and Mike Vernon along with forward Pierre Turgeon and women's star Caroline Ouellette. Coach Ken Hitchcock and former Colorado Avalanche executive Pierre Lacroix were also selected.
The induction ceremony for the Class of 2023 will be held in Toronto on Nov. 13.
The 41-year-old Lundqvist, who was elected to the Hall of Fame in his first year of eligibility, spent all 15 seasons of his career with the New York Rangers. He appeared in 887 games (752 starts), posting a .918 save percentage and 2.43 goals-against average. His 23,509 saves rank eighth most all-time.
Lundqvist was a five-time All-Star and won the Vezina Trophy in 2012.
"It's really cool," Lundqvist said. "... As a kid when you grow up, you look at the goalies that are playing well and how they play the game and how they compete. That's how you get inspired."
Both Barrasso, 58, and Vernon, 60, served as two of Lundqvist's inspirations. In 19 seasons, Barrasso had a .892 save percentage and 3.24 GAA in 777 games. Vernon also played for 19 years, finishing .889 save percentage a 3.00 GAA in 782 career games.
"I was definitely not waiting by the phone," Barrasso said of his long wait. "In fact, they had a hard time getting ahold of me even after they had made the decision. I think as a player, you're competitive, and you hold yourself in certain regard as how you think your career was.
"And then this obviously the ultimate honor, and do you make that grade or not? It's not for you to decide. It's for others to decide. So as time goes by, you think, 'Well, it's not going to happen.'"
Turgeon, 53, racked up 1,327 points (515 goals, 812 assists) in 1,294 games (515 starts). He played for 19 seasons, including parts of five apiece with the Buffalo Sabres and St. Louis Blues.
In addition to a successful career in the Canadian Women's Hockey League, the 44-year-old Ouellette was also a four-time gold medalist at the Olympic Games. She also picked up six gold medals at the IIHF World's Women's Championships.
Hitchcock, 71, coached for the Dallas Stars, Philadelphia Flyers, Columbus Blue Jackets, St. Louis Blues and Edmonton Oilers, amassing an 849-534-127 record along with 88 ties. He led his teams to eight division titles and 14 playoff appearances in addition to Stanley Cup title in 1999 with the Stars.
Lacroix served as president and general manager of the Avalanche from 1994-2006, leading Colorado to two championships during that time (1996, 2001). He will be inducted to the Hall of Fame posthumously. He died in 2020 at age 72.
--Field Level Media