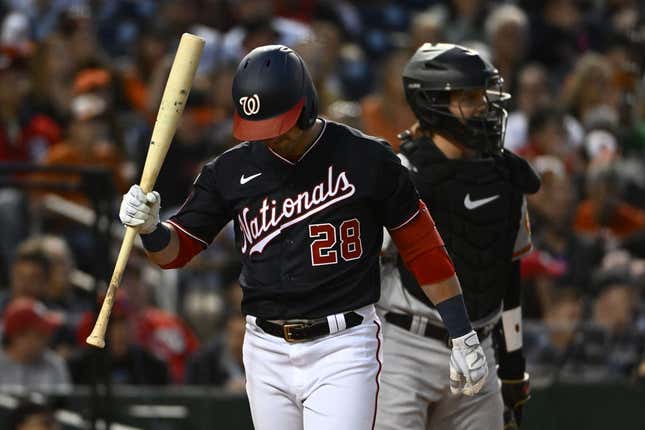 Baltimore gets another chance to flex its mastery over regional rival Washington as the Orioles go for the two-game series sweep of the Nationals on Wednesday
Are the Oakland A's a failed state? | Agree to Disagree
The Orioles topped the Nationals for the seventh time in their past eight meetings with a 1-0 win on Tuesday, using a timely RBI single by Austin Hays in support of a dominant outing from starter Dean Kremer (1-0). Washington is 2-8 at home this season
The Nationals are off to a 5-12 start with a run differential of minus-21
Washington turns to left-hander MacKenzie Gore (2-0, 3.00 ERA) on Wednesday. He allowed two runs on four hits with six strikeouts and four walks in just 3 2/3 innings of a 3-2 loss to the Los Angeles Angels on April 12.
"Frustrating, yeah," Gore said of his outing against the Angels, which included a whopping 88 pitches, including 53 strikes. "I put myself, and us, in some bad situations. Three of those walks were just non-competitive. But the bullpen was great. ... I've just got to be a little better."
Gore, who walked six batters in 11 1/3 innings during his first two starts, has never faced the Orioles
Baltimore hasn't announced a starter to follow Kremer, who allowed four hits -- all singles -- with six strikeouts and no walks before being relieved by Danny Coulombe with two outs in the seventh inning.
"It definitely adds to my confidence," Kremer said. "I try to not let the score dictate my outing. I just keep my head down and see how it is when it's over. I'm very happy with the results, and it's definitely something to build off of."
Kremer didn't allow a home run for the first time in four starts this season. He had served up five in 12 1/3 innings over his first three starts after giving up just 11 in 125 1/3 innings all of last season.
"He's had some good starts, but this is up there," Baltimore manager Brandon Hyde said.
The Orioles got all they would need in the fourth in the series opener. After Ryan Mountcastle singled to right and Anthony Santander popped out, Adam Frazier walked before Hays' single to left scored Mountcastle
Washington wasted a strong performance by starter Josiah Gray (0-4). He allowed a run on four hits with three strikeouts and a walk in five innings before being relieved by Mason Thompson after walking Santander to open the sixth inning.
The Nationals have scored just one run in Gray's four starts -- a span of 21 2/3 innings -- this season
"He's been really good, and he understands that he's given us the opportunity to win some ballgames," Washington manager Dave Martinez said. "I told him to hang in there and we will score some runs for him."
The Orioles, who have won four of their past five games, will wait until Wednesday before naming a starting pitcher for the series finale, Hyde told reporters after Tuesday's game
Washington mustered just five hits on Tuesday, with Dominic Smith, Jeimer Candelario, CJ Abrams, Stone Garrett and Luis Garcia each recording one in the Nationals' fifth loss in their past six games
--Field Level Media