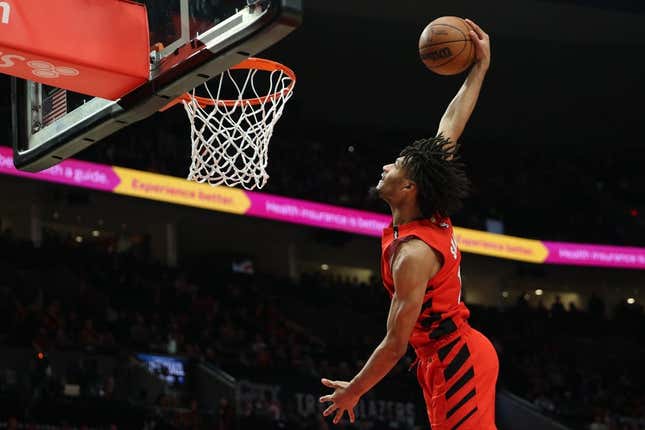 Shai Gilgeous-Alexander scored 31 points and Jalen Williams added 23 to lead the Oklahoma City Thunder to a crucial 118-112 victory over the host Portland Trail Blazers on Sunday.
Chris Paul should ride the bench next season | Keep it a Buck(et)
Isaiah Joe contributed 20 points, seven rebounds and five assists off the bench for the Thunder (37-38), who are in 10th place in the tightly bunched Western Conference. Josh Giddey recorded 17 points, 11 rebounds and six assists as Oklahoma City went 4-0 against the Trail Blazers this season and beat them for the eighth consecutive time overall.
Shaedon Sharpe scored a career-high 29 points and Nassir Little added his season best of 28 for Portland, which played without Damian Lillard (calf). Keon Johnson added 14 points and Kevin Knox II had 11 for the Trail Blazers, who have lost eight of their past nine games.
Lillard missed his second straight game amid speculation the sinking team will soon shut him down for the season. Fellow starters Jusuf Nurkic (knee), Jerami Grant (quadriceps) and Anfernee Simons (foot) also sat out.
Trendon Watford, who was in the starting lineup due to the attrition, departed with an ankle injury with 5:11 left in the first quarter and didn't return.
Matisse Thybulle's 3-pointer pulled Portland within 116-112 with 1:43 left. The Trail Blazers had a chance to creep closer, but Sharpe missed two free throws with 38.6 seconds left.
Lu Dort put the game away with a layup with 11.2 seconds left as the Thunder prevailed for the ninth time in their past 13 games.
Oklahoma City made 43.6 percent of its field-goal attempts and was 12 of 35 from behind the arc.
The Trail Blazers shot 47.6 percent from the field, including 14 of 32 from 3-point range. Sharpe has notched three straight 20-point efforts and is averaging 25.7 during the stretch.
Portland used an 11-0 run early in the third quarter to take a 73-70 lead. Oklahoma City made a charge, and Ousmane Dieng's basket with 1.1 seconds left gave the Thunder a 96-94 edge entering the final stanza.
Dort drove for his first field goal of the game with 5:33 left to cap a 9-0 run and give Oklahoma City a 109-103 advantage.
Giddey's 3-pointer and Gilgeous-Alexander's layup made it 116-109 with 1:52 left.
Gilgeous-Alexander and Joe scored 17 points apiece as the Thunder led 68-62 at the break. Sharpe had 16 in the half for Portland.
Portland shot 70 percent from the field in the opening quarter while taking a 37-25 lead, but Joe made four treys in the second quarter while scoring 14 points as Oklahoma City outscored the Trail Blazers 43-25.
--Field Level Media