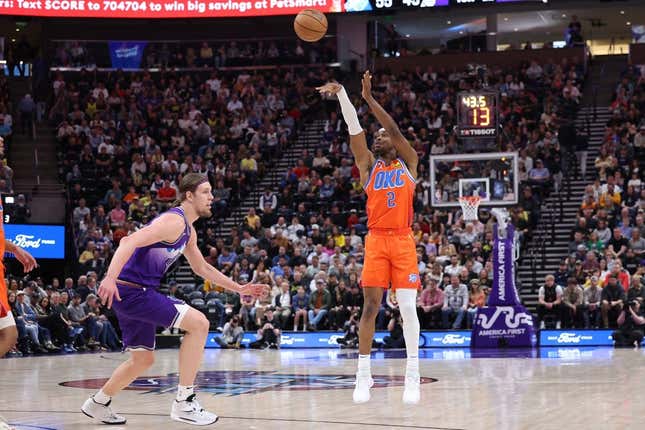 While many observers did not envision the Oklahoma City Thunder getting into the play-in round, Shai Gilgeous-Alexander never wavered in his belief, and he was relaxing Friday night when they clinched a berth
Are the Oakland A's a failed state? | Agree to Disagree
On Sunday, the Thunder will play their final regular-season game when they host the Memphis Grizzlies, who are locked into the second seed in the Western Conference
The Thunder (39-42) will be alive post-regular season for the first time in three seasons after going 22-50 in 2020-21 and 24-58 last season. They started this year at 11-18 but clinched a play-in berth when the Chicago Bulls beat the Dallas Mavericks Friday night
Oklahoma City will finish in 10th place because even if it wins Sunday and the Minnesota Timberwolves drop their final two games, they lose the head-to-head tiebreaker. Minnesota won three of four in the season series but each game was during Oklahoma City's slow start.
"If you asked me if I'd want to be in this position at the beginning of the year, I'd tell you yes," Gilgeous-Alexander said.
Oklahoma City heads into its regular season finale 28-24 since its difficult start. The Thunder never got to .500 but did enough to become a play-in team and are 11-8 since a five-game skid Feb. 23-March 1
On Thursday, the Thunder moved to the brink of clinching when they pulled away for a 114-98 victory over the host Utah Jazz
Gilgeous-Alexander scored 22 after getting at least 25 in his previous 15 games. Josh Giddey added 17 points, eight assists and eight rebounds as the Thunder survived shooting 40.2 percent by hitting 15 3-point shots and getting 17 offensive rebounds
"The more basketball we play the better," Gilgeous-Alexander said. "We got a group of guys that love the game. Playing meaningful basketball is the best feeling, the best time of the year."
Memphis (51-30) will finish as the second seed for the second straight season. The Grizzlies enter Sunday three games ahead of the Sacramento Kings and secured the No. 2 seed when they rolled to a 137-114 win over the host Milwaukee Bucks, who clinched the top spot in the East Wednesday and rested Giannis Antetokounmpo and three other starters
Jaren Jackson Jr. followed up his 40-point showing in Wednesday's loss at New Orleans by scoring 36. Luke Kennard added 19 in a game in which the Grizzlies scored at least 130 points for the 15th time and head into Sunday with 13 wins in their past 17 games
"It's very important," guard Ja Morant said about the Grizzlies' seeding. "We're a very good team at home, so we obviously want that home-court advantage. Definitely big time for us.
Morant finished with 12 points and eight assists but also collided with Milwaukee forward Jae Crowder, resulting in a right wrist and hand injury. Morant returned after the collision but also had a big wrap on his right arm after his eighth game back from an eight-game suspension last month.
Morant may sit Sunday since the Grizzlies know their playoff position. Dillon Brooks, Jackson and Desmond Bane also could rest Sunday. Center Steven Adams (knee), who hasn't played since Jan. 22, likely will miss the playoffs
--Field Level Media