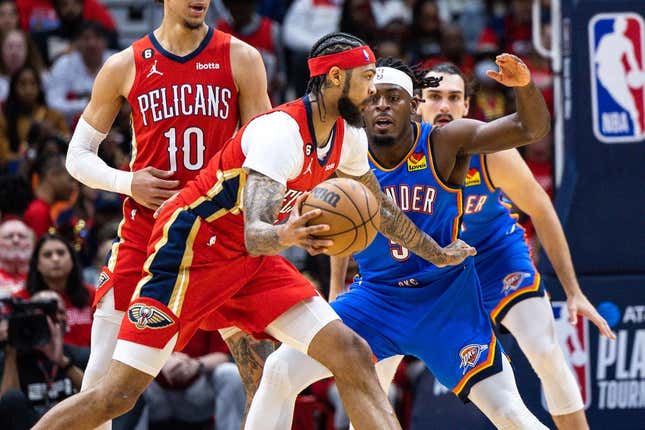 Josh Giddey recorded 31 points, 10 assists and nine rebounds and the Oklahoma City Thunder remained alive for a Western Conference playoff spot by notching a 123-118 victory over the host New Orleans Pelicans on Wednesday night in a play-in game
Bass' ERA stinks, but not compared to who he is off the mound | Worst of the Week Countdown
Shai Gilgeous-Alexander scored 25 of his game-high 32 points in the second half and Luguentz Dort added 27 points for the Thunder, who will visit the Minnesota Timberwolves on Friday night. The winner will earn the No. 8 seed in the West and face the top-seeded Denver Nuggets in the first round of the playoffs
Brandon Ingram registered 30 points, seven assists and six rebounds for the Pelicans, who were outscored by 11 points in the second half. Trey Murphy III scored 21 points, Herbert Jones added 20 and Jonas Valanciunas contributed 16 points and 18 rebounds for New Orleans
Oklahoma City went ahead to stay on Gilgeous-Alexander's basket with 28.3 seconds left. Gilgeous-Alexander tallied eight points in the final 1:40.
Jalen Williams added 11 points for the Thunder, who shot 45.7 percent from the field, including 11 of 37 (29.7 percent) from 3-point range
CJ McCollum added 14 points for New Orleans, which made 48.3 percent of its shots and was 9 of 28 (32.1 percent) from behind the arc. The Pelicans were again without oft-injured Zion Williamson, who hasn't played since Jan. 2 due to a hamstring injury
Ingram knocked down a 17-footer to give New Orleans a 114-112 lead with 1:21 remaining. Oklahoma City's Jaylin Williams split two free throws with 59.8 seconds left before McCollum missed a floater for New Orleans with 37.9 seconds to play.
Gilgeous-Alexander then drove and lofted in the short shot to give the Thunder a 115-114 edge. Ingram missed an 16-footer with 18.4 seconds left before Giddey made two free throws with 12 seconds remaining
Ingram split two free throws with 10.4 seconds left to bring the Pelicans within two. Dort made two free throws with 6.2 seconds left before Ingram buried a 3-pointer to cut the New Orleans deficit to 119-118 with 4.3 seconds left
Gilgeous-Alexander made four free throws in the final 2.8 seconds left to seal it.
The Thunder trailed by six at halftime before Gilgeous-Alexander scored 17 points in the third quarter. Oklahoma City outscored the Pelicans 39-24 in the period
The Thunder led 96-87 entering the final stanza before New Orleans went on a 14-4 spurt. Josh Richardson's dunk gave the Pelicans a 101-100 lead with 7:59 remaining
Jones and Murphy each scored 15 first-half points as the Pelicans led 63-57 at the break. Dort had 20 in the half for Oklahoma City
--Field Level Media