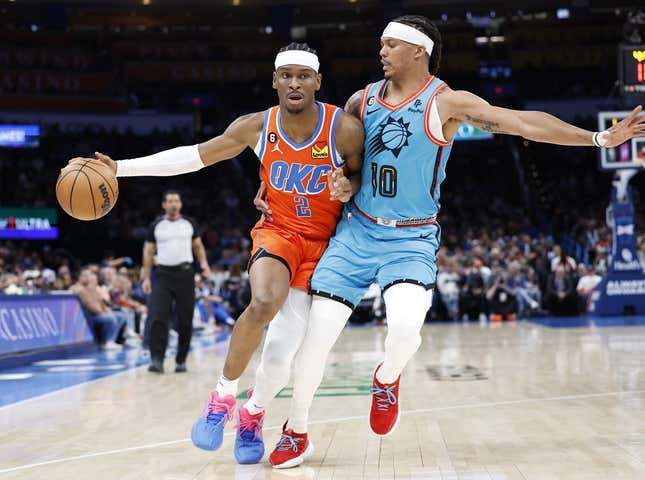 Shai Gilgeous-Alexander scored 40 points to lead the Oklahoma City Thunder to a 124-120 victory over the Phoenix Suns on Sunday in Oklahoma City.
Air Jordans are more American than McDonald's French fries | Deon Cole's Ultimate Sports Fantasy
Gilgeous-Alexander's performance and the Thunder's comeback overshadowed Devin Booker's 46-point game.
Oklahoma City has won seven of its last nine and five consecutive games at home.
The Suns have lost four of their last five.
Phoenix led by 15 in the first half and by 12 at halftime, but a big fourth-quarter run pushed the Thunder ahead for their sixth win this season when trailing by at least 15 points.
The Suns (38-33) have lost nine times this season after leading by double digits.
Phoenix led by 10 in the early moments of the fourth quarter before the Thunder turned up the heat defensively and converted at the other end.
Aaron Wiggins was a big part of Oklahoma City's comeback.
After not playing through the first three quarters, Wiggins had seven points and a pair of steals, playing all but three seconds in the fourth quarter.
The Thunder trailed by 10 early in the fourth before ripping off an 18-2 run to grab control.
Luguentz Dort gave Oklahoma City its first lead since the game's opening moments with his 3-pointer with just less than seven minutes remaining, then Gilgeous-Alexander found Josh Giddey for an alley-oop on the next possession to keep the run going.
Oklahoma City scored 11 points off the Suns' five fourth-quarter turnovers.
The Thunder built their lead to 10 with less than three minutes remaining.
But Phoenix wasn't going away.
The Suns went on an 11-3 run, closing the deficit to two with less than 10 seconds remaining on Booker's 3-pointer.
But Dort finished the game off with a pair of free throws to give the Thunder the victory.
Dort finished with 20 points on 7-of-11 shooting.
Gilgeous-Alexander was 12 of 24 from the floor, hitting 16 free throws.
Phoenix was without starting center Deandre Ayton, who suffered a right hip contusion in Thursday's win over Orlando. Kevin Durant missed his sixth consecutive game with an ankle injury.
Landry Shamet, who had been out with right foot soreness, returned for the first time in more than two months.
Shamet had 10 points in 20 minutes.
Chris Paul added 14 points and 13 assists in the loss.
--Field Level Media