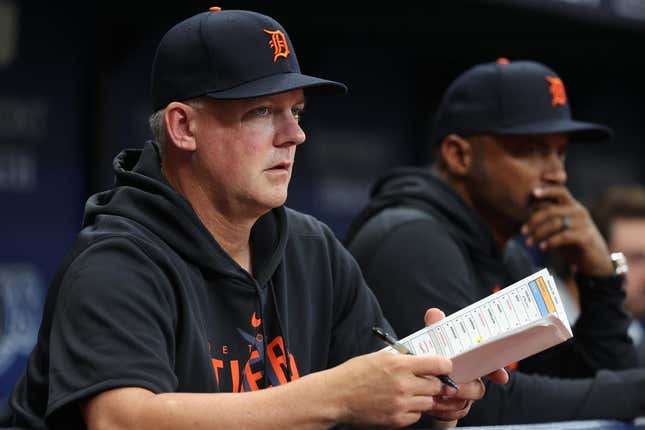 Seeing his former club in the opposing dugout was anything but a welcome sight for Detroit Tigers manager A.J. Hinch in 2022
'Soccer fandom is full of gatekeepers' says Ted Lasso actor Brendan Hunt
Hinch led the Houston Astros to a pair of World Series appearances, including a championship in 2017, during his five seasons as skipper. But chances are any fond memories of his time with the team were tarnished last season when Detroit dropped all seven of its meetings to the eventual World Series champion
The Tigers will have their first chance at revenge on Monday night when they visit the Astros to open a three-game series
However, Detroit won't have any momentum when it begins the back half of its season-opening, six-game trip after getting swept by the Tampa Bay Rays.
Offense was hard to come by for the Tigers, who scored three runs during the three-game set and mustered just two hits in a 5-1 loss in the series finale on Sunday
"It's a bad weekend. We got to get to a new challenge. We'll get on a plane, get to Houston, another really good team," Hinch said. "We've got to do a lot better in a lot of areas if we want to play competitively."
Left-hander Matthew Boyd will be tasked with getting Detroit on track in what will be his first start since Sept. 4, 2021. Boyd went 2-0 with a 1.35 ERA in 10 relief appearances with the Seattle Mariners last season.
In five career appearances (all starts) against Houston, Boyd is 3-1 with a 4.82 ERA.
The Astros were in position to win a four-game series against the Chicago White Sox but had to settle for a split after struggling to generate offense during Sunday's 6-3 loss
Chas McCormick scored on a wild pitch to provide Houston's only run through eight innings. The Astros added RBI singles from Jose Abreu and David Hensley in the bottom of the ninth
"They threatened all game today like they did in the first game (of the series)," Astros manager Dusty Baker said. "They had a lot of runners on base. We got out of trouble a few times. It was just an ugly game.
Abreu finished with two hits Sunday and will look to continue rolling against the Tigers, whom he consistently victimized during his nine seasons with the White Sox. In 146 career games against Detroit, Abreu is hitting a whopping .342 with 27 homers and 119 RBIs
While Abreu has been getting into a groove with his new team, longtime Astros third baseman Alex Bregman has been scuffling
Bregman went 0-for-4 with three strikeouts on Sunday and failed to record a hit in 16 at-bats during the opening series.
Abreu, Bregman and the rest of Houston's lineup will look to provide ample run support for 24-year-old right-hander Hunter Brown, who is scheduled to make his third major league start on Monday.
Although Brown made just seven appearances (two starts) for the Astros last season, he was remarkable, posting a measly 0.89 ERA while going 2-0. He is currently the top prospect in Houston's organization, according to MLB Pipeline
--Field Level Media