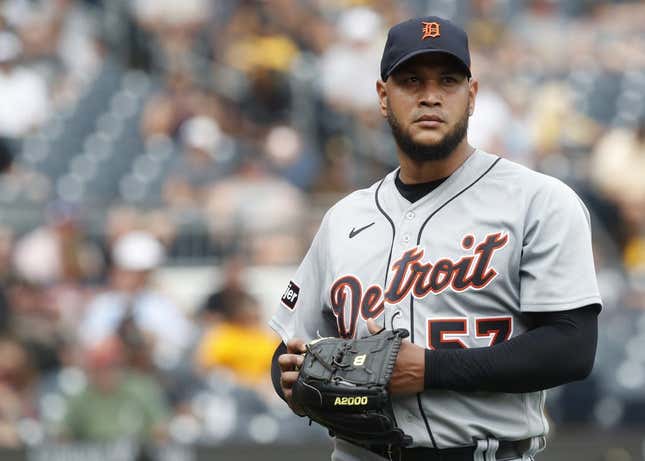 Left-hander Eduardo Rodriguez is scheduled to pitch against his former team on Sunday when the visiting Detroit Tigers wrap up a three-game series against the Boston Red Sox
How running an NFL team is like running a restaurant | Chef Emeril Lagasse
Rodriguez, 30, made his major league debut with the Red Sox in 2015. He had a 64-39 record in 159 appearances (153 starts) over six seasons with Boston
Rodriguez (8-5, 2.75 ERA) signed a five-year, $77 million contract with the Tigers after the 2021 season but said he recalls his time with the Red Sox fondly
"I have a lot of good memories here, and it feels good to be back here," Rodriguez said before Boston opened the series with a 5-2 victory on Friday night
Rodriguez didn't pitch in June because of an injury to his left index finger, but he tossed seven scoreless innings on Tuesday to help Detroit beat Minnesota 6-0. Earlier this month, he invoked the no-trade clause in his contract to keep him from being dealt to the Los Angeles Dodgers
Rodriguez has made 17 starts for the Tigers this season. Opposing batters are hitting .218 with a .594 on-base-plus-slugging percentage against him. He's 4-1 with a 3.63 ERA in his last seven starts
Sunday will mark Rodriguez's second career start against Boston. He allowed seven runs -- just two earned -- in 3 2/3 innings versus the Red Sox on April 13, 2022
Kutter Crawford (5-6, 3.80) will pitch for Boston on Sunday. Crawford took the loss when Kansas City beat the Red Sox 9-3 on Tuesday. He gave up three runs on seven hits in 3 1/3 innings
Crawford is 1-0 with a 6.75 ERA in two career appearances (one start) against Detroit. He has allowed four runs on eight hits in 5 1/3 innings against the Tigers
Detroit hit four solo home runs in Saturday's 6-2 triumph over Boston. Kerry Carpenter hit two of them and has three in the series
"Any time I'm going well, I'm using the opposite field," the lefty-hitting Carpenter said. "In this ballpark (Fenway Park), it's easier to hit them out to left here. Anything they throw hard I want to hit that way.
The Red Sox were 0-for-11 with runners in scoring position on Saturday and saw their three-game winning streak come to an end
Garrett Whitlock is expected to return from the injured list on Sunday and be available out of the Red Sox bullpen. The right-hander pitched 2 1/3 scoreless innings in a rehab assignment for Triple-A Worcester on Wednesday
Whitlock has been on the injured list since July 4 because of an elbow bone bruise. Whitlock has made 10 appearances, all starts, for the Red Sox this season, but Boston manager Alex Cora said earlier this week that Whitlock is returning as a reliever
"He wanted to come back as soon as possible," Cora said. "This is the best way. We'll stretch him out. He's gonna go two, three innings. It was more about his willingness to get ready and help us as soon as possible.
Cora said there is a good chance third baseman Rafael Devers will have Sunday off. The lefty-hitting Devers leads the Red Sox with 26 home runs but will not play because Cora envisions loading his lineup with right-handed batters against Rodriguez
"Have a good day (Sunday), win the series and move on," Cora said
--Field Level Medi