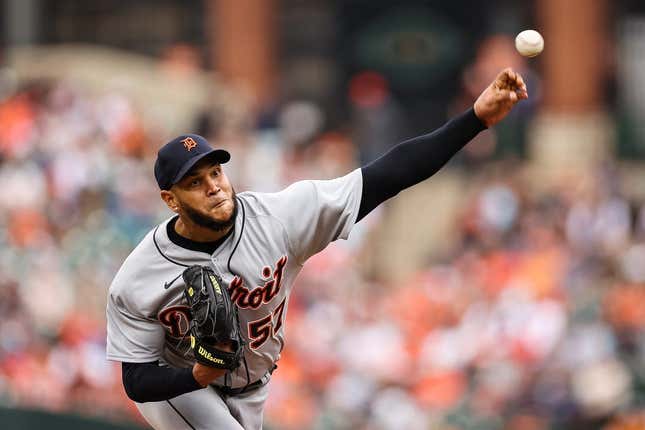 Eduardo Rodriguez flirted with a perfect game against the Baltimore Orioles in his last start. He will face the Orioles once again on Friday night in the second game of a four-game series at Detroit
Rodriguez set down the first 20 batters on Sunday before Ryan Mountcastle slapped a two-out single. After the inning, Rodriguez exited the game, and he wound up with a no-decision as the Orioles won 2-1 in 10 innings
"I have to say that was the best start of my career," he said. "I took a no-hitter into the eighth in Oakland, but this was a perfect game."
Rodriguez (1-2, 2.32 ERA) will carry a streak of 17 scoreless innings into Friday's contest. He blanked the Cleveland Guardians for eight innings on April 18 after limiting the Toronto Blue Jays to one run in six innings on April 12.
"I just felt my location has been working for me," he said. "I'm throwing my pitches with a purpose and I'm throwing it right where I wanted. That's what I think is going in a good way for me."
Rodriguez signed with Detroit as a free agent in November 2021, but his first year as a Tiger was rocky. He missed a good chunk of the season due to personal issues and finished 5-5 with a 4.05 ERA in 17 starts.
He is now delivering the quality performances Detroit anticipated when it signed the left-hander to a five-year, $77 million contract.
"He was pounding the zone with all his pitches. He was literally almost perfect right to the end of his outing," Tigers manager A.J. Hinch said of Rodriguez's outing in Baltimore. "If we can keep getting pitching performances like that, we're going to start winning a lot more games.
Rodriguez is 13-5 with a 2.79 ERA in 24 career outings against the Orioles, including 22 starts
He will be opposed on Thursday by another Rodriguez -- the Orioles' Grayson. The rookie right-hander escaped numerous jams on Sunday, allowing five hits and three walks but giving up no runs in five innings vs. the Tigers
Grayson Rodriguez (0-0, 5.12 ERA) will be making his fifth start.
"Grayson battled without his best stuff, honestly," Baltimore manager Brandon Hyde said after the Sunday game. "A tough time for him finding his off-speed stuff early. Thought his fifth inning was his best inning by far from a stuff standpoint and a command standpoint.
"But he competed, thought we played really well defensively behind him. ... But five scoreless without your best stuff is pretty good."
Baltimore has won nine of its past 10, including a 7-4 victory in the series opener on Thursday. The Orioles trailed 4-2 entering the seventh inning, when they erupted for five runs. Anthony Santander completed the rally with a two-run homer
Joey Ortiz was recalled from Triple-A Norfolk and made an immediate impact on the Orioles, going 1-for-3 and driving in three runs in his major league debut. He was the first Baltimore player to collect three RBIs in his first big-league game since Don Baylor on Sept. 18, 1970
"Well, that's pretty good company," Hyde said of Ortiz being mentioned with Baylor, who was the 1979 American League MVP.
Ortiz had been hitting .359 at Norfolk.
"(He was) off to a really nice start in Norfolk, and we wanted to get a little more right-handed, especially for this series," Hyde said. "He can play multiple spots for us in the infield."
Detroit shortstop Javier Baez missed the game due to a sore left hand, and his status for the remainder of the series was questionable.
Tigers right fielder Kerry Carpenter left the contest after hurting his right shoulder while making a leaping catch. He was due to have medical tests to assess the injury
--Field Level Media