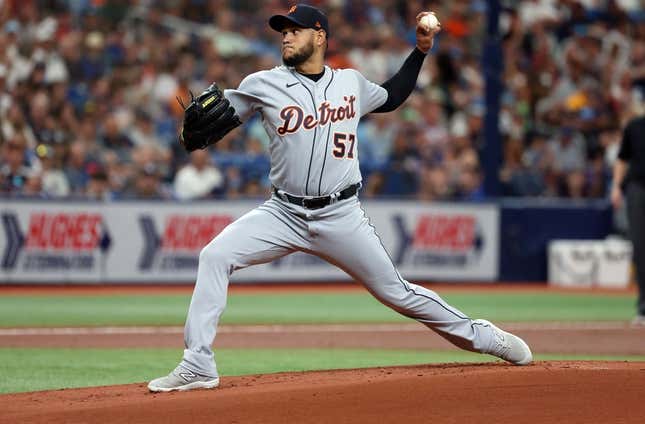 Houston Astros manager Dusty Baker pushed Framber Valdez past 100 pitches and through seven innings on Tuesday in a nod both to how well the ace left-hander was pitching and in consideration of a bullpen that has shouldered a heavy workload in the first week of the season
Bass' ERA stinks, but not compared to who he is off the mound | Worst of the Week Countdown
The result was the same for the Astros, who lost 6-3 to the visiting Detroit Tigers despite Valdez producing the first quality start of the season for Houston
He recorded nine strikeouts over seven innings while allowing three runs -- two of which were earned -- and threw 103 pitches.
However, when the Tigers tacked on three runs over their final two at-bats against the Houston bullpen, the Astros were sent to their third consecutive loss. Detroit now will attempt to sweep the three-game road series on Wednesday afternoon
"Right now not much is going good for us. If you have a miscue, then they capitalize on it," Baker said. "When you're not going good, things don't go well for you. Every break that we either give the opposition or they take it, right now it seems that they're capitalizing on it."
Astros right-hander Cristian Javier (0-0, 5.40 ERA) will make his second start of the season in the series finale. He allowed three runs on eight hits and one walk with six strikeouts over five innings but did not factor into the decision during a 6-3 win over the Chicago White Sox on Friday
Javier is 1-0 with a 0.84 ERA over three career appearances (one start) against the Tigers. He faced Detroit twice, including a start, last season, working nine scoreless innings while surrendering two hits and one walk and striking out 13
Eduardo Rodriguez (0-1, 5.06 ERA) has the starting assignment for Detroit on Wednesday. The left-hander was the pitcher of record in the Tigers' 4-0 loss to the Tampa Bay Rays in the season opener on Thursday. He allowed three runs on three hits and two walks with five strikeouts over 5 1/3 innings
Rodriguez was unbeaten over his final four starts last season. His last loss of 2022 came against the Astros on Sept. 12, when he yielded five runs on 10 hits and one walk with two strikeouts over five innings. He is 1-4 with a 7.30 ERA over eight career appearances against the Astros
Limited to three runs over three games while getting swept by the Tampa Bay Rays last weekend, the Tigers claimed a series victory over the reigning World Series champion Astros by virtue of their win on Tuesday
Doing so on the road might provide a bit of a boost for the Tigers and their collection of youngsters
"Obviously this is a good (Houston) team," said Tigers manager A.J. Hinch, who managed the Astros for five seasons and won a World Series with Houston in 2017. "We've already played good teams, we're going to play good teams next week
"I just like that our guys came in and were able to flush the first series and come and play well against a good team in a tough place to play and outplay them for a couple games to win the series. Now we can get greedy (Wednesday)."
--Field Level Media