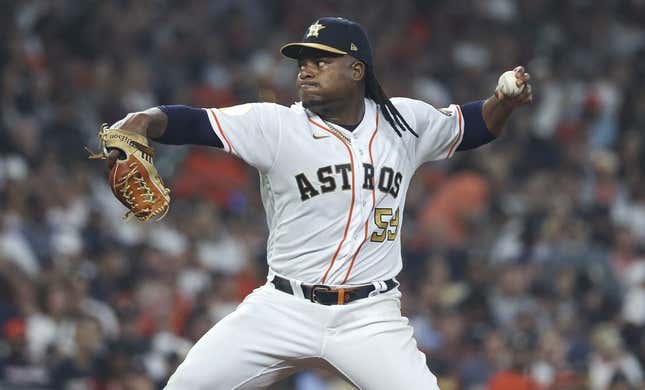 Before their three-game series began, it looked, at least on paper, as if Tuesday's game between the Detroit Tigers and Houston Astros could be one of the biggest mismatches of the young season
Air Jordans are more American than McDonald's French fries | Deon Cole's Ultimate Sports Fantasy
Houston was set to use new ace Framber Valdez, a preseason contender to win the American League Cy Young award this season.
And in their opening series, against the Tampa Bay Rays, the Tigers continued where they left off in 2022, when they scored the fewest runs in the major leagues. Detroit scored just three times in three games vs. the Rays
But the Tigers' bats came to life on Monday, producing seven runs in an 11-inning win over the Astros. Now, they'll try to repeat the feat
It won't be easy, however. In his most recent start against the Tigers last September in Detroit, Valdez threw the only complete-game shutout of his career
Named the Opening Day starter, Valdez gave up six hits in his first outing of the season on Thursday against the Chicago White Sox, but didn't allow any runs or walks in five innings of work.
Valdez did labor a bit and throw 85 pitches before being taken out in an effort to conserve him for the long haul.
"We had him slated for 90 pitches, and we didn't want to take him too deep into the game because we have a long year," Astros manager Dusty Baker said. "He's thrown a lot of innings, and we have to conserve Framber.
Valdez took over as the Astros' staff ace after Justin Verlander signed a free-agent deal with the New York Mets during the offseason
The Tigers will counter on Tuesday with right-hander Matt Manning, who will begin a crucial second full season as a major league starter
One of the organization's best pitching prospects since being drafted ninth overall in 2016, Manning has had mixed results thus far in his young career in the big leagues.
The 25-year-old Manning finished with a strong September last year -- allowing seven earned runs in five starts -- but struggled for a majority of spring training. He was 1-1 with a 6.43 ERA, throwing 14 innings over five starts, after going 2-3 with a 3.43 ERA in 12 games (all starts) last season.
Manning had a slow ramp-up in his initial spring training starts, with his fastball settling in the low 90 mph range. In his final two spring training starts, his fastball ticked up to 95 mph.
Manning didn't give up any earned runs in four innings of work in his final spring training start on March 22 against Atlanta.
The good news for Manning is that he won't be asked to stop a losing streak for the Tigers, who got a weight off of their shoulders by earning their first win of the season on Monday with their 7-6 victory
It was Detroit's first win over the Astros since June 27, 2021, and now the Tigers will try to make it two straight over the defending World Series champions
"You have to keep playing," Tigers manager A.J. Hinch said after Monday's game. "It's a good win because a lot of people contributed. It's a good win against a good team in a tough ballpark. We'll come back and get an opportunity to do it again (on Tuesday).
The series will conclude Wednesday with Tigers left-hander Eduardo Rodriguez scheduled to face right-hander Cristian Javier
--Field Level Media