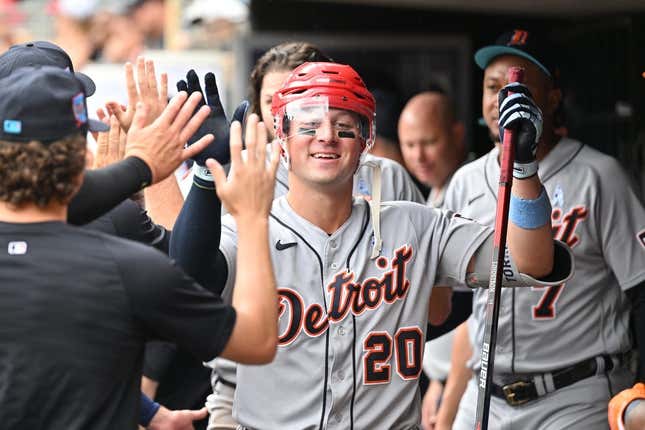 Following a rough stretch, the Detroit Tigers are gathering momentum as they try to make a run for the top spot in a weak American League Central
How running an NFL team is like running a restaurant | Chef Emeril Lagasse
The Tigers have won four of their past five games after dropping 11 of their previous 12. Detroit will try to keep rolling on Tuesday when it plays the middle game of a three-game home series against the last-place Kansas City Royals
Detroit rallied from a 4-0 deficit to take the series opener 6-4 on Monday. Kerry Carpenter capped a five-run, seventh-inning outburst with a three-run homer.
Carpenter has homered in back-to-back contests.
"We had the right guy up at the right time," Tigers manager A.J. Hinch said. "He got the right pitch and we got the right outcome. That's a jolt in the dugout and in the ballpark.
The Tigers' scheduled Tuesday starter, right-hander Michael Lorenzen (2-4, 4.23 ERA), has gone at least six innings in seven of his past eight starts. He gave up one or no runs in five of those outings, but his past two outings were rough
Lorenzen allowed six runs in 6 2/3 innings to the Arizona Diamondbacks on June 9 and six more runs in six innings to Atlanta on Wednesday. The Braves hit three home runs off Lorenzen as the Tigers lost 6-5
One of those long balls was a 461-foot blast off the bat of Ronald Acuna Jr.
"I've watched (Acuna) play for a long time, and that's the best I've ever seen him," Lorenzen said. "I don't know why I threw him a strike, to be honest. I mean, you can just tell he feels really good. His hands, I didn't even see his bat come through the zone, it's so fast."
Lorenzen has faced Kansas City only twice in his career, including a start last month, and he didn't get a decision in either outing. He gave up five runs and three homers in 5 2/3 innings at Kansas City on May 22.
The Royals' scheduled Tuesday starter, Daniel Lynch (0-3, 5.79 ERA), also had trouble with the long ball in his most recent outing. The left-hander surrendered four homers while giving up seven runs in seven innings against the Cincinnati Reds on Wednesday
Lynch is 1-3 with a 5.22 ERA in six career starts against the Tigers
Detroit shortstop Javier Baez was given the night off on Monday, but he will be back in the lineup on Tuesday. The Tigers hope outfielder Matt Vierling can join him. Vierling has missed the past two games due to back spasms
"If he's not in the lineup (Tuesday), then that will be a little more concerning," Hinch said of Vierling. "We're just being careful. He's still feeling a little issue from the back spasm. He's assured me it's not a big deal."
A bright spot for the Royals on Monday was Bobby Witt Jr.'s second homer this month. Witt drove in four runs during the Royals' 10-9 win over the Los Angeles Angels on Saturday, but Kansas City has lost 15 of its past 17 games
"Most of it is approach-based. Getting into the counts, not being overly aggressive on the first pitch," Royals manager Matt Quatraro said of Witt's approach. "I think the confidence is building there and his timing looks a little bit better, too, where he's able to recognize some pitches instead of just having to make a decision to swing.
--Field Level Media