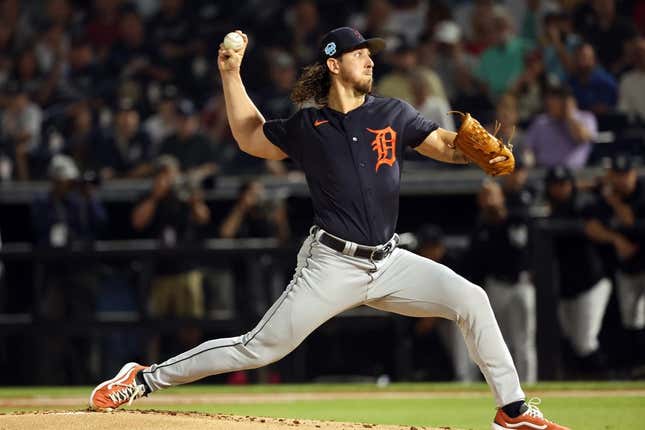 Michael Lorenzen took a slight detour en route to his Detroit Tigers debut
Lorenzen began the season on the injured list but he's scheduled to start on Saturday in the second game of a three-game home series against the San Francisco Giants
Aaron Rodgers should go full Joe Namath | Comedian Bert Kreischer
Lorenzen was signed to a one-year, $8.5 million free-agent contract during the offseason to fill the last spot in the Tigers' rotation. He suffered a left groin strain during spring training, leading to the IL stint
He made a rehab start at Triple-A Toledo last weekend, allowing four runs on two hits while walking three in 2 1/3 innings. However, he came out of the start without any issues.
"The strike-throwing wasn't perfect but he feels great," Detroit manager A.J. Hinch said. "His stuff was OK. He felt like he got a pretty good workout in. He feels ready."
Lorenzen has appeared in 313 major league games, mostly with Cincinnati. He spent last season with the Los Angeles Angels, going 8-6 with a 4.24 ERA in 18 starts. He's 0-1 with a 6.35 ERA in seven career appearances, one start, vs. the Giants
The biggest issue with Lorenzen during his career has been control. His career strikeout-to-walk ratio is a mere 2.0. Last season, Lorenzen walked 44 batters in 97 2/3 innings.
He has a seven-pitch repertoire and the Tigers signed him with the hope of making him more efficient
"He's got to get into leverage," Hinch said. "More first-pitch strikes would put him in such a good position to use his other weapons. Too many walks. That's been his Achilles heel."
Lorenzen is eager to establish himself as a reliable arm in the rotation.
"I definitely want to take the ball and set the tone," he said. "That's my job as a starting pitcher. That's all our jobs as starting pitchers. I'm looking forward to getting that opportunity."
Lorenzen will be opposed by another veteran right-hander, Anthony DeSclafani. In his first two starts, DeSclafani (1-0, 0.73 ERA) has thrown gems. He's faced the Tigers just once, giving up three hits and no runs in five innings
He tossed six shutout innings against the Chicago White Sox in his season opener, then held Kansas City to one run and three hits in 6 1/3 innings on Sunday. DeSclafani has not issued a walk in his two outings while striking out 11.
DeSclafani's 2022 season was cut short by season-ending ankle surgery in July. He mainly relies on his fastball and slider, though he's mixed in his changeup more often this month.
"It's nice, more than anything, to have the health," DeSclafani said. "My pitches are doing what they did back in '21. That's nice to have moving forward. The ball's not always going to work your way, but as long as I have those two pitches to compete with, it should be fun."
The Giants weren't having any fun at the end of Friday's series opener. Closer Camilo Doval surrendered a three-run homer to Nick Maton in the bottom of the 11th inning, giving Detroit a 7-5 walk-off victory. Maton swung at a 3-0 pitch and drove it over the right field wall
LaMonte Wade Jr. had given San Francisco the lead in the top of the inning with an RBI single. He has a .488 on-base percentage after battling knee issues last season.
"Last year, I couldn't get in a groove because I wasn't 100 percent, but this year all the offseason work and rehab is paying off," he said.
--Field Level Media