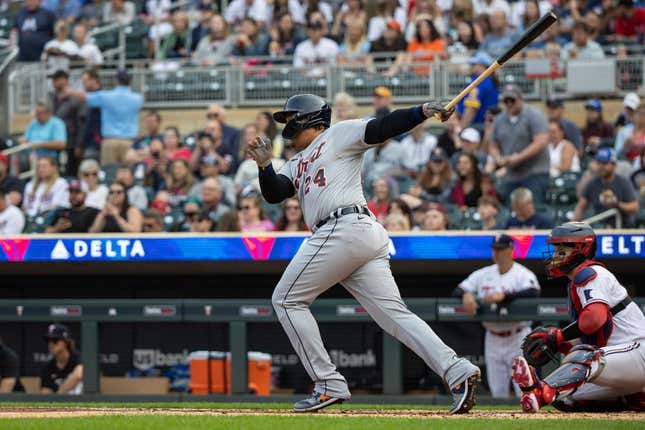 The Detroit Tigers have scored the fewest runs in the majors this season, but they have found their way around the basepaths lately, crossing the plate at least five times in each of the past five games
How running an NFL team is like running a restaurant | Chef Emeril Lagasse
The Tigers will try to continue that trend when they meet the Minnesota Twins in the second game of a four-game series on Friday night in Minneapolis
Detroit beat Minnesota 8-4 in the series opener on Thursday night, bouncing back from a 4-1 deficit after two innings to end a two-game skid.
"We had some big two-out hits," Detroit manager A.J. Hinch said.
Hinch also was relieved that he received six innings from starting pitcher Matthew Boyd, which gives him more flexibility with his relievers on Friday.
"That was much needed," Hinch said of Boyd's performance.
The Tigers were put in a pitching bind after their scheduled Tuesday game against the visiting Atlanta Braves was rained out and they played a doubleheader on Wednesday
Detroit used six relievers for a total of 8 2/3 innings while dropping both ends of the doubleheader.
Hinch decided to push Friday's scheduled starter, Joey Wentz, to Saturday and go with a bullpen game on Friday.
Tigers designated hitter Miguel Cabrera had a single in the second inning on Thursday to give him 3,115 hits in his major league career, moving him into a tie with Alex Rodriguez for 21st on the all-time list
Cabrera has been hot at the plate in the past nine games, going 12-for-30 (.400).
Despite dropping the series opener on Thursday, the Twins have won four of six games to maintain their hold on first place in the American League Central
"We've had some games where we've been really good, " Minnesota manager Rocco Baldelli said. "We're seeing what we want to see. Keep it going. That's all we can do. Keep it going."
The Twins plan to start Joe Ryan (7-3, 2.90 ERA) on Friday. The right-hander is 0-2 with a 5.40 ERA in his past three starts after starting the season 7-1 with a 2.21 mark through 10 starts
His trajectory is similar to that of Sonny Gray, the Minnesota starter in the series opener on Thursday. Gray is winless in his past eight starts (0-1) after going 4-0 with an ERA of 0.77 in April.
The Twins welcomed back Byron Buxton on Thursday after he missed two weeks due to a rib injury
He went 0-for-4 as the designated hitter, but he rejoins an offense that is performing at a high level of late, averaging six runs in the past five games.
Twins first baseman Donovan Solano blasted a three-run homer on Thursday, and shortstop Carlos Correa stretched his hitting streak to seven games with a first-inning double. Correa is 9-for-28 (.321) with three home runs, three doubles, one triple and 10 RBIs during the streak
"There's a different vibe," Correa said. "There's a different aura and level of confidence. You can see it when guys go up to the plate."
--Field Level Media