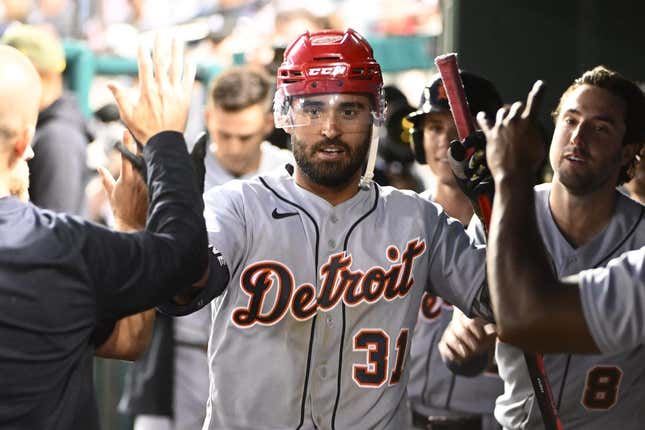 The Detroit Tigers have become accustomed to seeing their pitching or defense spark their victories, so adding more offense would be a big boost
How running an NFL team is like running a restaurant | Chef Emeril Lagasse
Amid signs of progress toward that goal, the next test comes Saturday in the middle game of a weekend set against the host Washington Nationals
The Tigers won the opener 8-6 on Friday night
"We had some nice innings, really good at-bats," Detroit manager A.J. Hinch said. "I thought we really put some pressure on them. We did take advantage of the mistakes that they made."
The run total matched the Tigers' season-high mark. They scored all of their runs in the first six innings, belting four home runs among their nine hits
Yet relying on defense can have benefits as well.
"When they put some pressure on us, we made some really good plays," Hinch said. "Again, our defense continues to help us."
The Nationals have lost four games in a row for the third time this season, though they have yet to endure a five-game skid
Manager Davey Martinez said it comes down to making the basic plays.
"Hitting comes and goes, we've got to catch the baseball," Martinez said. "Can't make those errors. We've got to play good defense."
The Tigers, who have won three of their past four games, will have right-hander Alex Faedo (0-1, 4.22 ERA) on the mound Saturday in what will be his first career appearance against Washington
Faedo was the losing pitcher after giving up three runs in six innings on May 13 against the visiting Seattle Mariners in his second start of the season. Faedo's only career win came in May 2022 at Cleveland.
Left-hander Patrick Corbin (2-5, 4.65 ERA) will start for the Nationals. He is aiming for wins in back-to-back starts for the first time since last Aug. 28 and Sept. 3. In 287 career games (269 starts), he has never faced the Tigers
Corbin struck out a season-low one batter in a six-inning stint on Monday as he and the Nationals earned a 10-3 victory against the visiting New York Mets. He allowed two runs on eight hits. That game also included his only walk issued in 19 innings this month
"I think it's our job as a starter to take the ball every fifth day and try to go as deep as you can and try to save the bullpen," Corbin said. "You always like getting through six. You try to pitch till you can't. Hopefully, I'll continue to do that and try to pitch as deep as I can."
Nationals right fielder Lane Thomas hit his sixth homer of the season on Friday night. All six have come since May 1
"He has got to be aggressive, and that's what he's doing," Martinez said.
The Nationals got designated hitter Joey Meneses back from paternity leave on Friday, and he went 1-for-4 with a double. He has now hit safely in 10 of his past 11 games, pushing his batting average to .294
"Hopefully, I can pick up right where I left off," Meneses said.
--Field Level Media