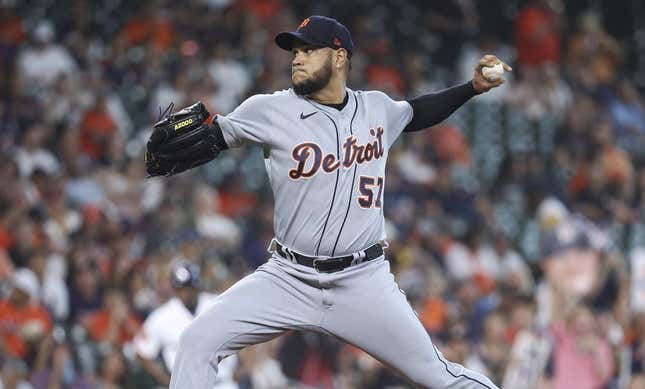 The Baltimore Orioles have won five games in a row, largely because of their pitching
Bass' ERA stinks, but not compared to who he is off the mound | Worst of the Week Countdown
To counter that, the Detroit Tigers will use a pitcher Sunday afternoon in the finale of the three-game series in Baltimore who has far and away enjoyed his most success against the Orioles than any other team
Of course, the Tigers need to figure out how to produce more offense after they've managed just two runs in the first two games of the series
Baltimore's pitching staff has given up two runs in the team's last four games combined. Orioles starters had a string of 30 consecutive shutout innings snapped in the seventh inning Saturday night, but that didn't diminish the dominance
"We're obviously pitching really well the last handful of games," Baltimore manager Brandon Hyde said. "Our guys have picked up the slack pretty well (with some relievers sidelined)."
On Saturday night, Detroit loaded the bases in the first inning and didn't score. By the end, they struck out a season-high 15 times.
"We just couldn't scratch it across," Tigers manager A.J. Hinch said. "We couldn't do a ton. We chased it a little bit.
The Tigers have scored a total of five runs in their last four games, losing the three most recent outings. They've already had a six-game losing streak, and less than a month into the season, they've endured a three-game skid for the third time
On Sunday, both teams will use starters with the last name of Rodriguez.
Touted prospect Grayson Rodriguez (0-0, 6.91 ERA) will be making his fourth career start for Baltimore. He hasn't pitched since last Sunday, when the Chicago White Sox scored four runs off him in five innings.
"Getting off to a slow start this spring, and now really working to continue to piece it together," Grayson Rodriguez said. "I think a game like that is close."
Still, the Orioles are 2-1 in games that Rodriguez has started, scoring a total of 20 runs in the two victories
The Tigers go with lefty Eduardo Rodriguez (1-2, 3.00), who has been stellar in his last two outings. In 14 innings, he has allowed just one run, and most recently, he blanked Cleveland across eight innings Tuesday
He has had considerable success against Baltimore, racking up a 13-5 career record and 2.94 earned run average in 23 appearances, including 21 starts. He has no more than eight wins against any other team.
This will mark the fourth time in five outings that Detroit's Rodriguez gets a road assignment.
The Tigers had Will Vest summoned from the minor leagues and he arrived in time for the game and threw two shutout innings in relief Saturday night
The Orioles received a special perk when James McCann homered for the first time with the club. It came against the team for whom he made his major league debut. He was with the Orioles from 2014-18
The Orioles kept infielder Jorge Mateo, who has had a sore hip, out of the lineup because of the potential wet conditions, Hyde said. So there's a good chance he could be back in Sunday's lineup
--Field Level Media