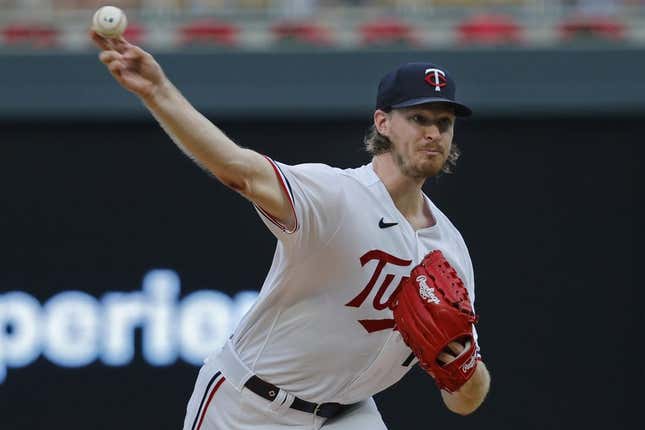 After a stretch that saw them play 13 of 16 games on the road, the Minnesota Twins will return home for a five-game homestand, starting with a two-game series against the Detroit Tigers beginning on Tuesday night in Minneapolis.
How running an NFL team is like running a restaurant | Chef Emeril Lagasse
The Twins finished a seven-game road trip with a disappointing 3-4 record. Still, that was good enough for them to maintain a 4 1/2-game lead over Cleveland in the American League Central Division.
The good news for Rocco Baldelli's squad is that 12 of their next 14 games are at Target Field, where they are a healthy 33-24 this season.
The bad news is they start the stretch with a two-game series against the Tigers, who have already the clinched the 13-game season series with seven wins in the previous 11 meetings. Detroit won three games in a row, including two shutouts, to cap a four-game series last week at Comerica Park.
The third-place Tigers are eight games behind Minnesota in the standings with 44 games remaining and can close to within six games with a sweep of the two contests in Minneapolis.
Right-hander Alex Faedo (2-4, 5.80 ERA) will start Tuesday for Detroit and will be opposed by 6-foot-9 right-hander Bailey Ober (6-6, 3.40 ERA) in a starting pitching rematch of a game won by the Tigers, 9-5, last Wednesday in Detroit.
Ober — who has gone four starts since his last win on July 18 at Seattle — took the loss that day. He allowed four earned runs and 11 hits, including a solo homer by Spencer Torkelson, over five innings while striking out nine. The 11 hits matched a career high accomplished two starts earlier in a 10-7 loss at Kansas City.
Ober, who has allowed 12 earned runs in his last 14 innings, has already thrown a career-high 108 2/3 innings this season and also threw 17 2/3 innings to start the season at Triple-A St. Paul. But he doesn't blame his recent struggles on fatigue.
"The last three outings I've felt great," Ober said after the loss to the Tigers. "I've felt probably the best I've felt since spring training, and it's probably been my toughest three outings of the entire year, so it's a little bit frustrating. I'm trying to not think too much of it because I'm feeling really good. The body feels great."
Ober is 1-2 with a 5.70 ERA in six career starts against Detroit.
Faedo, who is 0-0 with a 4.66 ERA in two career starts against Minnesota, failed to go the necessary five innings to pick up the win in Wednesday's contest. He allowed three runs, including a solo homer to Carlos Correa and a two-run blast to Joey Gallo, on four hits and two walks over 4 2/3 innings while striking out five.
The Tigers are in the middle of a nine-game road trip that began with two defeats in three games at Boston, including a 6-3 loss in Sunday afternoon's series finale.
Eduardo Rodriguez, making his first start at Fenway Park since signing a five-year, $77 million free agent deal with the Tigers in November 2021 following six seasons with the Red Sox, suffered the loss. Rodriguez struck out eight but allowed 10 hits and six runs over five innings, including a solo home run to Justin Turner and a three-run blast to Adam Duvall.
"I know the big blows are hard to overcome, whether it's Turner's solo or Duvall's three-run homer," Detroit manager A.J. Hinch said. "They delivered the biggest punch, but Eduardo hung in there and tried to keep us in the game."
Prior to Sunday's loss, the Tigers placed shortstop Javier Baez on the bereavement list due to the recent death of his grandfather. Baez, who flew to Puerto Rico to be with family members, must miss a minimum of three games and can miss up to seven. Infielder Isan Diaz was promoted from Triple-A Toledo to take Baez's spot on the roster.
—Field Level Media