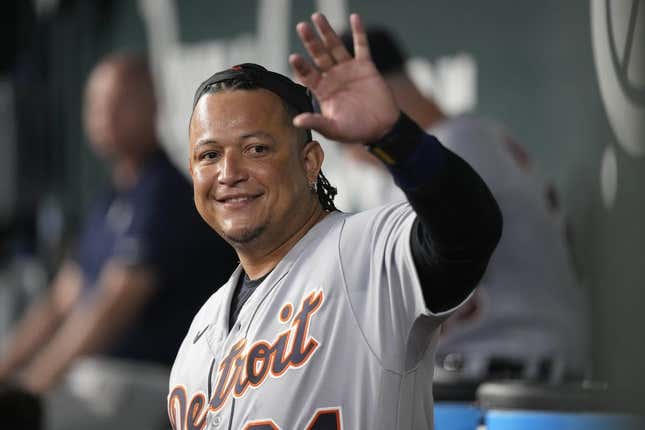 Miguel Cabrera has built a sure-fire Hall of Fame career, one that is winding down this season, so every road trip the Detroit Tigers make is part of a farewell tour
How running an NFL team is like running a restaurant | Chef Emeril Lagasse
The next stop is Denver, starting Friday, which is Cabrera's final visit to Colorado in 21 seasons. Detroit will send right-hander Michael Lorenzen (2-5, 3.97 ERA) to the mound while the Rockies counter with lefty Austin Gomber (5-7, 7.01)
Lorenzen is 1-1 with a 3.98 ERA in 12 games -- two starts -- against Colorado.
Cabrera made his MLB debut as a 20-year-old with the-then Florida Marlins and helped them win the 2003 World Series that season. He was traded to Detroit in 2008, where he won two MVPs and captured the Triple Crown in 2012 when he led the American League in average (.330), home runs (44) and RBIs (139).
Cabrera has fallen off in the past few seasons and announced his intention to retire at the end of 2023. The Tigers have not been contenders for eight seasons and are in a long rebuild with young players
One of those is Spencer Torkelson, the first overall pick in the 2020 draft. He has struggled in his first two seasons but is coming off his first multi-homer game in Detroit's 8-5 win at Texas on Thursday.
Torkelson drove in four after taking some advice from Cabrera.
"We were in the cage before the game, and I didn't feel great," Torkelson said. "And Miggy was like, 'Just trust your hands, and go to the big part of the field.' It's what my dad told me a week ago, but it's a little different coming from Miggy."
The Rockies are coming off a 14-3 loss to the Los Angeles Dodgers on Thursday night in a game that was delayed nearly two hours after a strong storm dropped heavy hail at Coors Field
It also delayed Kris Bryant's flight from Albuquerque on Thursday afternoon, but he is expected to return to the lineup on Friday night. Bryant, who has missed 27 games with a left heel bruise, was scheduled to make a couple of rehab starts with the Triple-A Isotopes but it was cut short after one game.
Bryant returns to a team that has suffered big setbacks in the past week. Colorado was on the wrong end of a historic 25-1 loss to the Los Angeles Angels on Saturday night and took it on the chin Thursday against the Dodgers.
"We've got to play better," manager Bud Black said after Thursday's game. "We've got to pitch better and we've got to score more, too. It's a combination of things. It's probably the simple answer."
Gomber can give them some momentum if he can put together a good start. He gave the Rockies a solid bounce-back performance Sunday against the Angels -- he allowed two runs on five hits in five innings -- and will be asked to do it again Friday night against a team with which he has had success
He is 1-0 with a 1.80 ERA in three career starts against the Tigers
--Field Level Media