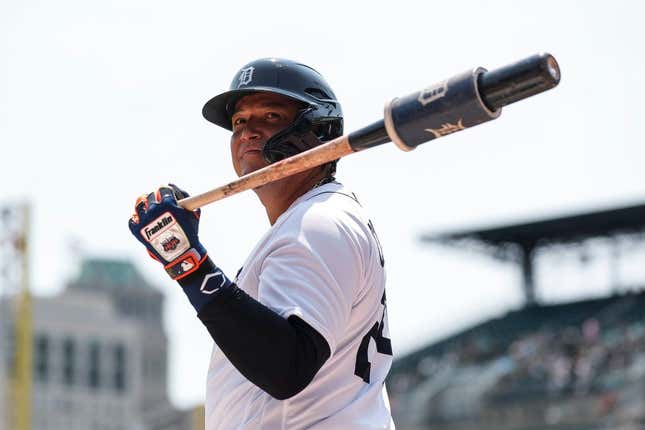 Even though there have been encouraging signs for the Detroit Tigers and Washington Nationals, they need to show they can win more consistently
Bass' ERA stinks, but not compared to who he is off the mound | Worst of the Week Countdown
So certainly a three-game series against each other ought to have both teams figuring this would be a good time to make some gains. Those matchups begin Friday night in Washington.
The Nationals return home with a three-game losing streak after they were swept in a series at Miami. They lost those three games by a total of four runs
"We've got to stay with the good things we did and turn the page (Friday)," Nationals third baseman Jeimer Candelario said. "At home, we've got to dominate from the first inning to the ninth.
The Tigers had an off day Thursday for their second idle day of the week. They went 2-3 on a five-game homestand that ended with Wednesday's 8-0 setback to the Pittsburgh Pirates
Detroit has been a shutout victim in three of its last seven games. The offense continues to take untimely dips, squashing momentum that tends to be building.
"We're not all where we need to be yet," Tigers manager A.J. Hinch said. "We've got to do a lot of work, but the vibe is great.
Center fielder Matt Vierling had the Tigers' only hit in Wednesday's game. Detroit has been so mundane offensively that only one batter in its most recent game finished with a batting average above .250 for the season
The Tigers will try to get going against Nationals rookie right-hander Jake Irvin (1-1, 4.11 ERA)
This will be Irvin's fourth big-league appearance since he was called up from Triple-A Syracuse. His only rough outing was the most recent one, when he suffered the loss to the New York Mets, allowing six runs in 4 2/3 innings.
Still, Irvin's contributions have been important across the past couple of weeks.
"Jake has done well," manager Davey Martinez said. "I want to continue to get him an opportunity. ... With some of our young guys, the innings are going to build up."
Until splitting with Pittsburgh, the Tigers had won all four series this season against National League opponents
Those results might bode well for this upcoming season, and they've also put Detroit in a decent situation a month and a half into the season.
"As we've won a little bit more, I've seen a great spirit and personality on this team build," Hinch said.
Left-hander Matthew Boyd (2-3, 6.47 ERA) of the Tigers will try to get back on track. He had a rough stint last Friday, giving up six runs -- five earned -- in 1 1/3 innings to the Seattle Mariners
Boyd has pitched in 166 career games in the major leagues, but none of those has come against the Nationals. He has only pitched for American League teams
Joey Meneses had one of the most productive bats in Washington's lineup in last weekend's home series, but he's absent for now as he was placed on the paternity list. That makes it uncertain when he might return to the lineup. His nine-game hitting streak ended Tuesday before he missed the past two games.
--Field Level Media