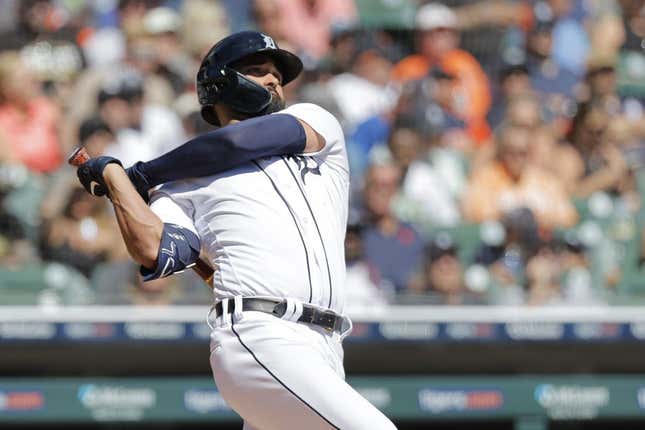 Detroit Tigers outfielder Riley Greene was placed on the 10-day injured list with right elbow inflammation prior to Saturday's game against the host Chicago White Sox.
How running an NFL team is like running a restaurant | Chef Emeril Lagasse
Greene injured the elbow in the fifth inning of Friday's game against the White Sox when he made a sensational diving catch of Tim Anderson's liner in left field. Greene was pulled for a pinch hitter in the seventh inning.
Greene's elbow swelled up overnight and he underwent went an MRI exam on Saturday. The left-handed-hitter will be re-evaluated when the swelling diminishes.
"It hurts a lot," Tigers manager A.J. Hinch said of the loss of Greene. "Riley's one of the guys we look to every night to do something offensively, defensively. Anytime you lose a bat like that, a personality, a presence, a defender, everything about him, it's a tough punch to the gut."
Greene, the fifth overall pick of the 2019 draft, is batting .288 with 11 homers and 37 RBIs in 99 games this season. The 22-year-old is in his second big league season.
Greene missed time earlier this season after sustaining a stress reaction in his left fibula after crashing into the center-field fence in Detroit on May 30. He missed the next 34 games.
Hinch doesn't want Greene to lose his aggressiveness due to the injuries.
"He's not going to stop being Riley Greene and playing the way that he does and the caliber that he does," Hinch said. "But it's tough on him, it's tough on us, when something like this happens."
The Tigers recalled utility man Tyler Nevin from Triple-A Indianapolis to fill the vacancy.
Nevin, 26, is batting just .122 (6-for-49) with one homer and five RBIs in 22 games with Detroit this season. He is the son of Los Angeles Angels manager Phil Nevin.
—Field Level Media