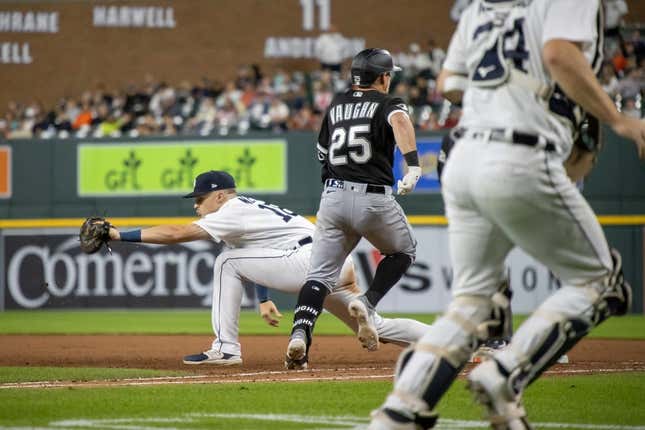 The Detroit Tigers acquired right-handed pitching prospect Sawyer Gipson-Long from division rival Minnesota last season, and he'll make his major league debut on Sunday against another American League Central team, the Chicago White Sox.
How running an NFL team is like running a restaurant | Chef Emeril Lagasse
The teams have split the first two games of the three-game series in Detroit.
Gipson-Long was the player the Tigers (65-77) received for another pitcher, reliever Michael Fulmer. Gipson-Long has split his time between Double-A Erie and Triple-A Toledo this season.
In Erie, Gipson-Long went 6-5 with a 3.74 ERA in 14 appearances, including 13 starts. After his promotion to Triple A, he posted a 2-3 record and 5.45 ERA in eight outings, including six starts. Gipson-Long doesn't have an overpowering fastball but mainly due to an effective slider, he's notched 126 strikeouts in 99 2/3 innings.
His best outing with the Mud Hens came on Aug. 18, when he held Omaha scoreless for six innings and had 12 strikeouts.
"I'm really excited to see him pitch," Tigers manager A.J. Hinch said. "This is a great organizational win for a guy who came into the organization with, we think, untapped potential. We made him better. He buys in. He's changed a little bit of everything from his attack plans to some of his pitch shapes."
The 25-year-old has logged 338 minor league innings after the Twins drafted him in the sixth round in 2019.
"I let him know his best is good enough," Hinch said. "The fastball he's been executing at Triple-A will still play at this level. The sweep on his slider will play at this level. He just has to experience it to truly believe it."
He'll be opposed by another rookie, 29-year-old right-hander Jesse Scholtens (1-7, 4.38 ERA), who will make his 10th start and 24th appearance this season for Chicago (55-87).
He has faced the Tigers once, giving up two runs in 4 2/3 innings on May 27.
In his most recent outing last Monday, Scholtens allowed five runs and nine hits in 3 2/3 innings at Kansas City.
"Just seemed like anytime he made a mistake, they made him pay for it," White Sox manager Pedro Grifol said.
His only victory came on June 25 when he threw four innings of scoreless relief against Boston.
Yoan Moncada went 0-for-4 on Saturday after homering in the previous three games.
"The truth is I feel very good right now," Moncada told the Chicago Sun Times. "Being healthy is the most important thing. If you're healthy, you can do the things I've been able to do."
Detroit clinched the season series with a 3-1 victory on Saturday. The Tigers are 7-5 against the White Sox with one game remaining.
Detroit has won the season series from all of its American League Central Division opponents.
Miguel Cabrera, who will retire at the end of the season, didn't play Saturday but is expected to be the Tigers' designated hitter in the series finale.
"I just want to make sure the last few weeks are exactly what he wants," Hinch said. "He's grinding right now, both performance-wise and health-wise."
Chicago has gone 2-3 on its six-game road trip. The White Sox will begin a seven-game homestand on Monday against Kansas City. The Tigers will continue their six-game homestand against the Cincinnati Reds on Tuesday.
—Field Level Media