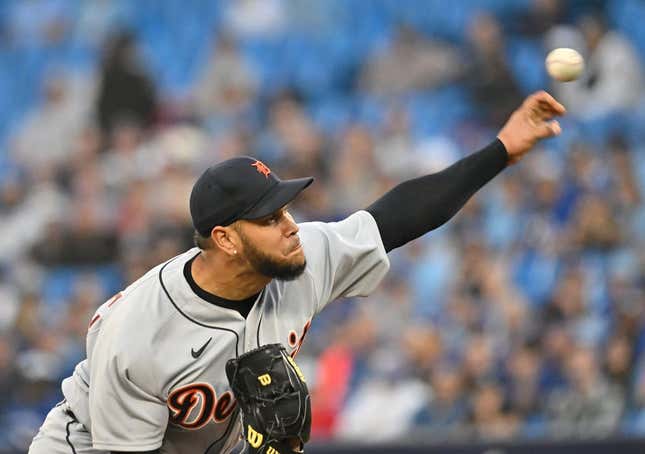 The last time the Detroit Tigers had a postponement, they swept a doubleheader the next day. They will look to duplicate that feat on Saturday
Chris Paul should ride the bench next season | Keep it a Buck(et)
Detroit's scheduled game against the visiting Baltimore Orioles on Friday night was washed out. That contest will be made up as part of a split doubleheader on Saturday, with the Tigers aiming to repeat their doubleheader victory against the Cleveland Guardians on April 18
The Tigers will start a pair of veteran left-handers on Saturday, Eduardo Rodriguez and Matthew Boyd
Rodriguez was perfect into the seventh inning against the Orioles in his latest start, setting down the first 20 batters on Sunday before Ryan Mountcastle slapped a two-out single. Rodriguez came out after the inning and wound up with a no-decision as the Orioles won 2-1 in 10 innings
"I have to say that was the best start of my career," he said. "I took a no-hitter into the eighth in Oakland, but this was a perfect game."
Rodriguez (1-2, 2.32 ERA) will carry a streak of 17 scoreless innings into Friday's contest. He blanked Cleveland for eight innings on April 18 and limited the Toronto Blue Jays to one run in six innings on April 12.
"I just felt my location has been working for me," Rodriguez said. "I'm throwing my pitches with a purpose, and I'm throwing it right where I wanted. That's what I think is going in a good way for me."
Boyd (1-1, 4.26 ERA) is coming off his only win of the season. He gave up two runs and five hits while striking out eight in five innings at Milwaukee on Monday.
"I was able to throw that curve for a strike, really all of my pitches for strikes, and that definitely opens it up," Boyd said. "Any time you can throw multiple pitches for strikes, it's going to open up your fastball."
The Orioles will counter with a pair of right-handers, Dean Kremer and rookie Grayson Rodriguez
Kremer (2-0, 6.20 ERA) has won his latest two starts. After blanking the Nationals in Washington for 6 2/3 innings on April 18, Kremer gave up four runs and seven hits in 5 2/3 innings against the visiting Boston Red Sox on Monday.
Grayson Rodriguez (0-0, 5.12 ERA) escaped numerous jams when he opposed Eduardo Rodriguez on Sunday, allowing five hits and three walks but giving up no runs in five innings. He struck out six.
Baltimore has won nine of its past 10 games, including a 7-4 victory in the series opener on Thursday. The Orioles trailed 4-2 entering the seventh, then erupted for five runs
Infielder Joey Ortiz was recalled from Triple-A Norfolk and made an immediate impact in his major league debut. He drove in three runs, tying a franchise record set by Don Baylor for a player in his first big-league game.
"Don Baylor is pretty good company for any hitter," manager Brandon Hyde said.
Ortiz will likely start at least one of the games on Saturday.
"I pride myself on being able to compete and try to do my best up there and knock the runs in," Ortiz said.
The postponement gave two Detroit players an extra day to heal. Shortstop Javier Baez missed the Thursday game with a sore left hand. Right fielder Kerry Carpenter left the series opener after injuring his shoulder while making a leaping catch.
Orioles left fielder Austin Hays is also nursing a hand injury after being struck by a pitch on an attempted bunt
--Field Level Media