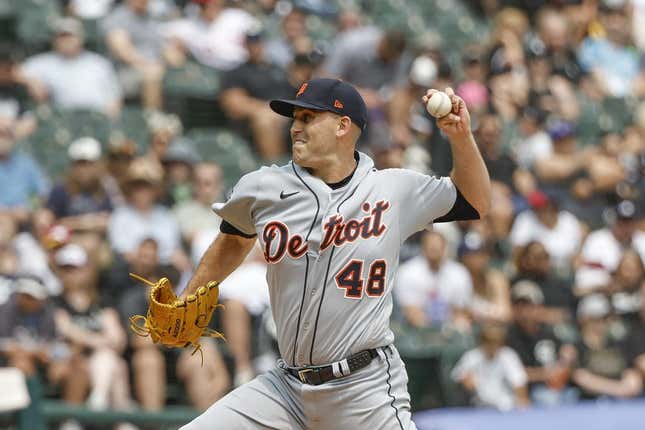 The Detroit Tigers entered Memorial Day one game out of first place -- the closest they'd been to the top of the American League Central that late in a full season since the last time they made the playoffs, in 2014
How running an NFL team is like running a restaurant | Chef Emeril Lagasse
Less than three weeks later, the reeling Tigers will look to avoid falling further out of the division race when they oppose the first-place Minnesota Twins in the opener of a four-game series on Thursday night in Minneapolis
Detroit left-hander Matthew Boyd (3-5, 5.55 ERA) is scheduled to start against right-hander Sonny Gray (4-1, 2.25).
The Tigers continued skidding on Wednesday, when the visiting Atlanta Braves swept a doubleheader by earning a 10-7 win in the opener and a 6-5 victory in the nightcap. The host Twins capped a two-game interleague sweep by edging the Milwaukee Brewers 4-2 on Wednesday
The Braves' sweep dropped Detroit to 2-13 since Memorial Day, a span in which the Tigers have fallen into fourth place in the division. However, at least their offense continued to stir on Wednesday
The Tigers, who have 23 runs in their past four games, raced to a 4-0 lead in the first game. In the nightcap, they overcame a 5-1 deficit by scoring four runs in the fourth inning. Atlanta's Eddie Rosario snapped the tie with a sixth-inning homer
"We battle," Tigers catcher Jake Rogers told the Detroit Free Press after hitting the game-tying, three-run homer in the second game. "It's what we want to do. We never want to be out of it, and we don't think we're ever out of it. We're ready to punch back when they punch us.
The Twins cemented their spot atop the AL Central by getting the last punch in against the Brewers in consecutive games. Minnesota faced a three-run deficit on Tuesday before storming back and earning a 7-5 win when Carlos Correa hit a walk-off, two-run homer to cap a four-run ninth inning
On Wednesday, the Twins fell behind 2-0 before scoring all of their runs in the third inning, when Correa laced a game-tying triple before Trevor Larnach (double) and Joey Gallo (single) delivered RBI hits
Minnesota, which has led the AL Central every day since April 11, dropped five in a row from June 3-8 but then won two of three last weekend at Toronto before sweeping the Brewers.
"Some of it can be a momentum thing or a flow of energy amongst the team when a team feels good and there's good vibes going on and people are relaxed," Larnach said.
Unfortunately for Larnach, he won't be around to continue the momentum. After the Wednesday game, he was optioned to Triple-A Saint Paul. He was hitting .211 with six homers and 31 RBIs in 47 games for Minnesota.
Boyd took a loss on Saturday when he gave up five runs over five innings as the Tigers fell 5-0 to the Arizona Diamondbacks. He is 8-8 with a 4.56 ERA in 22 career starts against the Twins
Gray didn't factor into the decision on Friday after he surrendered one run over five innings in the Twins' 3-2, 10-inning win over the Blue Jays. He is 4-1 with a 2.47 ERA in eight games (seven starts) against the Tigers
--Field Level Media