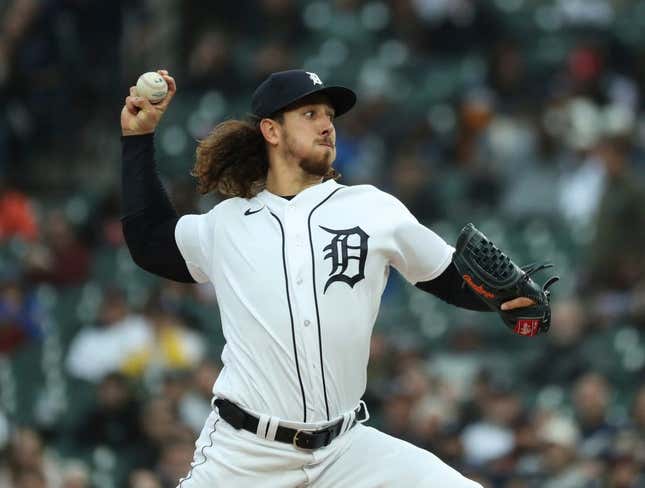 The Detroit Tigers will have their two most effective starters lined up for a two-game home series that begins Tuesday against the Pittsburgh Pirates
Can the Florida Panthers make a comeback? | Agree to Disagree
Michael Lorenzen will start the first game of the series before ace Eduardo Rodriguez takes the mound on Wednesday afternoon. Rodriguez has allowed just two runs in his last six outings.
Lorenzen (1-2, 4.18 ERA), signed to a one-year contract as a free agent during the offseason, has delivered two stellar performances this month after an uneven start. He limited both the New York Mets and Cleveland Guardians to one run in seven innings, although he was a hard-luck loser against the Guardians on Tuesday in a 2-0 defeat.
Lorenzen relied on a changeup to set up his other pitches, throwing 25 of them among his 98 pitches.
"The changeup is my pitch," Lorenzen said. "I can rely on it heavily and when I don't have it, it can really be a battle."
Lorenzen, who spent most of his career with the Cincinnati Reds, has plenty of familiarity with the Pirates. He has faced them 42 times in his career, mostly in relief, posting a 6-2 record and 2.96 ERA
The Tigers had to work hard just to beat the Mariners once in a three-game weekend series. After being outscored a combined 14-2 in the first two games, the Tigers rallied for a 5-3 win in the series finale. The go-ahead run was scored in the seventh inning when Nick Maton was hit by a pitch with the bases loaded
"You never want to get swept. But that was big for us to salvage this one before the off day and build some momentum going into the Pirates series," Tigers catcher Jake Rogers said
Pirates right-hander Luis Ortiz (0-1, 3.60 ERA) will make his second start of the season. He gave up five runs and seven hits in five innings against the Colorado Rockies on Tuesday, but only two of the runs were earned
The Rockies benefitted from a throwing error as well as a fielder's choice that could have resulted in an inning-ending double play.
"I felt pretty good," Ortiz said through an interpreter. "I think I attacked the zone pretty good with my good stuff. I stayed down in the zone, got my ground balls. There was some other stuff I can't control, but I threw the ball really good."
Ortiz is seeking his first career victory. He made four starts last season, going 0-2 with a 4.50 ERA.
The Pirates got a masterful pitching performance from Mitch Keller on Sunday. He struck out 13 in seven innings as Pittsburgh blanked the Baltimore Orioles 4-0
Pittsburgh had lost 11 of its previous 12 games. The only other victory in the stretch was a 2-0 shutout of Colorado on May 8 in a game Keller started.
The four-run output was the Pirates' highest in 13 games. Their offense had produced just 18 runs during the slide
"Early in the year, we were kicking peoples' (tails). Now, we're not having some luck," Pirates third baseman Ke'Bryan Hayes said. "You just have to move forward and can't really dwell on it too much. You just have to take it pitch by pitch each day. Just continue to play hard and things will even out.
--Field Level Media