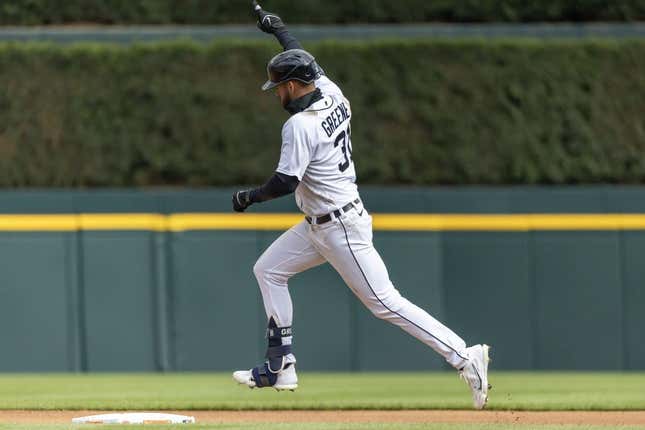 All of a sudden, the Detroit Tigers are the American League Central's resident experts in final at-bat victories
Are the Oakland A's a failed state? | Agree to Disagree
The Tigers carry a five-game winning streak into their Wednesday afternoon tilt against the visiting Cleveland Guardians, and they've done it in spine-tingling fashion
The streak started with a 3-1 win at Toronto, which snapped a six-game losing streak. That was followed by three consecutive walk-off victories, including Kerry Carpenter's game-winning homer in the opener of a doubleheader against the Guardians on Tuesday. Eduardo Rodriguez's eight-inning pitching gem led the Tigers to a 1-0 victory in the nightcap
"In close games, having three walk-offs in the last three or four games puts a jolt in the clubhouse," Tigers manager A.J. Hinch said
Carpenter's homer was his third this season. He's batting cleanup against right-handed starters.
"We obviously love him in the middle of the order," Hinch said. "When he gets a good pitch to hit, he's a threat."
Riley Greene also had a big afternoon for Detroit. He had three hits in the first game, his first multi-hit outing in nine games. He then provided the only run of the nightcap, swatting a sixth-inning, opposite-field homer.
"He found some holes early, which builds confidence, and he's not afraid to hit deep in counts," Hinch said of Greene. "I know he's frustrated with the strikeouts but when you hang in there enough mentally, you can still do damage at any given time."
Cleveland knows a few things about winning tight games. All but one of the Guardians' nine victories this season have been by no more than two runs. First baseman Josh Bell views the doubleheader loss to the Tigers payback of sorts
"It's tough, but you look at the first couple of weeks of the season, seems like we've won all the one-run games," Bell said in a postgame TV interview. "Kind of puts things back into perspective. We've got to grind things out. No one's going to give us anything. We've got to push back (Wednesday) and get a win."
Spencer Turnbull, Detroit's starter on Wednesday, earned his first victory in nearly two years in his last start. He'll try to make it two in a row in the three-game series finale.
Turnbull held Toronto's potent lineup to one run on six hits while striking out six in five innings last Thursday. That was enough for a victory, his first since May 29, 2021.
Turnbull (1-2, 9.00 ERA), who was sidelined all of last season while recovering from Tommy John surgery, had allowed 12 runs in eight innings during his first two starts of the season.
But the Guardians have given him fits during his career. Turnbull has pitched against the Guardians 10 times (nine starts) -- more than any other opponent -- without a victory (0-6, 5.10 ERA)
The composition of the Guardians' batting order has changed dramatically since he last faced them in 2021. The only current Cleveland player who has more than six official at-bats against him is Jose Ramirez, who has a .368 average in 19 at-bats in the matchup
Cleveland hands the ball to Cal Quantrill (0-1, 5.74), who is coming off a no-decision against Washington last Friday. Quantrill allowed three runs and six hits in six innings.
Quantrill, a 15-game winner last season, is 2-2 with a 3.34 ERA in eight career outings against the Tigers, including five starts
--Field Level Media