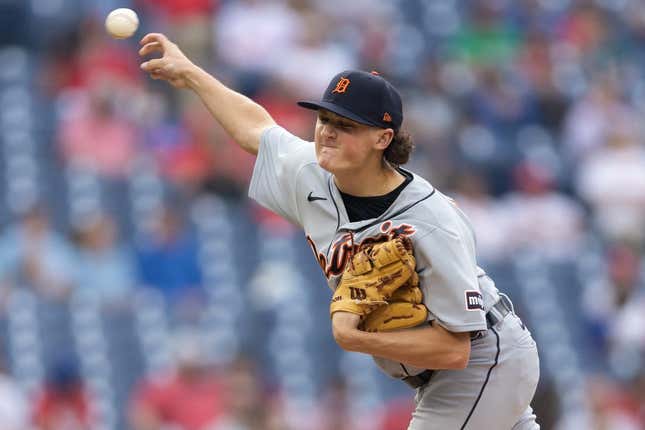 The team that has scored the fewest runs in the majors now has to face the major league leader in strikeouts.
How running an NFL team is like running a restaurant | Chef Emeril Lagasse
Braves right-hander Spencer Strider, who has racked up 121 strikeouts this season, will look to keep missing bats when Atlanta faces the host Detroit Tigers on Tuesday night in the middle game of a three-game series
The Tigers snapped a nine-game losing streak by rallying to win 6-5 in 10 innings in the series opener on Monday
Strider (6-2, 3.79 ERA) has collected at least seven strikeouts in all 13 of his starts this season, which is bad news for a Tigers offense that struggles to make contact
Strider has been susceptible to giving up the long ball as of late, however, and it really cost him in his last start. He surrendered a career-high eight runs and eight hits in four innings against the visiting New York Mets on Thursday. He was spared a loss when the Braves rallied to win 13-10 in 10 innings
Brandon Nimmo hit a grand slam off Strider and Francisco Alvarez victimized him with a two-run blast.
The Mets also scored four runs in five innings off Strider earlier this season.
"I think you're fighting yourself more so than anything," Strider said. "Execution is kind of the universal determining factor as to whether you succeed or don't. Who's in the box has little to do with how you execute, in my opinion. Yeah, you give credit to them, absolutely. I don't know what it is about the Mets, necessarily, that I struggle with."
Strider has never pitched against the Tigers
Reese Olson (0-1, 2.70) is scheduled to make his third career appearance and second start for the Tigers. Detroit manager A.J. Hinch used an opener in the first inning of Olson's last outing on Thursday. Olson then came in and allowed just one run, three hits and a walk in five innings
Detroit rallied from a 5-1 deficit on Monday, scoring a run in the eighth before pushing across three runs against Braves closer Raisel Iglesias in the ninth
"I feel like the command and the pitches were there," Iglesias said. "They came out aggressive, looking to make contact, because I'm a pitcher who throws a lot of strikes."
Spencer Torkelson hit a two-run homer in the ninth, then had a game-winning RBI single in the 10th.
"That was a really fun team win," Hinch said. "That clubhouse needed it. It was a lot of chipping away, and a lot of guys needed to do something positive."
Zack Short had two hits and drove in two runs, including the tying run in the ninth. Andy Ibanez had three hits, including a homer, and threw out a runner at the plate in the top of the 10th.
"I know the last 10-12 days have not been great, but we will play to the end," Hinch said. "That's been a characteristic of this team."
The Braves may be without their hottest hitter for some time after losing him during Monday's setback. Marcell Ozuna, who had extended his hitting streak to nine games, left the contest with a right wrist contusion after getting hit by a pitch in the fourth inning
Atlanta manager Brian Snitker said Ozuna will undergo further tests after X-rays came back negative.
--Field Level Media