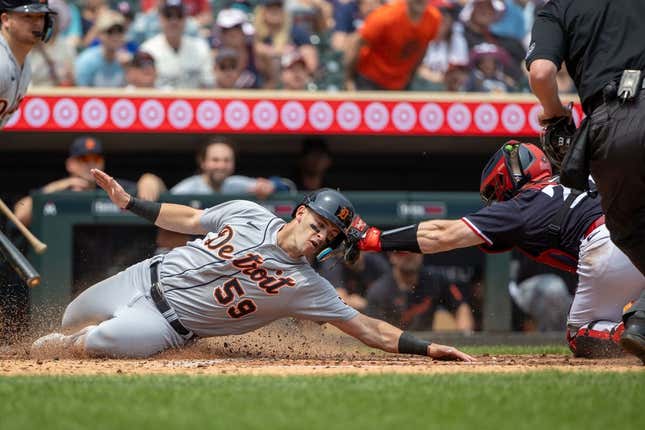 Using a string of relievers instead of a traditional starting pitcher has worked well for the Detroit Tigers and Minnesota Twins this weekend
Is Texas or Florida State a bigger national title contender? | Agree to Disagree
The Tigers will try to find success with another bullpen game on Sunday in the finale of a four-game series in Minneapolis. Detroit has won two of the first three
The only game of the series in which both teams used a traditional starting pitcher was Thursday night, when the Tigers beat up on the Minnesota bullpen after starting pitcher Sonny Gray departed, allowing them to win the opener 8-4
Detroit then used six relievers on Friday night, and they combined to limit the Twins to one run and seven hits in a 7-1 victory
The Tigers improved to 2-1 on bullpen days this season with a 2.00 ERA
The Twins then implemented their first bullpen game of the season on Saturday afternoon, and six relievers combined to shut out Detroit on three hits in a 2-0 victory
"It's always tough when you go (against) a bullpen game," Tigers third baseman Zack Short said. "You're facing three different guys before the fifth inning.
Twins manager Rocco Baldelli agreed that it's a different type of challenge for hitters, but it's just as challenging for the pitchers to execute clean innings, especially early in the game
The Twins received two solid innings from Jose De Leon to open the game on Saturday, followed by seven innings of scoreless relief from the bullpen. Brent Headrick, recalled from Triple-A St. Paul on Saturday, earned his first major league win in his first appearance since April 26
"If your guy goes out there and doesn't execute right off the bat and the game doesn't start out smoothly, it can become really challenging," Baldelli said. "Then, you're bringing in a guy like maybe Headrick and you're just letting him throw 100 pitches because you have to."
The Twins also received several clutch defensive plays in the win on Saturday
When the game was still scoreless in the fifth inning, Short was thrown out at the plate on a clean relay after he tried to score from first on a double by Miguel Cabrera.
Detroit also put its leadoff runner on base in the eighth and ninth innings, but both times Minnesota followed with 5-4-3 double plays.
"It is an amazing thing when you just make all the plays and complete the innings, end the innings, don't give people any other opportunities, you end up winning those ballgames, you end up saving runs and pitches for your pitchers," Baldelli said. "We played that kind of ball game (Saturday), which was great. It's exactly what we wanted to see."
The Twins plan to use right-hander Louie Varland as their starting pitcher in the series finale. He has never faced the Tigers
Varland (3-2, 4.70 ERA) is 0-1 with a 9.28 ERA in two starts this month. Fellow starters Joe Ryan, Gray and Pablo Lopez also are winless for the Twins this month
The four are a combined 0-4 in 11 starts in June with a 5.29 ERA.
The Tigers didn't announce which reliever will start Sunday's game
--Field Level Media