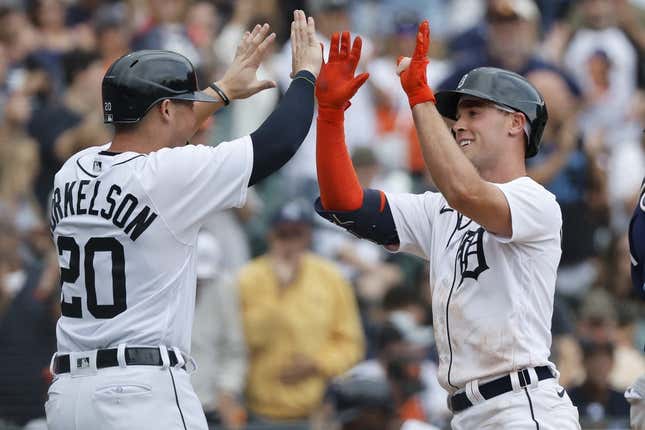 The visiting Detroit Tigers and the Cleveland Guardians will play a traditional doubleheader on Friday after Thursday's series opener was postponed due to inclement weather.
How running an NFL team is like running a restaurant | Chef Emeril Lagasse
The Tigers are facing a Cleveland team that has lost three of its last five games, including a 7-2 road defeat to the Cincinnati Reds on Wednesday. The Guardians made a season-high four errors in the game.
Guardians right-hander reliever James Karinchak is expected to be recalled from Triple-A Columbus before Friday's doubleheader. Karinchak was optioned to the minors after struggling with the Guardians early this season, going 2-4 with a 3.90 ERA in 32 outings before being demoted in June.
"We could use a good James Karinchak, that would be good," Cleveland manager Terry Francona said. "Hopefully, he can figure it out while he's here."
The Guardians are facing a Detroit team that has seen positive returns of late from the middle of the order. Riley Greene, Spencer Torkelson and Kerry Carpenter hit a combined four home runs in Detroit's 8-7 win over the Minnesota Twins on Wednesday.
All three figure prominently in the long-range goals for the Tigers, who are 7-7 this month.
"The guys that hit them today are going to hit them for us," Detroit manager A.J. Hinch said. "Tork, growing into his power. Riley, awesome two-strike homer. Carp, oppo (opposite field) again. Those guys are going to display some power."
Carpenter is 20-for-44 (.455) with five home runs and seven RBIs during his career-best 12-game hitting streak.
Torkelson went deep twice on Wednesday for his fourth career multi-homer game. He has six home runs over his last seven games.
"I feel like I've seen the ball well, I have a good solid approach," Torkelson said. "I'm trusting that even when ... I don't feel amazing at the plate."
Detroit will send left-hander Tarik Skubal (2-2, 4.18 ERA) to the mound in Game 1. He allowed five runs (four earned) over 5 1/3 innings in a 5-2 loss to the Boston Red Sox last Friday.
Skubal, 26, has posted a 36-to-6 strikeout-to-walk ratio in seven starts this season since returning from flexor tendon surgery in his left elbow last August. Jose Ramirez is 5-for-14 against Skubal, who is 0-2 with a 4.40 ERA in six career starts versus Cleveland.
The Guardians will counter with right-hander Gavin Williams (1-3, 2.80), who has recorded a total of 22 strikeouts over his last two starts covering 12 innings. The rookie allowed one run over five frames in a no-decision against the Tampa Bay Rays last Saturday.
"I'm definitely getting into the groove," Williams said. "I know my stuff plays out here. So, just keep going with it."
The Tigers will send right-hander Matt Manning (4-4, 4.60) to the bump in Game 2. He snapped a three-start losing skid by giving up one unearned run and just two hits over 5 1/3 innings in a 6-2 victory over the Boston Red Sox last Saturday.
Manning, 25, turned in the impressive outing after allowing a total of 17 earned runs over his previous three starts.
Right-hander Xzavion Curry (3-1, 3.39) will get the start for Cleveland in the second game. He made his fifth start of the season last Friday and allowed five runs over five innings in a no-decision against the Tampa Bay Rays.
Curry, 25, has posted a 4.00 ERA in three career games (one start) against Detroit.
—Field Level Media