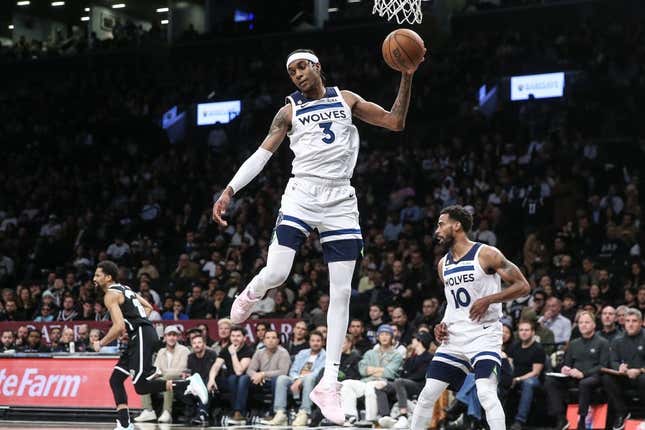 The Minnesota Timberwolves have gained the edge they need to reach the postseason but still have a lot on the line Saturday afternoon when they face the San Antonio Spurs at Austin, Texas
Air Jordans are more American than McDonald's French fries | Deon Cole's Ultimate Sports Fantasy
The Timberwolves (40-40) have two games remaining in the regular season and are in ninth place in the Western Conference, putting them in line for the play-in tournament
Even if they lose their last two games, the Timberwolves would not drop below the ninth seed, but they still have a chance to rise in the seedings, if they win and other results fall their way
Minnesota has been off since Tuesday, when they earned a key 107-102 road win over the Brooklyn Nets. After Saturday's game, the Timberwolves will fly home for a Sunday afternoon season-ending game against the New Orleans Pelicans
Against Brooklyn, Anthony Edwards scored a team-high 23 points, Karl-Anthony Towns had 22 including a pair of late-game free throws that broke a tie and the Timberwolves snapped a three-game losing streak
"Right now every win feels like two, and every loss feels like three. It's just crazy," Minnesota coach Chris Finch said after a game in which the teams were never separated by more than four points until the final seconds.
"We desperately needed this game."
Towns also had 14 rebounds, and bounced back from a game against Portland in which he took just three shots and the Timberwolves lost
"This looked more like KAT," Finch said. "We came into (the Brooklyn) game with the mindset to not only get him on track, but also take advantage of what we knew was going to be a (good) matchup because they play a lot of small lineups."
The Spurs return to their home away from home for the second of a two-game set in Austin after playing well down the stretch Thursday in a 129-127 win over Portland. Keita Bates-Diop racked up 25 points, with 10 of them in the decisive late-game stretch, to push San Antonio to the win
It was the second win for the Spurs in three games as they remained one game ahead of the last-place Houston Rockets
Keldon Johnson and Julian Champagnie added 24 points each for the Spurs (21-59), with Zach Collins contributing 21 points and 11 rebounds and Tre Jones adding 18 points and 10 assists
Thursday's game was the first NBA contest played at Moody Center in Austin, which is the home of the team's G-League franchise.
"It was great. It was almost like a flashback for me (from the G League)," Johnson said. "It was a great atmosphere, it was loud, it was great energy. We looked forward to it as a team. The Spurs family shows up wherever we are at.
The Spurs trailed by nine before a 13-0 run keyed by Bates-Diop's back-to-back 3-pointers turned around the game. The surge got the sold-out crowd of 16,023 -- an arena record -- into a frenzy for a team that typically plays 80 miles away
"It would have been sort of embarrassing if they didn't," Popovich later joked about the loyalty of the Austin crowd. "They are in Texas."
The Spurs held on thanks to a season-high 33 second-chance points, made possible by 18 offensive rebounds
San Antonio has taken two of the three games with the Timberwolves this season, but all three of those games were back in October
--Field Level Media