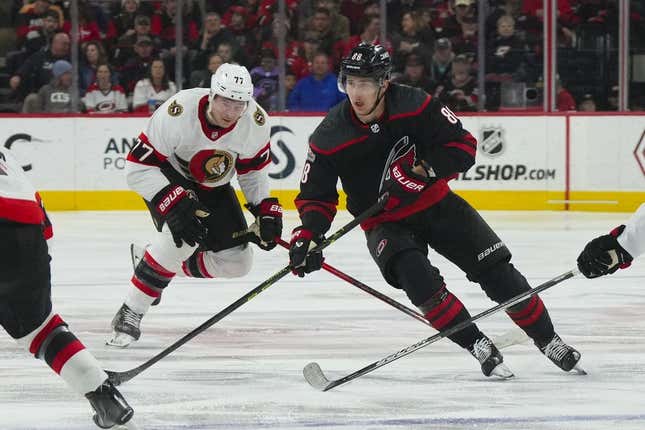 A potentially favorable schedule to close out the regular season gives the Carolina Hurricanes a strong opportunity to pad their lead in the Metropolitan Division
Bass' ERA stinks, but not compared to who he is off the mound | Worst of the Week Countdown
Meanwhile, time might be running out for the Ottawa Senators to end their lengthy playoff drought
The Hurricanes look for a third straight victory while trying to hand the visiting Senators a third consecutive defeat on Tuesday night in Raleigh, N.C
Carolina (49-18-9, 107 points) ended an 0-2-1 rut by beating Montreal and the New York Islanders in back-to-back weekend contests. The result is a three-point lead for the Hurricanes, over New Jersey, in the Metro with six games remaining
Of those games, none are against teams currently in playoff position in their respective conferences.
"We have a job to do -- finish as high as we can," Hurricanes coach Rob Brind'Amour said
Though Carolina appears back on track after that mini slump, it has scored just 10 goals in the last five games after rallying for a 2-1 home victory over the Islanders on Sunday. Jesperi Kotkaniemi extended his career-high goal total to 15, while Jordan Martinook scored Sunday to snap a 24-game goal drought.
"That's been our thing for a while now -- we get a lot of shots, but the pucks just aren't bouncing in," Kotkaniemi told the Hurricanes' official website
Four different Hurricanes scored during their 4-0 home victory over Ottawa on Feb. 24. Since that defeat, though, the Senators (37-34-6, 80 points) are 10-8-2. However, they opened April with a 3-0 home loss to Toronto, then blew a one-goal lead during Sunday's frustrating 4-3 overtime loss at lowly Columbus
"In a game like (Sunday), when your season's on the line, you have to have them going on a back-to-back," Ottawa coach D.J. Smith said.
The Senators are six points out of the final wild-card spot in the Eastern Conference with five games to play and two non-qualified teams in the way
"These are learning lessons for some of these guys. ... You have to learn to simplify the game," Smith added.
Ottawa, which last made the playoffs in 2016-17, is also mired in an 0-2-1 rut on the road, where it's lost six of the last seven. However, Senator Alex DeBrincat has five goals with an assist during his last six games.
Teammate Cam Talbot (2.89 goals-against average) has allowed four goals in each of his last two starts. He yielded three during that loss at Carolina last month.
The Hurricanes' Antti Raanta (2.22 goals-against average) stopped all 32 shots he faced in that contest versus Ottawa. He also saved all 14 attempts from Montreal during Carolina's 3-0 victory on Saturday for his fourth shutout of the season
Meanwhile, teammate Frederik Andersen (2.42 goals-against average) made 21 saves against the Islanders on Sunday to snap a three-game starting skid.
Carolina's Martin Necas has posted a team-leading 68 points this season. However, he's been held without a point in four straight games. Necas did score one of his career-high 27 goals against the Senators in February
These teams will play their final regular-season meeting against each other at Ottawa on April 10.
--Field Level Media