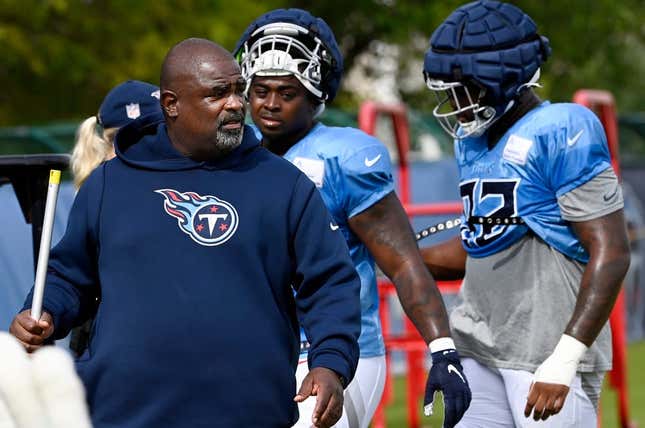 The Tennessee Titans' NFL exhibition opener on Saturday at the Chicago Bears will have extra meaning for Terrell Williams
How running an NFL team is like running a restaurant | Chef Emeril Lagasse
That's because the Titans' defensive line coach will be acting head coach in place of Mike Vrabel, who earlier this week told Williams of his new duties for the weekend
"I think Mike Vrabel deserves a lot of credit," Williams said Thursday. "He deserves a lot of credit, not just for doing this for me, but around the league, hopefully, more coaches will give assistant coaches opportunities to do this
"There's nothing better than getting the experience.
Williams, 49, has been with the Titans since 2018 as defensive line coach, and this season was promoted to assistant head coach
Vrabel stepped aside Thursday in having Williams answer questions from the media after practice, and the responsibilities will continue from the team meeting Thursday night, through Friday's activities and Saturday's game and postgame press conference
Defensive assistant Clinton McMillan will coach the defensive line while Williams handles operational duties and Vrabel will be available to help the team prepare and advise Williams as needed
"I definitely don't have butterflies, trust me," Williams said. "I am excited for the football team. ... If I have any butterflies, it is not for me, it is because I want to see how some of these guys who haven't played in a pro football game, I'll be more concerned about them. I'll be fine.
Williams has been a coach for 26 seasons at the college and NFL levels, with stops including Texas A&M and Purdue, and as an intern through the NFL's minority coaching program in 1999 with the Jacksonville Jaguars and later with the Dallas Cowboys and Seattle Seahawks
He was a defensive line coach for the then-Oakland Raiders (2012-14) and Miami Dolphins (2015-17) before coming to Tennessee
Williams said Thursday that he would like to be a head coach in the future
"I have been through a lot in my life -- it takes a lot to overwhelm me," Williams said. "You just roll with the punches. Vrabes has kind of gone over what game day is going to be like -- he's gone over everything that I need to be prepared for. I'm sure some things are going to come up ... but as these things come up, you figure it out. And that is why you have good coaches around you, because you can't do everything. We'll figure it out
"I am just excited about the opportunity.
--Field Level Medi