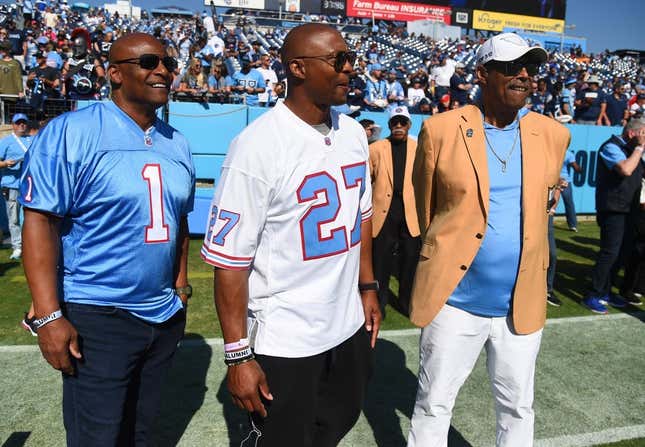 The Tennessee Titans will pay homage to their roots and wear Houston Oilers throwback uniforms for two home games in 2023
How running an NFL team is like running a restaurant | Chef Emeril Lagasse
The franchise was known as the Houston Oilers from 1960-1996 before moving to Tennessee. They kept the Oilers uniforms for 1997-98 while playing home games in Memphis and Nashville before fully rebranding to the Tennessee Titans in 1999
The uniforms were revealed Sunday night.
"It allows us to honor as many players as we can, because it covers so much time," Titans vice president and executive creative director Surf Melendez told the team website. "It also represented our transition to Tennessee, because we wore these uniforms in Tennessee as well.
The two home games to feature the throwbacks have yet to be finalized.
The Titans were interested in wearing the throwbacks for a "Monday Night Football" road game at the Miami Dolphins on Dec. 11 but have not received approval from the league, ESPN reported
Tennessee is following a league-wide trend of introducing throwbacks into the uniform rotation in the wake of the NFL rolling back its "one-shell rule" last year. The Cleveland Browns, Atlanta Falcons and Seattle Seahawks are among the team who have unveiled throwback uniform plans in recent weeks.
"Can't wait to see our old uniforms on the field again!" Oilers legend and Hall of Fame quarterback Warren Moon wrote on social media. "Best looking outfit in football. Go Titans.
--Field Level Media