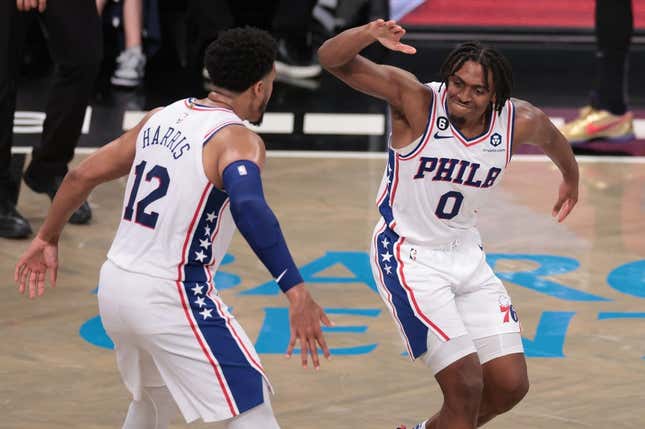 Tobias Harris scored 14 of his 25 points in the second half as the Philadelphia 76ers completed an Eastern Conference first-round sweep of the host Brooklyn Nets with a 96-88 victory Saturday afternoon in New York
Will South Beach Flu give the Heat home court advantage? | Keep it a Buck(et)
The 76ers survived the absence of Joel Embiid after soreness was discovered in his knee following Game 3 on Thursday. They will face either the Boston Celtics or Atlanta Hawks in the next round
Philadelphia swept a best-of-seven series for the first time since defeating Milwaukee in the second round in 1985.
Harris made 11 of 19 shots and also grabbed 12 rebounds as the 76ers dominated the boards by a 54-38 margin. James Harden collected 17 points, 11 assists and eight rebounds while Tyrese Maxey contributed 16 points and eight boards
Reserve De'Anthony Melton scored all 15 of his points in the fourth quarter when the Sixers outscored Brooklyn 30-25. Paul Reed started for Embiid and totaled 10 points and 15 rebounds.
Spencer Dinwiddie scored 20 points for the Nets, who were swept in the first round for the third time in four seasons and saw their postseason losing streak reach 10 games. Nic Claxton collected 19 points and 12 rebounds but Mikal Bridges made 6 of 18 shots and was held to 17 points
Philadelphia scored the game's first basket but did not get the lead until midway through the third when it rallied from a 53-42 deficit by scoring 14 straight points. Harris hit a 13-footer with 5:29 left and Reed's basket capped the run on the next possession.
Maxey hit a 3-pointer and converted a 3-point play in the final 1:49 to help Philadelphia take a 66-63 lead into the fourth. The Nets forged a 70-70 deadlock on a 3 by Royce O'Neale and claimed a lead on Bridges' jumper, but the 76ers used a 22-6 run to pull away
Philadelphia did not trail again after Melton's 3 made it 73-72 at the 8:38 mark. Harris followed with a 3-point play for a 76-72 lead and then hit a difficult 13-footer before Melton's layup pushed the margin to 85-76 with 3:58 left.
Harris then finished it off by burying a 3-pointer with 96 seconds left for a 92-78 lead.
Dinwiddie's buzzer-beating 3-point heave put Brooklyn up 29-22 through the opening quarter. The Nets took a 48-40 lead into halftime on a 3-point play by Cameron Johnson with 9.6 seconds left
--Field Level Media