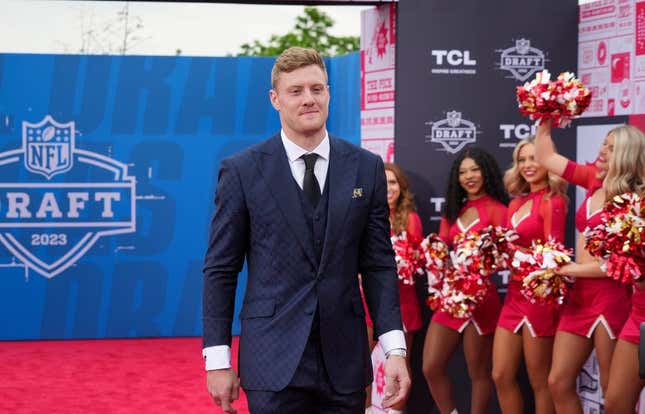 A troublesome toe that might require surgery might have been a part of the woeful Thursday night in Kansas City for Kentucky quarterback Will Levis.
Can the Florida Panthers make a comeback? | Agree to Disagree
ESPN reported Thursday that two teams considered the left toe injury "problematic," possibly requiring surgery.
Levis went undrafted in the first round of the 2023 NFL Draft, an unexpected development when juxtaposed against reports he could be in play with the No. 1 and No. 2 picks. Levis' disappointment from the green room was prominent on the live TV coverage of the first round of the draft.
Before his pro day, Levis implied he was expecting to be drafted early and thus accepted an invitation to be at the draft in-person with his parents, girlfriend and others.
"If I know I'll be a pretty high pick I'll definitely go," he said. "I'm looking forward to going, but I don't want to go if I could be like a second-round pick. Don't want to have the camera just on you all day."
He received a social media message of support from 2022 NFL Defensive Rookie of the Year Sauce Gardner among many others.
"Will Levis... God makes no mistakes. You will be great," Gardner wrote late Thursday.
But there's more to the story based on conversations with scouts since the NFL Scouting Combine. Levis' self-proclaimed rocket arm isn't overblown, but issues with turnovers (23 INTs in his past 24 games) and age (24), along with "bouts with self-belief" are all limiting factors for various teams.
Levis started two seasons at Kentucky, which gave him experience in a pro offense orchestrated by Liam Coen in 2021 before he left to become offensive coordinator under Sean McVay with the Los Angeles Rams in 2022.
Coen was alongside Levis in Kansas City as the green room emptied gradually on Thursday. Levis was one of 17 players invited by the league to the NFL Draft, four of whom were not selected in the first round.
NFL Network reported Friday morning that teams are calling other clubs looking to move into position to select Levis in the second round.
Success stories beyond the first round include one player scouts have compared Levis to -- former Cardinals and Broncos quarterback Jake Plummer (1997) -- along with prominent players such as Brett Favre (1991), Drew Brees (2001), Andy Dalton (2011), Randall Cunningham (1985), Boomer Esiason (1984) and current Saints quarterback Derek Carr (2014).
--Field Level Media