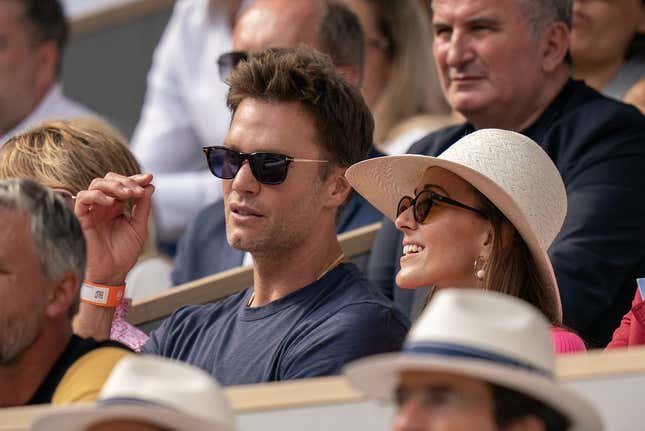 Retired NFL great Tom Brady is now a minority owner of English second-tier soccer club Birmingham City FC.
How running an NFL team is like running a restaurant | Chef Emeril Lagasse
The seven-time Super Bowl-winning quarterback's partnership with team owner Knighthead Capital Management LLC was announced Thursday, Brady's 46th birthday.
"I've been part of some amazing teams in my day, and I'm looking forward to applying my perspective to create that same success here in Birmingham," said Brady, who becomes a chairman of the club's advisory board.
A Birmingham City news release said Brady, who retired in February after 23 seasons in the NFL, will apply his "extensive leadership experience and expertise across several components of the club, including working alongside the sports science department to advise on health, nutrition, wellness, and recovery systems and programs."
Brady won six Super Bowl championships with the New England Patriots and one with the Tampa Bay Buccaneers.
Brady is the NFL's all-time leader in passing yards (89,214) and touchdowns (649) but admits he has "a lot to learn" about English football.
"So here's the deal, I'm officially coming on board at Birmingham City Football Club," Brady said. "And maybe you're asking what do you know about English football, Tom? Well let's just say I've got a lot to learn. But I do know a few things about winning, and I think they may translate pretty well.
"I know success starts with the work put in when the world isn't watching. I know a team is nothing without the city that shows up and stands behind it. Most importantly, I know I like being the underdog. The road's been long for Birmingham, but these fans have never stopped believing. I'll see you at St Andrew's soon. It's time to get to work."
Founded in 1875, Birmingham City has been in the second-tier English Championship since being relegated from the Premier League after the 2010-11 season. BCFC finished in 17th place in 2022-23.
--Field Level Media