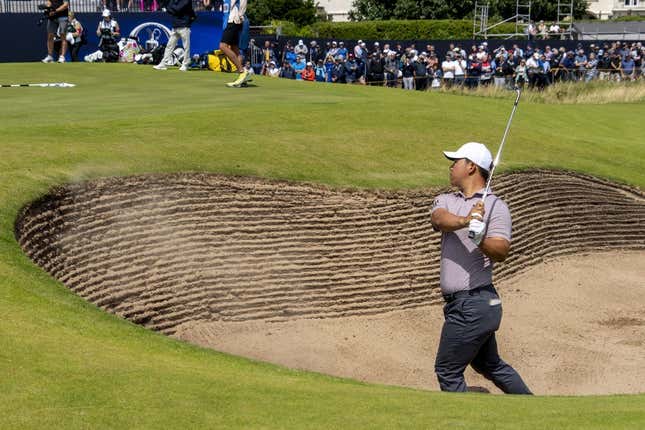 Tom Kim could barely walk on Friday, but he somehow managed to climb his way into contention halfway through The 151st Open Championship.
Is Texas or Florida State a bigger national title contender? | Agree to Disagree
Kim said he nearly withdrew after slipping outside of the house he is staying at in Hoylake, England, suffering a Grade-1 tear in his ankle. The 21-year-old called it an "unfortunate thing" and said he nearly pulled out of the last major of the year.
"It was very close to call it off and not playing today, get home and try to see a doctor because it's pretty bruised," he said. "But, no, I got some tough love from my team and I was told to suck it up. I certainly did that and played well today."
After carding a 3-over par 74 in the first round, Kim quickly worked his way off the cutline while playing in the morning wave. He carded four birdies to make the turn in 31 on Friday, then managed his way home with a 1-over 37 on the back nine.
At the end of the day, Kim was even for the tournament and 10 shots off the lead of Brian Harman.
"I'm barely walking, but it's cool how I got away with it," Kim said. "... It's pretty bruised. I can't take off my shoe, really. I don't know how I really walked.
"But once the adrenaline popped in I got away with it. Now I'm surviving."
Kim tied for 47th in last year's Open Championship at St Andrews, and is coming off his best major finish to date -- a T8 at last month's U.S. Open.
"I'm not going to give up. It's just not who I am," he said. "I definitely went out there with low expectations of I don't know how to hit the golf ball. It was definitely a lot of half swings. Once I started to warm and get more comfortable with it, I was able to play around with it.
"I hit the ball better than yesterday without a bad foot, so maybe it's a good thing."
--Field Level Media