For the first 29 seasons of the Dallas Cowboys' existence, they were coached by Tom Landry, who was best known for his formal sideline attire, most prominently that ever-present fedora. Landry was the Cowboys, at least until Jerry Jones bought the team in February 1989 and promptly fired him, among other indignities. And according to a new book, Landry never got over how shitty Jones was to him, so much so that he stopped rooting for the Cowboys altogether.
The New York Post got its mitts on Mark Ribowsky's The Last Cowboy: A Life Of Tom Landry, which is being published Monday by Liveright. Landry did miss the playoffs in his final three seasons, the last of which ended with a 3-13 record. Jones bought the team with every intention of having Jimmy Johnson take over as coach. But in the book, Alicia Landry, the old man's widow, dishes on just what an asshole Jones was to the entire family:
Alicia Landry also claims that Jones took away the Landry family's suite at since-demolished Texas Stadium and barred Landry's son, Tom Jr., without explanation from continuing to buy Cowboys season tickets.

Jones' behavior prompted Tom Landry to renew his love of the Giants — where he had served as defensive coordinator from 1954 until taking over the expansion Cowboys in 1960 — until his death in 2000.

Landry's widow said she still cheers on the Cowboys' NFC East rivals to this day.
Tom Landry's widow cheering for Washington and the Eagles. Think about that. Landry, who died in 2000, did go to Texas Stadium after his firing three times for tributes, but never as a fan. His statue stands outside Jerry World, but his widow still has never even been there.
Photo: Getty
G/O Media may get a commission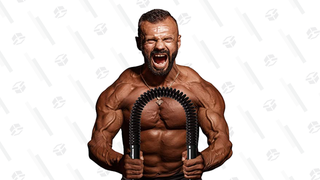 10% off
Zenooze Boa Power Twister