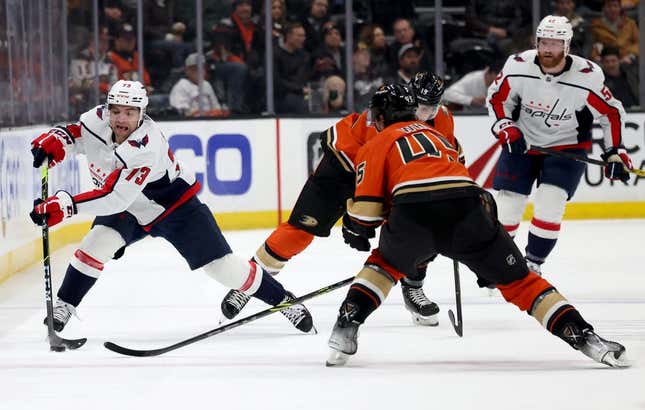 Tom Wilson scored his second goal of the game at 1:09 of overtime as the Washington Capitals defeated the Anaheim Ducks 3-2 in the opener of a three-game California road swing.
In the extra session, T.J. Oshie skated in along the right boards and centered the puck to Wilson, who was crashing the net.
Martin Fehervary also scored for Washington, and Darcy Kuemper made 21 saves.
Troy Terry scored a goal in his fourth consecutive game for the Ducks, who had won three straight. Trevor Zegras had a goal and an assist for the Ducks.
Anaheim goalie John Gibson stopped 36 shots, his 16th consecutive start with 30 or more saves.
The Ducks defeated the Capitals 4-2 in Washington on Feb. 23.
Capitals defenseman Nick Jensen left the game in the first period with an upper-body injury, and he returned for just one more shift, in the third period. Fehervary, another defenseman, exited in the third period because of a lower-body injury.
Washington also was playing its first game without recently traded forwards Marcus Johansson and Lars Eller and defenseman Erik Gustafsson.
Fehervary gave the Capitals a 1-0 lead at 8:58 of the first period, converting a backdoor pass from Nicklas Backstrom for his first goal in 16 games.
Terry tied it when he took a pass at center, skated around two Capitals, entered the zone and scored on a wrist shot from inside the right faceoff circle at 13:01 of the first.
The Capitals outshot the Ducks 17-4 in a scoreless second period.
Washington took a 2-1 lead just eight seconds into the third period. Trevor van Riemsdyk gathered in a turnover along the right boards and centered to Wilson, who scored on a wrist shot from the slot.
The Capitals had a chance to increase the lead to 3-1 at 1:06, but Anthony Mantha fired wide on a penalty shot.
Zegras tied it 2-2 at 4:17, knocking in the rebound of Mason McTavish's attempt to net his 20th goal of the season.
--Field Level Media