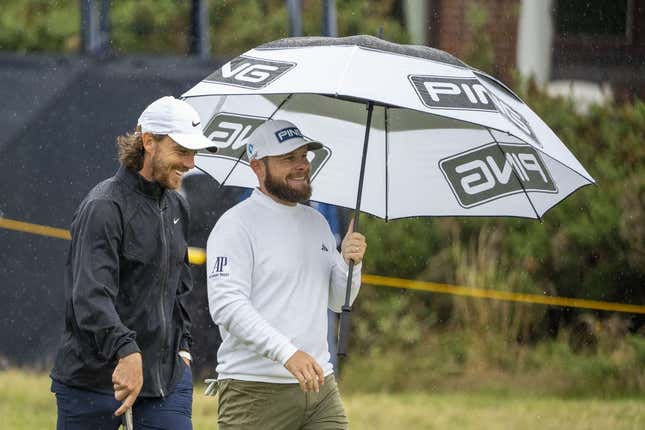 Tommy Fleetwood plays close to home at The Open this week and forgive him in advance if Memory Lane gets the best of him.
How running an NFL team is like running a restaurant | Chef Emeril Lagasse
Not only is Fleetwood near his old stomping grounds at Royal Liverpool, site of the 151st Open, he played the course as a junior and, come the second round on Friday, he'll be at the one-year mark since losing his mother.
"It's hallowed turf if you like. I think just getting the opportunity to be around the club, play on the course is very cool for a junior golfer to get on somewhere like this," Fleetwood, 32, said Wednesday of his fondest memories of the course. "I think it's always one of those things where being from the northwest you would have Birkdale, Lytham, Royal Liverpool, that are kind of like those sort of pinnacle of courses you wanted to play just because they're The Open courses."
Fleetwood, seeking his first major tournament win, was in the final pairing at the 2019 Open at Royal Portrush, when Ireland's Shane Lowry won on his home turf by six shots. Claiming the Claret Jug this weekend with his dad, Peter, and close family in attendance would be a dream sequence for Fleetwood.
"I've imagined it about a million times probably. Winning a major is a dream, or winning The Open is a huge, huge dream. No matter where that is, that's always something I've visualized and always thought about," Fleetwood said. "But then again, having the opportunity to do it so close to where you grew up is something that's very unique and very special. For sure I've pictured it a lot and visualized it a lot; just haven't done it yet in person, so that's hopefully the next thing."
The course has changed dramatically since Fleetwood played as a junior and is notably different than 2006, when then 15-year-old Fleetwood was glued to his home television watching Tiger Woods shred the course like never before.
"I actually remember Lee Slattery from the same golf club as me, he qualified and he actually did well," Fleetwood said. "He finished like top 20 in the Open so we were all very happy for him. Just how it was such a special Open performance from Tiger that year that people still talk about now and how -- we'd never seen this golf course play anything like that. I think that's one of the biggest memories of it. You just remembered watching seeing how the course was playing and you'd never seen anything like it, and then Tiger's performance was clearly something people will remember forever."
Fleetwood lived walking distance from Royal Birkdale and was 27th when The Open was held there in 2017. He's hoping his forever memory is about to be teed up this weekend to give his grieving family a reason to celebrate.
"It'll be a year on Friday," Fleetwood said of the anniversary of his mother's death. "We know that that's coming up. It would be nice to think she's watching over. It'll be a special event. I would love to play well and I would love to sort of give myself a chance come Saturday and Sunday and have something to aim for in that sense."
--Field Level Media