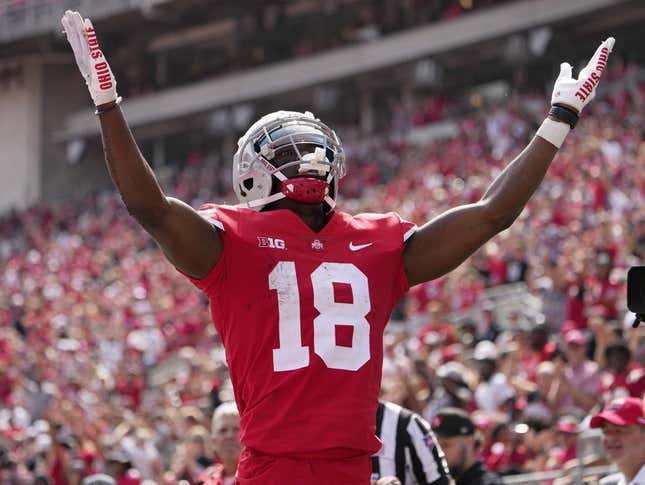 The top of the 2024 NFL Draft features flex-worthy talent at quarterback and offensive tackle, the type of star power that changes the fortunes of an NFL team upon arrival.
How running an NFL team is like running a restaurant | Chef Emeril Lagasse
Heisman Trophy winner Caleb Williams enters the season as the No. 1 talent in college football.
But the offensive tackle group stands out. It's one of the deepest in recent years thanks to surefire 2023 first-round pick Olumuyiwa Fashanu opting to return to Penn State. He's the clear-cut top option and fits the prototype of players who've gone No. 1 at the position historically.
Special athletes that could push for Fashanu's perch include BYU's Kingsley Suamataia and Alabama's JC Latham. They will be early draft selections at their current trajectory.
As college football season kicks off this weekend, we've provided a snapshot of players to know before draft season arrives.
Here are the top 24 prospects eligible for the '24 draft:
1. Caleb Williams, QB, USC: A dynamic passer with rare arm talent, creativity and feel for the position, the 2022 Heisman Trophy winner enters the season as a clear favorite for the No. 1 pick. Blue-chip quarterbacks like this don't come around often.
2. Marvin Harrison Jr, WR, Ohio State: The son of a Hall of Famer, expectations on Harrison exceed those placed on his father. Read that sentence again. His blend of athleticism and craftsmanship should make him an easy top-5 pick.
3. Olumuyiwa Fashanu, OT, Penn State: Fashanu flirted with the idea of entering the 2023 draft, but his return could pay off handsomely. The polished pass-blocker has rare technical polish and body control for his size.
4. Brock Bowers, TE, Georgia: Bowers plays more like a receiver than a traditional tight end, which may not sit well with every NFL team. Despite modest blocking acumen, he should still find his way into a rare top-10 draft slot for a tight end.
5. Dallas Turner, OLB, Alabama: Explosive, bendy and dominant is the best way to describe Turner, who figures to follow Will Anderson's steps as a top pass-rusher out of Tuscaloosa. A slender frame and lack of strength is the only major concern.
6. Kingsley Suamataia, OT, BYU: A high upside lineman with special tools befitting the "dancing bear" moniker, Suamataia is more of a projection than a complete prospect. That said, he is one of the best pound-for-pound athletes in next year's class.
7. Drake Maye, QB, North Carolina: Smooth operating with the touch of a ten year veteran, Maye lacks the spark of Williams, but he's a good distributor who can conduct an offense like a crafty pro.
8. JC Latham, OT, Alabama: Latham is bulking up to 360 pounds after playing last year at 335. His bet on being an enormous road grader could send his draft stock either soaring or tumbling this season.
9. Kool-Aid McKinstry, CB, Alabama: Another well-coached Alabama defensive back who seems to never be out of position, McKinstry has the combination of nuance and timing in coverage that makes him hard to find an advantage against.
10. Joe Alt, OT, Notre Dame: The freakishly long-armed son of former Chiefs All-Pro tackle John Alt, the younger Alt fits the part as a potential franchise tackle because of his strength and pass pro ability.
11. Leonard Taylor, DT, Miami: One of the rare 300 pounders who can kick out to defensive end, Taylor's burst, agility and power give him a unique ceiling that is hard to match. Expect teams to be forgiving about his lack of refinement.
12. Kalen King, CB, Penn State: One of the slighter cornerbacks at the top of next year's class, King makes up for his lack of weight by playing with a fearless temperament and the type of closing speed that pops off the tape.
13. Jared Verse, DE, Florida State: Verse passed on the 2023 draft, staying in Tallahassee to add weight and improve his game. The decision could lock him into a top-15 draft slot.
14. Michael Hall Jr, DT, Ohio State: Although used heavily in rotation last season, Hall's hand speed and ability to quickly shed blocks should lead to both an increased role and plenty of buzz as a top interior defender this fall.
15. Emeka Egbuka, WR, Ohio State: Despite sharing the workload with the more highly acclaimed Harrison, Egbuka has been plenty productive. The slick route-runner is more polish than pop but could still be the second receiver off the board. Ohio State receivers are gaining a gold-star rating with NFL scouts.
16. Donovan Jackson, OG, Ohio State: The small market for first round guards could slide Jackson down the board, but he fits the prototype of a top interior lineman. His blend of length, control, and physicality is pro ready.
17. J.T. Tuimoloau, DE, Ohio State: Former 5-star recruit Tuimoloau hasn't hit the heights expected so far, but he has the size, athleticism, and potential to be a first-rounder if he can produce as a junior.
18. Jack Nelson, OT, Wisconsin: Nelson may be dinged by his technique, but his frame and movement skills allow him to get in the way and stay in the way at a high level in both the pass and run game.
19. Barrett Carter, LB, Clemson: While he will have to fight off the infamous "tweener" label, there is plenty to like about Carter. He brings outstanding speed with the versatility to play everything from middle linebacker to nickel corner.
20. Maason Smith, DT, LSU: A possible top-10 pick coming out of his freshman year, Smith's torn ACL in the 2022 season opener and his one-game suspension to start 2023 raise more questions than answers. If he returns to his freshman form he should rise up the board.
21. Nate Wiggins, CB, Clemson: Twitchy and fluid corners with the body type of Wiggins are hard to find, which figures to play into his push towards landing as the next early round corner from the Tigers.
22. Bo Nix, QB, Oregon: The narrative has flipped on Nix since his early struggles at Auburn. The uber athletic passer may lack touch, but he has starter tools that can be harnessed in the right environment.
23. Malik Nabers, WR, LSU: Nabers is a steady producer with good hands and enough juice to make plays after the catch, although he lacks the type of potential that is likely needed to push into the top ten picks.
24. Cooper DeJean, S, Iowa: DeJean started at safety but moved to cornerback in the middle of 2022 and put together a productive campaign outside. It would be no surprise if teams wind up mixed on his projection.
—By Mark Jarvis, Field Level Media