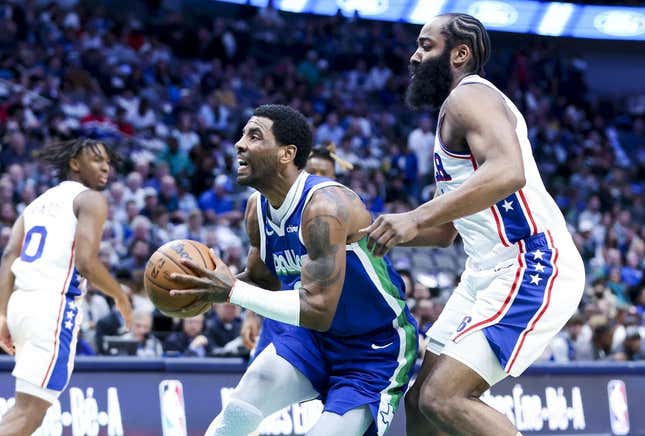 Spending season starts Friday night in the NBA, but this summer free agency feels a bit more like a resale shop.
How running an NFL team is like running a restaurant | Chef Emeril Lagasse
James Harden turns 34 in August and has played in 1,000 career games. He could leave Philadelphia for a return to Houston or another team with the cap space to lure him from the 76ers.
Kyrie Irving, 31, might be open to staying with the Dallas Mavericks. Moving to a fifth team can't be ruled out given his history of relocation -- and trade demands.
With a new collective bargaining agreement in effect Saturday, don't be surprised if the usual frenzy is more brake than gas pedal when the light turns green this weekend. Among the challenges general managers and owners are dissecting are new luxury tax blockades likely to spell trouble for teams patrolling for a pairing of two or three All-Stars.
Pairing stars means multiplying contracts -- hello, Los Angeles Clippers -- and the new CBA will be extremely prohibitive and limiting to teams filling a roster behind multiple studs.
Then again, the All-NBA credentials of Harden and Irving, former Nets teammates, drive interest for teams ready to spend and turn the page on rebuilding such as the Rockets and San Antonio Spurs.
Houston has a league-high $64 million under the salary cap.
There are solid if unspectacular options on the second tier.
Negotiations with free agents can begin Friday at 6 p.m. ET and deals are official as of July 6.
Eschewing potential trade candidates such as Trail Blazers guard Damian Lillard and Bulls guard Zach LaVine, here are the top 25 free agents expected to be available in free agency:
1. James Harden, 76ers: Nearly unparalleled production almost assuredly gets Harden $40 million per year, but there is a buyer beware qualifier because of his high mileage. Harden averaged at least 21 points, 10 assists and six rebounds each of the past three seasons.
2. Kyrie Irving, Mavericks: Harmony hasn't followed Irving to his stops in Cleveland, Boston and Brooklyn. Does Dallas love him as much as Mark Cuban and Luka Doncic insist? He was Prime Kyrie, with 27.1 points per game, in 20 games with the Mavs last season. Dallas can offer a four-year, $210 million deal.
3. Khris Middleton, Bucks: Opting out of his deal gives Middleton another chance to cash in at nowhere near his 2019 contract with Milwaukee (five years, $177.5 million). Injuries limited him each of the past two seasons. He punted a $40 million option and could draw interest in the three-year, $75 million range from cash-clutching teams like the Detroit Pistons or Sacramento Kings (should UFA Harrison Barnes depart).
4. Draymond Green, Warriors: At 33, Green still is a multi-dimensional defender and lunch pail guy whose value is greatest with Golden State. The Kings, Spurs, Rockets and others are equipped to make a run at him on a longer deal than the Warriors care to absorb.
5. Cam Johnson, Nets: A restricted free agent, Johnson should be the star of the show in free agency in terms of wow factor on a five-year contract offer. Can he be more than a versatile forward who thrives as a spot-up shooter? That's the line sensible spenders must draw before writing an offer to the 27-year-old acquired from the Suns in the Kevin Durant deal. Brooklyn has only $10 million under the salary cap before hitting luxury tax levels.
6. Fred VanVleet, Raptors: VanVleet, 29, opted out as Toronto shifts philosophy and coach Nick Nurse moved on to the 76ers. He's able to get $40.2 million per year from the Raptors. Will any other team value him as a long-term fix?
7. D'Angelo Russell, Lakers: Well-traveled and proven, Russell fits the trend at the top of this free agent class. He's 27 and worth more to teams lacking scoring punch. He's not a first option for a contender even with a career-high 39.6 percent on 3-pointers last season and defense remains a shortcoming.
8. Austin Reaves, Lakers: A restricted free agent who received a qualifying offer from L.A., Reaves is eligible only for a two-year deal with the Lakers. That's significant because the other 29 teams can slide him an offer sheet with third- and fourth-year options over $35 million.
9. Kyle Kuzma, Wizards: He could draw a contract offer around $30 million per season and Washington would like to be in the mix following trades that sent Bradley Beal (Suns) and Kristaps Porzingis (Celtics) out of town. The Utah product could tempt the Jazz and a reunion with the Lakers makes sense.
10. Jordan Clarkson, Jazz: Instant offense off the bench, Clarkson had a player option for just over $14 million. He could land a three-year offer worth $70 million despite his age (31).
11. Dillon Brooks, Grizzlies: We hear you -- Brooks isn't the type of signing most fan bases are going to celebrate because of his agitator persona. He's 27 and defends like a shadow. He'll find a warm welcome in free agency.
12. Jerami Grant, Blazers: Grant might not be going anywhere if Portland is trying to appease Lillard. He makes a world of sense on a short-term deal for a contender with a hole at the 4.
13. Josh Hart, Knicks: New York appeared to be closing in on a new deal with Hart, who agreed to move his player option deadline to Thursday. His value is in versatility as a wing and clamps defender who isn't afraid of the open 3.
14. Nikola Vucevic, Bulls: Chicago's top free agent priority, Vucevic might be the player the Bulls can't afford to lose despite his age (32).
15. Jakob Poeltl, Raptors: Does anyone value a traditional big without range? Poeltl is about to find out.
16. P.J. Washington, Hornets: A restricted free agent, Washington is only 24 and has legitimate starter ability at a position of need for multiple teams with the most salary cap space.
17. Bruce Brown, Nuggets: What an investment Brown proved to be for Denver at $6.5 million in 2022-23. He can get more on a short-term deal to stay with the Nuggets or as the mid-level exception for a contender.
18. Christian Wood, Mavericks: Dallas hit buyer's remorse before the trade deadline last year and Wood won't be back. Wood's next team is his eighth. That doesn't mean he can't be valuable as a 17-9 type of producer.
19. Brook Lopez, Bucks: He's most valuable in Milwaukee. Lopez, 35, is reportedly coveted by the Rockets. The quandary for the Bucks becomes how much pain they'll be willing to take on by extending the length of a new contract beyond a sensible two years.
20. Harrison Barnes, Kings: There's still space for Barnes in the NBA given his 38 percent career 3-point percentage. Long a Steve Kerr favorite, don't rule out a reunion with the Warriors.
21. Donte DeVincenzo, Warriors: DeVincenzo shot 39.7 from 3-point range for Golden State and played the best defense of his young career.
22. Miles Bridges, Hornets: Many teams will eliminate Bridges from their shopping list due to his felony domestic violence (no contest) record and the 10-game suspension to start the 2023-24 season. A restricted free agent, a team willing to offer Bridges a fresh start at 25 could get a relative discount. Charlotte might not be willing to match even a low-ball offer at this point.
23. Tre Jones, Spurs: A qualifying offer of $5.2 million won't prevent the Spurs from negotiating a long-term extension with Jones. He's 23 and polished as a floor general. Poor perimeter shooting limits outside interest.
24. Russell Westbrook, Clippers: Revived in a pairing with Paul George and Kawhi Leonard in Los Angeles, Westbrook carried the team for stretches including in the playoffs without his All-Star sidekicks. The Clippers can offer only $3.8 million for 2023-24. He'll be 35 in November and said he values winning over another payday.
25. Max Strus, Heat: Victor Oladipo exercised his $9.4 million option before the start of free agency, all but paving the road for Strus to sign elsewhere. The long-distance specialist figures to be off the board almost immediately unless he overreaches for a huge payday.
--Field Level Media