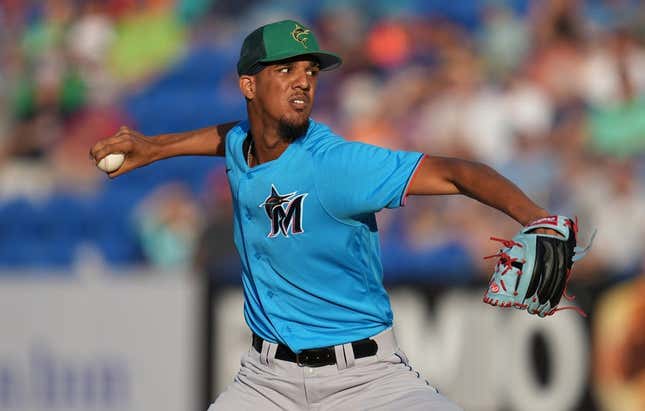 Friday figures to be an exciting night for Miami Marlins fans
That's when 6-foot-8 right-hander Eury Perez will make his major league debut against the visiting Cincinnati Reds in the opener of a three-game series
Bass' ERA stinks, but not compared to who he is off the mound | Worst of the Week Countdown
Perez, a 20-year-old native of the Dominican Republic, is ranked as baseball's eighth-best prospect by CBS Sports and No. 9 by MLB Pipeline, which ranks him as the Marlins' No. 1 prospect. His best pitches are a deceptive slider and a fastball that lives at 94-97 mph but peaks at 100. He also has a plus slider and his fourth pitch is a curve
On Friday, Perez will become the youngest player in Marlins history. At Double-A Pensacola this year, Perez is 3-1 with a 2.32 ERA in 31 innings. He averages 12.2 strikeouts per nine innings and is holding opponents to a .148 batting average
There's a need for Perez in the rotation given that starters Johnny Cueto and Trevor Rogers are on the injured list. In addition, Braxton Garrett (5.97) and Eduardo Cabrera (5.35) have high ERAs.
In fact, once Perez's promotion becomes official Friday, Cabrera could be sent to the minors to make room on the roster.
"Watching Eury perform for the past year has given us great confidence," Marlins general manager Kim Ng said
If he lives up to his hype, Perez will slot in behind reigning National League Cy Young Award winner Sandy Alcantara and lefty Jesus Luzardo.
Alcantara, in fact, was the one who broke the news to Perez, calling him on video.
Perez was brought into the office of his Double-A manager, who went over some teaching tips on his laptop. A couple of minutes in, Alcantara's face popped on the screen, and he addressed Perez.
"I have some bad news," Alcantara joked, "now I'm going to have to see your face every day.
"Do you think you are ready for the big leagues? I'm very happy for you. It is well deserved. We will see you here soon. We love you."
As the call went on, Perez stood up and tearfully hugged his coaches.
Perez's counterpart will be Cincinnati right-hander Graham Ashcraft (2-1, 3.82). Ashcraft, who made his debut last year, is 7-7 with a 4.61 ERA in his 26 career starts.
An Alabama native who pitched for the University of Alabama-Birmingham, Ashcraft was Cincinnati's sixth-round pick in 2019.
He's been at his best in his two career starts against Miami, going 1-0 with a 1.80 ERA. Ashcraft's only decision against the Marlins came last Aug. 2, when he allowed five hits, no walks and one unearned run in a 2-1 Reds win
As for Reds hitters, it should be interesting to track second baseman Jonathan India, a South Florida native
India, Cincinnati's leadoff hitter, leads the club in batting average (.311) and OPS (.863). He went 2-for-4 in Cincinnati's 5-0 win over the New York Mets on Thursday as the Reds won two of three games
He will enter Friday on an eight-game hitting streak and is hitting .433 during that stretch.
Miami is on a two-game win streak after losing six of seven games.
Luis Arraez (.944) and Jesus Sanchez (.927) lead Miami in OPS. Arraez (.398) also leads the majors in batting average, although he had his 12-game hitting streak ended in Wednesday's 5-4 win over Arizona. Sanchez hit a three-run homer in that game but left due to an apparently mild hamstring injury.
--Field Level Media