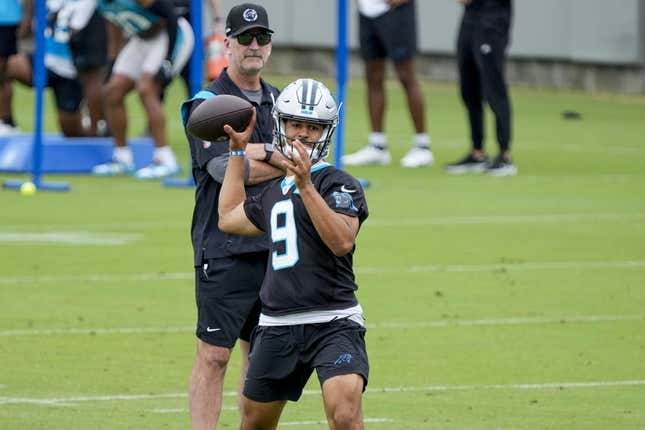 Top NFL draft picks Bryce Young and C.J. Stroud could be on the sideline when training camps open due to ongoing contract negotiations.
Is Texas or Florida State a bigger national title contender? | Agree to Disagree
Young, the No. 1 pick by the Carolina Panthers, and Stroud, selected second by the Houston Texans, are both in line to start as rookies after promising offseasons
Stroud worked with receivers and tight ends away from the team facility and was also actively involved in the full team workouts. Whether he will sign while waiting to see the specifics of Young's deal is unclear.
"It was good, definitely just building chemistry trying to get timing down and trying to be as best we can so we can get to training camp and dominate," Stroud said. "That was the goal for that one to keep building and have a good offseason."
Draft picks know the value and framework of their contracts when they are selected due to an NFL draft pool that assigns a value to each pick slot.
The granular clauses, such as offset language that dictates what a team owes if it moves on from a player, and the payment schedule of the initial signing bonus, can often become sticking points.
Most teams spread a signing bonus over three or four payments. The Panthers and Texans can thank the Jacksonville Jaguars for any demand of immediate bonus payments
The Jaguars made No. 1 pick Trevor Lawrence's $24.1 million bonus due in full 15 business days after signing in 2021 and paid the more than $24 million signing bonus to Travon Walker in the same timeframe.
No. 3 pick Will Anderson signed with the Texans on June 23. He signed a four-year, $35.2 million deal with a fifth-year team option
NFL draft slot values peg the contract for the No. 1 pick at four years, $37.95 million, which includes a $24.6 million signing bonus. Stroud stands to sign a deal worth $36.3 million with $23.3 million due at signing.
Colts No. 4 overall pick Anthony Richardson also remains unsigned and has a max contract value of $33.994 million over four years.
--Field Level Media