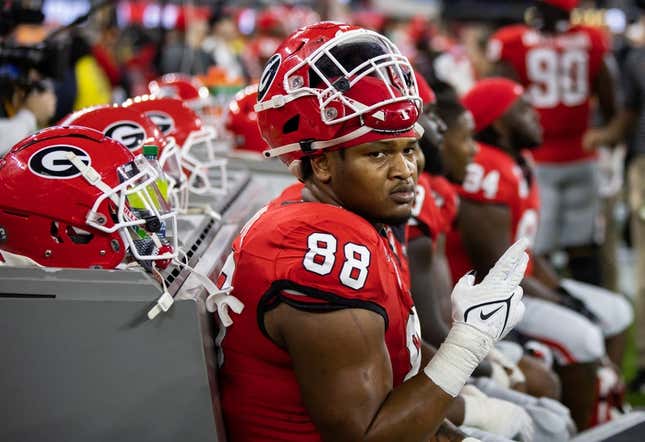 On the cusp of the biggest moment of his life, Georgia defensive tackle Jalen Carter faces arrest warrants for reckless driving and racing in connection with the Jan. 15 fatal crash that claimed the life of Bulldogs offensive lineman Devin Willock and football department staffer Chandler LeCroy.
Jokic? Embiid? The NBA MVP is obvious... right? | Keep it a Buck(et)
Both charges are misdemeanors punishable by up to a $1,000 fine and one year in jail.
"It is my understanding that Mr. Carter is making arrangements to turn himself in. At this time, no other charges are pending," Lt. Shaun Barnett of the Athens-Clarke County Police Department told Field Level Media on Wednesday.
Carter released a statement on Wednesday afternoon. He said he will be fully exonerated.
G/O Media may get a commission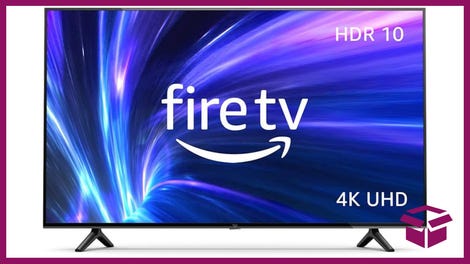 42% Off
Amazon Fire TV 50" 4K Smart TV
"This morning I received a telephone call from the Athens Georgia Police Department informing me that two misdemeanor warrants have been issued against me for reckless driving and racing," Carter said in a statement typed in all capital letters. "Numerous media reports also have circulated this morning containing inaccurate information concerning the tragic events of January 15, 2023. It is my intention to return to Athens to answer the misdemeanor charges against me and to make certain that the complete and accurate truth is presented. There is no question in my mind that when all of the facts are known that I will be fully exonerated of any criminal wrongdoing."
Carter, 21, was interviewed by police and told authorities he wasn't present at the time of the accident, according to the police report.
But details of the arrest warrant, citing video recorded before the crash, allege Carter was the driver of a 2021 Jeep Trailhawk that pushed LeCroy, who was driving a 2021 Ford Expedition, to speeds exceeding 100 mph.
"The investigation found that (Carter and LeCroy) were operating their vehicles in a manner consistent with racing shortly after leaving the downtown Athens area at about 2:30 AM," the warrant from Athens-Clarke County Policy Department said Wednesday. "The evidence demonstrated that both vehicles switched between lanes, drove in the center turn lane, drove in the opposite lanes of travel, overtook other motorists, and drove at high rates of speed, in an apparent attempt to outdistance each other. Evidence indicate shortly before the crash the Expedition was traveling about 104 miles per hour. The toxicology report indicated that LeCroy's blood alcohol concentration was .197 at the time of the crash. Investigators determined that alcohol impairment, racing, reckless driving and speed were significant contributing factors to the crash."
The legal blood alcohol concentration limit in Georgia is 0.08 percent.
Police said the case was given to the Solicitor General's Office on Wednesday.
The report was released just 20 minutes before Carter was scheduled to take the podium in a press conference setting at the 2023 NFL Scouting Combine. Carter is ranked among the top players in the draft and considered a likely top-5 pick in April.
Carter never took the podium because he reportedly left town on Tuesday night.
He was in Indianapolis on Monday and Tuesday and met with teams in formal interviews before the warrant was issued.
Georgia head coach Kirby Smart said his program is still mourning the loss of a player and staff member.
"The charges announced today are deeply concerning, especially as we are still struggling to cope with the devastating loss of two beloved members of our community," Smart said in a statement released Wednesday.
"We will continue to cooperate fully with the authorities while supporting these families and assessing what we can learn from this horrible tragedy."
The warrant was issued just as former Georgia linebacker Nolan Smith was at a podium in Indianapolis in a press conference. He was asked about the crash that killed Willock, who was a good friend.
"That's my guy," Smith said before emotions began to overtake him, causing his hands and lips to quiver. "I get sensitive talking about it just because I love him. And he never did anything wrong in his three years. He was supposed to graduate. Most people don't know his brother passed like that. No one should deserve to die like that."
Smith shook his head as he continued, banging the lectern and removing his steamed glasses from his face covered in tears.
"Three years in a row, that man showed up (and) worked day in and day out. He's a two-time natty champ, man. And it's written in stone. Devin, I love you, baby. Seven-seven (Willock's jersey number), you living forever. 'Do it for Dev,' that's what I tell them boys at Georgia. 'You lost a brother. Do it for Dev.' I'm sorry to get emotional, man."
Police said Carter also was ticketed in September for driving 89 mph in a 45 mph zone.
--Field Level Media