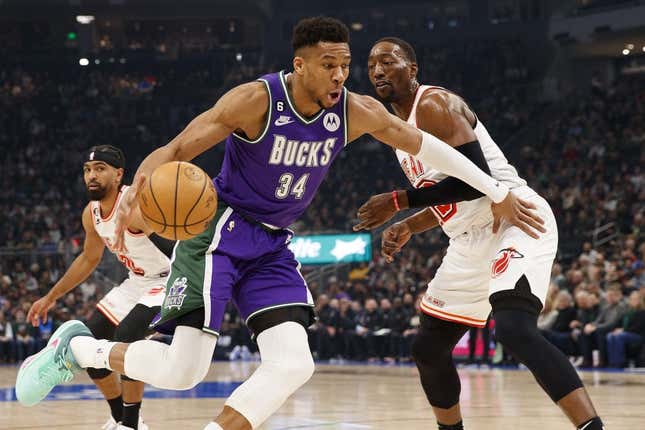 The Milwaukee Bucks have been resting for an expected lengthy run in the Eastern Conference playoffs
Will South Beach Flu give the Heat home court advantage? | Keep it a Buck(et)
The Miami Heat just played their way into the postseason Friday with a 102-91 victory against the visiting Chicago Bulls in a play-in elimination-game. The Heat were faced with the win-or-go-home challenge after losing to the visiting Atlanta Hawks on Tuesday
Now the Heat are the No. 8 seed as they travel to play the top-seeded Bucks in Game 1 on Sunday. Milwaukee, which had the NBA's best regular-season record (58-24), rested MVP finalist Giannis Antetokounmpo in the final three games of the regular season
"I will not have played a game in (12 days)," Antetokounmpo said. "Hopefully I'm in a good place when the playoffs start. Obviously it's going to be a long two months -- (a possible) 28 games ahead of you."
Antetokounmpo wasn't looking past the Heat, he just wasn't aware of the first-round opponent when he spoke with reporters. But Milwaukee has the highest expectations with a core group that also includes Jrue Holiday, Defensive Player of the Year finalist Brook Lopez, Khris Middleton and Bobby Portis and is just two years removed from winning the NBA title
The Bucks also are acutely aware of the value of homecourt advantage after their defense of the title came to an end in last year's Eastern Conference semifinals. The Boston Celtics took advantage of playing at home to prevail in Game 7
"We wanted to have the best record in the East, the best record in the NBA and homecourt advantage and we were able to accomplish that," Antetokounmpo said, "but that's in the past and that's over with.
"Having the best record doesn't make us the best team. The best team is going to be whoever wins the championship. We have to prove that we're good. We have to play like we're the best team in the NBA."
The Heat were the last team to qualify in the East after finishing Friday's win with a 15-1. Max Strus and Jimmy Butler both scored 31 points
"Win or go home," Strus said after making seven 3-pointers. "We're not done yet."
The Heat, who lost to the Celtics in the East finals last season, won nine fewer games in the regular season, finishing 44-38, than they did a year ago
"Our team has obviously not been perfect this year," Miami coach Erik Spoelstra said. "But I do know one thing about the men in that locker room: The last 48 hours, I know how categorically, unequivocally, how badly and desperately our group wanted to get into this damn thing -- and get into the playoffs to have an opportunity to compete for a title."
Milwaukee and Miami split the season series as the home team won all four matchups. The Heat won two games in three days in January as Antetokounmpo missed both games due to knee soreness. He played in both of the Bucks' wins in February though he left the 128-99 victory Feb. 24 due to a knee injury
This is the teams' third meeting in the playoffs in the last four seasons. Miami won in five games in 2020 and Milwaukee won in a sweep in 2021.
--Field Level Media