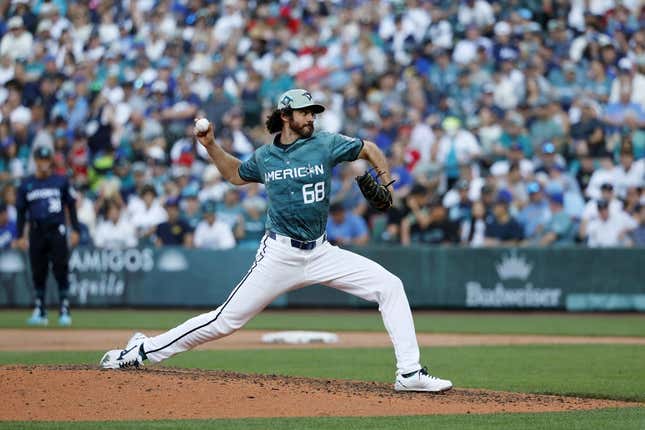 SEATTLE -- Toronto Blue Jays closer Jordan Romano was removed in the top of the seventh inning of Tuesday's All-Star Game with tightness in his back
How running an NFL team is like running a restaurant | Chef Emeril Lagasse
Romano entered the game with the American League leading 2-1 at T-Mobile Park and induced Los Angeles Dodgers catcher Will Smith to fly out. The next batter, Arizona outfielder Lourdes Guerriel Jr., hammered Romano's second pitch 395 feet to left field for what was initially called a game-tying home run
While the play was under umpire review, AL manager Dusty Baker visited the mound along with a trainer. Romano walked off the field moments later and was replaced by Detroit's Michael Lorenzen.
"He just said when he threw his last pitch in the bullpen before he went out there, he just felt a little tightness in his lower back," Baker told Fox Sports' Ken Rosenthal. "We gotta take every precaution to take care of these players, even if they're on another team. Because they've got to go back and play.
"He's such a big, important part. He's the closer of the Toronto Blue Jays, so we hope that it's nothing.
The home run was eventually overturned, and Gurriel went on to reach base on an infield single.
"I kind of lost it, but it didn't disappear behind the foul pole, it hit the railing up there," Baker said of his view of Gurriel's deep shot. "So, I didn't know right away, but I thought it was foul. And then when (Baltimore catcher) Adley Rutschman looked at me and he thought it was foul. And we got that famous call to the clubhouse: They said it was foul."
--Derek Harper, Field Level Media